Can you believe it's December already? I'm excited as the weather is getting cooler here and we're officially in Christmas season! But before we get ahead of ourselves, let's look back at the highlights of November.
Here's a wrap-up of some new, articles, forum posts, and skins you might have missed!

Community Posts You Might Have Missed:
Getting an Early Start on a Christmas Themed Desktop!
Inexplicable Monolith Discovered in Utah's Red Rock Country
For Workflow Efficiency, Look no Further than Groupy
Fences: Making Desktop Customization Work for YOU
Revisiting a Christmas Skinning Classic....ChristmasTime

New and Updated Skins, Themes, and Wallpapers:
Snowman in Winter Ice (Wallpaper)
I was searching through WinCustomize looking at some Christmas skins and I came across what I think is one of the most classic skins of Christmas. That of course would be ChristmasTime by mormegil!
The WindowBlinds skin was first released way back in 2003 for the Stardock 2003 Christmas Suite. At that time, WindowBlinds 4 was the latest version and it was later updated to support WindowBlinds 5 which brought support for per-pixel alpha blending, toolbar button changing, progress animation improvements, animated per-pixel Start menus, title bars, and much more.
I used this skin for many holidays years after it was released and is one of my top five favorites of all time. It was hugely popular back then and was the base for many desktops around that time. In addition to the WindowBlinds skin, Paul (mormegil) came out with a lite and full icon pack that was just as amazing. As of today, the WB skin alone has over 400,000 downloads!
Download here:
Members of the community (with permission) also created some matching themes.
Since we're revisiting this skin, I installed the skins on my Windows 10 PC to see how they work many years after they were released. So how do they look? Well not too bad for such old skins.
For the WB skin the most obvious issue is the taskbar, but that is to be expected with all the changes since Windows XP. Icons applied simply fine and worked. The CursorFX theme also worked with no issues that I noticed. Even though there are some minor issues, this still brings back great skinning memories and I think I'll keep it around for a while.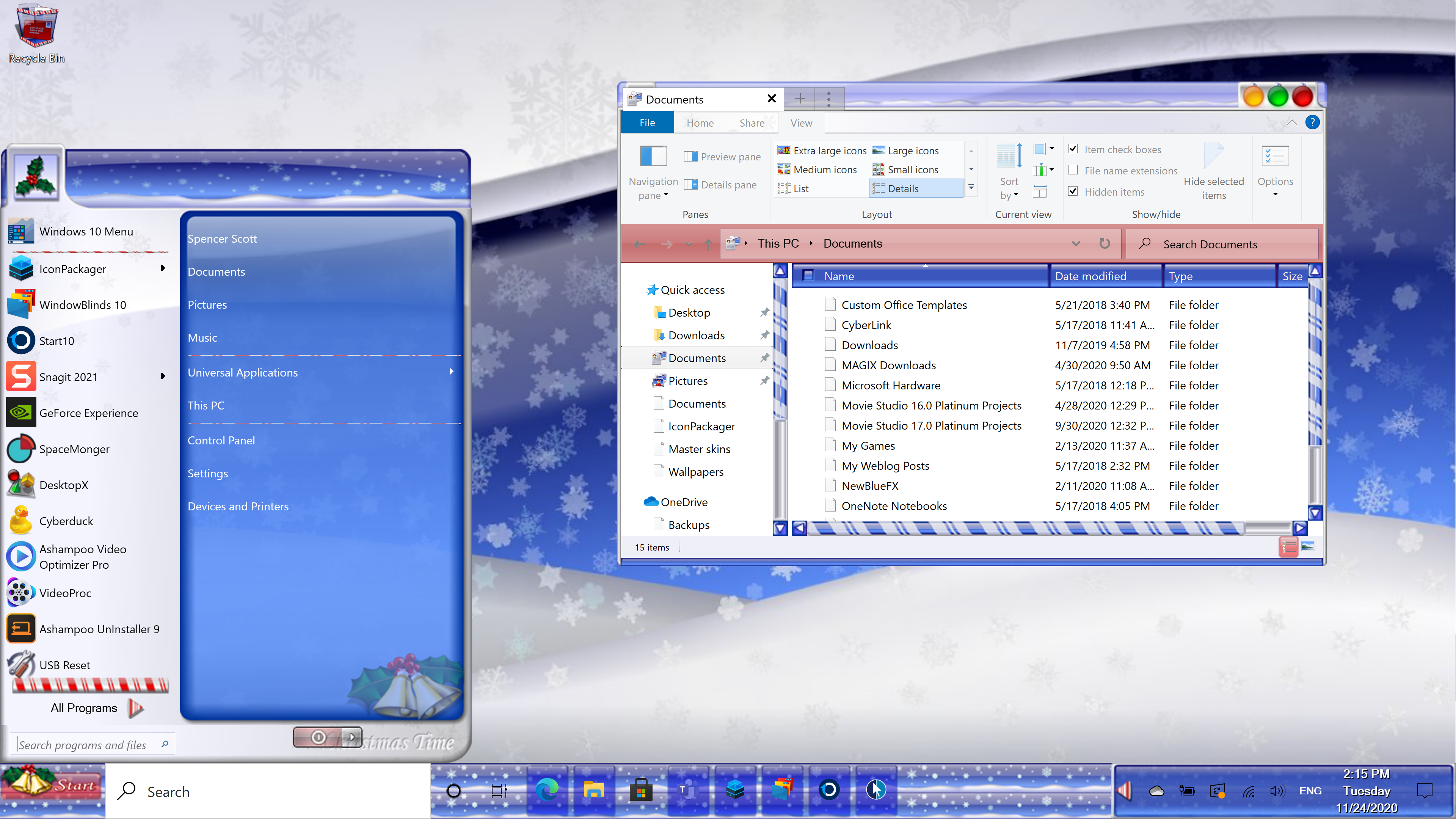 Do you remember the Christmas Time suite? Let us know in the comments below!
Thursday, November 26, 2020 by Tatiora | Discussion: Stardock Blog
We make a lot of software here at Stardock, and while all of it is wonderful and useful in their own ways, there are just a couple of programs that I consider my "ride or dies" for my PC experience. Fences is absolutely at the top of that list (followed very closely by Groupy).
The basic functionality of organizing my icons, folders, and programs into fenced in areas on my PC desktop is great enough on its own, but the more I explored Fences I began to realize that there was quite a lot more that I could do with it, especially aesthetically. With all of the customization options available in the program, you really can make your desktop look exactly how you like it.
Let's take a look at some of the cool stuff you can do!
Color Customization

This one is fairly straightforward, but is probably one of my most favorite options: colors. I can adjust the color of my Fences (both as a group or individually!) to complement the background that I'm using on my Desktop.
There are a lot of options available here. You can adjust the transparency, color intensity, tint, and saturation of your fences using the sliding scale, choosing to either apply the options uniformly across all of your fences, or individually to a select few. You can color code your fenced areas if that's something that helps for organization - or if you just want a myriad rainbow of color on your desktop, that's valid too!
You can achieve drastically different effects by choosing varying levels of saturation and transparency. Below, I have an image that shows a more solid fence without the transparent effect, plus you can also see that I have an option enabled that hides labels unless I mouse over them.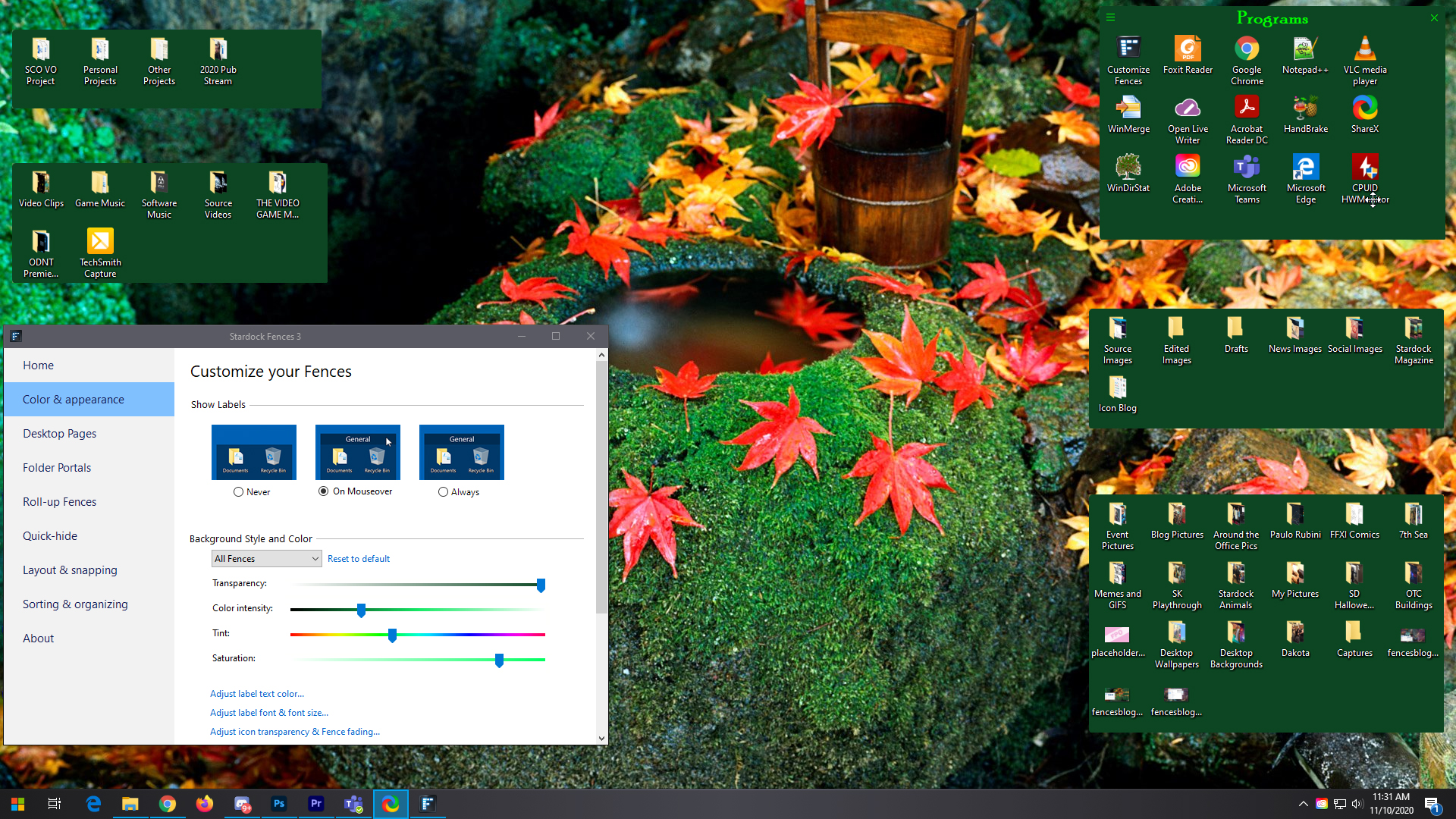 You can also adjust the font colors of your fences labels, which leads me into the next set of options you have…
Label Text and Size
You can customize the labels to your fences in lots of different ways besides just what you name them. The color and size of your fonts can change, as well as the font itself. Many of the options you'd find in any Word processor are available in the Fences option menu. Several of them allow for variations like bolding and italicizing if you feel like it.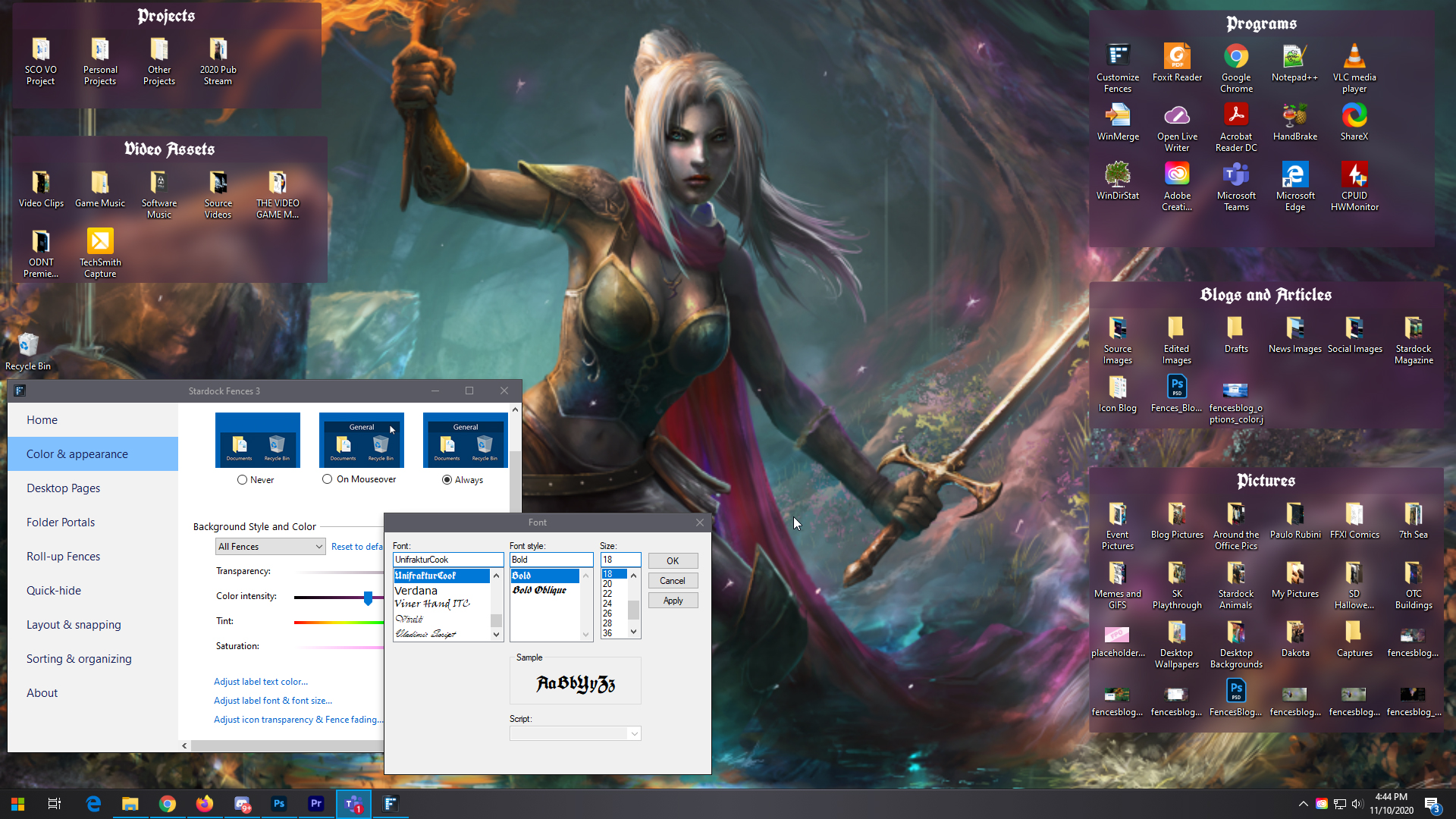 I like to adjust my colors and fonts to match whatever I choose for my background. I'm a pretty big Dungeons and Dragons nerd, so I think the medieval script font goes nicely with this image of one of my first ever original characters, Tatiora, that my friend Leo drew for me a couple years ago.
You can also change the font color if you want, though I find that usually keeping it simple with white allows me to read the labels more easily. I also keep my fonts sized somewhere in the middle (in this case, I believe I selected size 16), but you can go bigger or smaller if that suits your needs better.
Speaking of needs, let's say you prefer a little less noise on your desktop and like to hide away excess things. You can do that!
Visibility
I personally like seeing my Fences and my labels - it makes it easier for me to find what I'm looking for. But, if you're not into that, there's ways you can work around it while still keeping your icons and programs grouped together so you can access them quickly.
By taking the transparency all the way down to 0, you can make it so that your fences don't show up at all, but your icon groupings remain within their fenced areas. You can leave labels on, set them so that they only show when you mouse over them, or even turn the labels off altogether.
Let's say you don't like your icons showing, either - you're all about a clean desktop! You have a couple options for that. You can either double-click on your desktop to hide everything (don't panic if you do this by accident - not that I would know from experience or anything - another double-click will return them all), or you can change the preferences in your individual fences to make the icons transparent.
As you can see in the image above, I've lightened the visibility on some of the fences to make them hard to see. To do this, you go to the title bar of one of your fences, click on the options icon on the left, and go to view > opacity. You can make a fence completely invisible until you mouse over it, if that's what works for you.
I'd also like to mention the option for rolling up fences. If you want to keep your desktop uncluttered but still see where you've put everything, you can double-click on a Fences title bar to hide the rest of the fence so that just the bar is visible.
As you can see, there's a lot you can do to keep your desktop neat and orderly with Fences! There's just one more thing I want to touch on that goes beyond just aesthetic customization, and that's...
Organization and Sorting
In a previous blog, I talked a little bit about Folder Portals and what makes them so helpful, so I'm going to focus on another indispensable aspect of organization: the sorting option.
There are a ton of options here for editing rules on how icon placement and auto-organizing will work. You can choose to make rules for everything from folders to program shortcuts that will determine what fence they sort into when they're added to your computer.
For example, I have my images set to go directly into my Pictures fence whenever I save an image file to my desktop. It makes it easier for me to find them and then make sure they get into the correct folder that I want. I also do the same for program shortcuts. For general downloads, I actually just make a Folder Portal on my desktop so that I can easily access anything that I download.
You can be really broad with these rules, or get extremely particular. I play pretty loose and wild with my desktop to begin with (in fact, before I set up rules for where images sort to, my desktop was getting really crowded) so I don't fuss over it too much personally, but you definitely can!
Fences is one of those programs that I don't think I can ever stop using. It has made my desktop organizing so much easier and it makes my desktop look better overall.
Don't have Fences yet? No problem, just download it here. Or, if you want to go full throttle with desktop enhancement, customization, and optimization, just get a low-cost membership to Object Desktop and get access to a bunch of our top-rated software all at once.
If you're already a Fences user, I want to see it in action on your desktops. Share some screenshots with me!
Happy Thanksgiving! If you partake in Thanksgiving what's your favorite way to cook the turkey?
Roasted, fried, smoked?
Let us know your cooking plans and have a safe and wonderful day!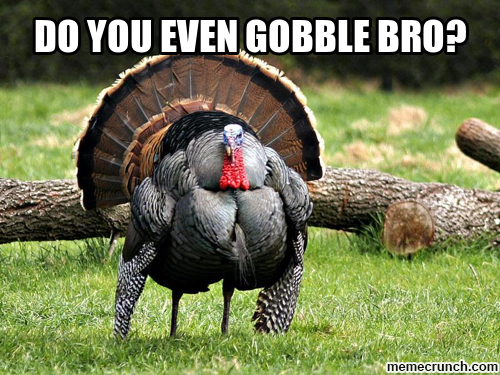 For many of us, Thanksgiving is this week, so we wanted to send out a Happy Thanksgiving to all of you and a big thanks to our community. No holiday needed, just wanted to say we appreciate you! Although it's a weird time in the world, we do hope you have a nice holiday. Let us know if you have any holiday plans, or if you just have a nice weekend lined up.
Let us know in the comments below!
Pick your sounds!
Is there really anyone here who isn't tired of the sounds when using Windows?
In comes SoundPackager. I always relate SoundPackager to IconPackager simply because both use "packages" to change their respective items. One of the best things about SoundPackager is that not only does it change a bunch of system sounds at once, it also allows you fine tune the sounds and easily add or delete specific sounds if you wish.
Now that you have heard all that good stuff, let's go through using SoundPackager.
Interface
SoundPackager has an exceptionally clean and easy to use interface. On the left side of the window, you have the navigation for SoundPackager. The Welcome screen gives you a brief introduction and gives info such as the current version number.

Installing and Changing Sounds
The Sound Packs screen shows you which icon packs you have installed.
If you want to install a new sound pack that you downloaded from WinCustomize, just double-click the .soundpack file and it will install into SoundPackager.
When you select an individual sound pack you have a few details you can use such as the author information and description. You will also have an apply button, edit button, and a play button where you can sample the sound pack.
To change your system sounds, either double-click the package you want to apply or select the sound package and hit the "Apply sound pack" and your new sounds will be applied and ready to use!


More Sounds
You know how to change your sounds, but what's the point if you can't find more sound packs, right? Well, no problem there, as WinCustomize has an entire library dedicated to sound packs for SoundPackager. You can quickly get to the gallery by clicking the "Get More Packages" button in the "More Packages" section in SoundPackager.
Better yet, SoundPackager has built-in integration with WinCustomize so you can browse and download the latest sound packs right from SoundPackager! Just select the Online tab and see all the latest packs.


Edit Sounds
SoundPackager makes it easy to edit and create new sound packages. You can even share these with other users to enjoy as well!
The edit screen allows you to view the available sounds in Windows and other sound packs. You can then change those sounds to your own files and save that sound pack to use in SoundPackager.

So, there you go! A straightforward way to change your Windows sounds with creative and cool sound packs that will add another level to your desktop customization experience.
Don't have SoundPackager yet? Get it here. You can also purchase a low-cost membership to Object Desktop to get SoundPackager, plus a bunch of other fantastic productivity and customization apps for your PC.
Happy Friday! I was sitting here trying to straighten up my work area before the work week ends and thought maybe that should be the part of the topic for this week's question.
I have my main desktop PC which I mostly use for gaming and design work. My Dell XPS laptop is really just dedicated for work stuff, and I also have an iPad on my desk for casual web browsing and keeping up with emails.
We have a desktop workstation thread here on the forums, and we've seen some really cool setups there, but we wanted to ask how do you have your PC and work area setup.
Do you have a desktop PC, or are you more mobile with a laptop? Or do you go for it all and have several?
Thursday, November 19, 2020 by Tatiora | Discussion: Stardock Blog
Back at the beginning of quarantine, I talked a little bit about how Groupy helped me work from home. It saves me the desk space of having to juggle around too many monitors by letting me use my two-monitor setup more efficiently.
It's about more than just saving space, though. Groupy allows me to sort my work into categories, making it easier for me to compartmentalize what I'm working on, especially when I have several tasks working all at the same time.
To be honest, I have pretty simple needs when it comes to what I do for work on the computer. I live in word documents - Google docs, specifically - and so initially I thought that Groupy couldn't do a whole lot for me since they're all tabbed in my web browser anyway.
I was wrong.
At times, I will be working on multiple products or releases at once. I'm scatterbrained on a good day, so it is sometimes really difficult to keep track of all of the things I need to get done before my deadlines are up. To make it easier for myself, I can split my browser tabs into different group categories, separating the work I'm doing on, say, Stardock Magazine and the work I'm doing on The Political Machine release.
I often will reference old materials when working on something new, just so that I make sure I am delivering a consistent message and I'm not missing any crucial details. Above, you can see how I've chosen to sort my work: I have a tab filled with web browser tabs all dedicated to my work on Stardock Magazine, a tab filled with tabs relating to The Political Machine, and a tab filled with tabs of old forum posts that I can reference for products as I work.
I also use Microsoft Teams quite a bit in order to collaborate with the rest of the marketing team. To make things easy on myself, I pop out the chats for the key people I talk to during a workday and put them all into one group along with my main teams window. This way, I have quick access to all of the conversations important to my workflow, without having to spend a ton of time searching.
Teams will automatically place a "popped out" chat Window into a tab within the group, too, which is just a small added bonus.
Here's a close-up of what my Teams tabs look like. I also have Discord added into this group, because I like to keep any chat programs I'm using together. This works really well for me when I have a lot going on (which is often). I've mentioned it in a previous blog before, but Groupy also comes in super handy for me when I'm streaming either at home or at the office.
My teammate Jillian recently started using Groupy to help her manage all of her Explorer windows and the many projects she works on in Visual Studio. Visual Studio doesn't have an inherent way of keeping multiple projects tabbed and open at the same time like Adobe Photoshop does, for example.
She told me this morning, "I always thought Groupy was neat but never really tried it out because I thought, 'I work the way I work, and I have enough multi-monitor space, I don't need that.' But it's really awesome for being able to get to stuff quickly and not have to do a bunch of clicking around."
Whenever I stream, I need no less than about 8 tasks open at a time: about 3 Teams chats, the stream chat itself, several documents that have all of the information I need for the stream (usually ID numbers and process walk-throughs so I don't miss anything), and of course I need X-split open as well.
Normally, all of those web browser tabs would group together and be its own tab within this group. However, I separated them so I can more easily see each of them while I have X-split active, rather than having to select my web browser tab and then search the Chrome tabs in there to find what I need.
Sometimes I also keep multiple Explorer windows open when I stream so that I can share art or other pieces quickly, if the stream calls for it. The main thing here is that Groupy is super versatile, and I can adjust it however I want in order to suit my needs on a given day.
Groupy can also be extremely helpful when you're dealing with graphic or video design projects. I'm the writer on the marketing team here, so I don't have anything to do with the graphic design side of things, but my two teammates do. Like me, they can find themselves designing for multiple projects all at once, which is where Groupy can come in handy.
They can keep design programs like Photoshop or Illustrator open together and add tabs into that group with all of the folders containing their source material so that it's easy to find. For me, I use Groupy to help me work through the sometimes dozens of assets that I need for projects in Adobe Premiere.
How do you use Groupy to keep yourself organized? Share your experience with us!
Don't have Groupy yet? Get it here. You can also purchase a low-cost membership to Object Desktop to get Groupy, plus a bunch of other fantastic productivity and customization apps for your PC.

Christmas is one of the top skinning holidays on WinCustomize. We have a bunch of Christmas and winter holiday themes for a complete holiday transformation of your desktop. WindowBlinds skin, cursors, wallpaper, animated wallpapers.... you can usually find it with a quick search. We'll also be featuring more holiday themes to make it easy, and today we'll start the season with a few of our favorites.
If you have a favorite holiday or winter theme, let us know in the comments!

Christmas Holidays V.2 (WindowBlinds)
Christmas Ornament Countdown (Desktop Gadget)
Starting with the (now ancient) Xerox Alto and moving into today's Windows 10
Thursday, November 12, 2020 by Tatiora | Discussion: Stardock Blog
Do you remember when you (or a family member) brought home your first computer? I do.
It was right around 1995 when my dad purchased a Packard Bell (when I called him to talk about this blog, he informed me that his first PC was a Commodore Vic 20). At 10 years old, this technological marvel that he brought into our home fascinated me and drew my attention right from the second it was plugged in. The main draw? Packard Bell's Navigator, an alternative shell for Windows 3.1 - specifically, Kidspace.

I spent a lot of time playing using the Navigator Kidspace and playing games like 3-D Dinosaur Adventure
that came with my dad's Packard Bell.
Just look at the GUI and the icons here! We've come quite a long way since 1995, haven't we? Today I'm going to take a look at how icons have developed and changed over the years. To start, we're going to have to jump back quite a bit before my first computer memories into a time before I was born: 1973.
Xerox Alto

The Xerox 8010 Star's icons laid the foundation for how future icons would develop.
As you can see, Calculator, Document, Folder, and Trash have barely changed!
The Xerox Alto debuted in March of 1973 and was the world's first GUI (Graphical User Interface) based computer system. With only 2,000 machines worldwide, the Alto was originally built as a research computer and wasn't available for commercial release. In 1981, the Xerox Star came out as the first consumer GUI computer. It incorporated many of the design features of the Alto and was the basis for how a lot of our computer icons developed over time.
1983 Apple Lisa

You can see that Lisa's icons aren't all that different from Xerox's, except for the size and single pixel outlines.
The "preferences" icon, as time has gone on, has been replaced to look like a cog in most cases.
Apple's goal with the Lisa was to make navigation easier for new users. To do this, they implemented drop-down menus, folder-based directories, and movable "Desk accessories" that were basically early widgets.
1984 Apple Macintosh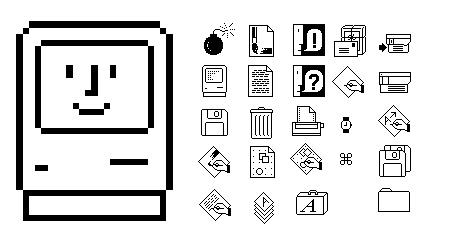 This was the first time an artist was brought in to design the icons.
Apple hired Susan Kare, who went on to do many other icon designs in the future.
Only a year later, Apple released its first Mac. The icons for this machine were clear and concise, plus they carried over certain things from their predecessors that made them instantly recognizable (notice that "Trash" and "file" are still very distinct). Apple's goal was to remain user-friendly and boost themselves in the commercial market.
There are a few other developments between the 1984 Mac and what's next on our list, but for brevity's sake I am going to skip over them and into 1985, when Microsoft breaks into the market.
1985 Windows 1.0x

The Windows 1.0x icons weren't all that fancy, and they didn't include color.
Not to be outdone, Microsoft released its first GUI in 1985, just two years after Apple's Lisa debuted. By the time it was released, Windows had color and all the usual GUI elements like scrollbars, window control widgets, and menus. Each application actually had its own menu bar (just below the title bar) attached to it, unlike the single menu bars on Lisa and Macintosh.
1991 Macintosh System 7

This was the first Mac OS with colors!
The icon images have changed slightly to be a little more dimensional - they appear slightly raised.
System 7 was codenamed "Big Bang" and was introduced on May 13, 1991. It remained Mac's main OS until OS 8 in 1997, and added features like virtual memory, personal file sharing, QuickTime, QuickDraw 3D, and of course, an improved user interface.
1992 Windows 3.1

Microsoft hired Susan Kare to greatly improve the icon design for 3.0. For 3.1, she refined the colors and designs of the icons.
Windows 3.1 is my earliest memory of an OS (and of course, at the time, I didn't even know what the heck an OS was). I rarely used it as intended, however, since I spent most of my time using the Navigator "alternative shell" that came with my dad's Packard Bell computer. Although, the icon design pictured above was still evident throughout even Navigator.
1995 Windows 95

Hooray for isometric designs! Windows 95 was a complete design overhaul and includes elements that are still part of today's designs.
The Start button made its big debut in Windows 95. The icons here have more color to them, and this version of Windows would also include updated elements for the taskbar, the menu, and of course, the famous Start button.
2001 Mac OS X v10.0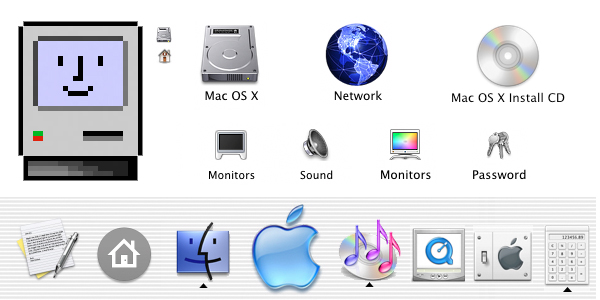 Skipping ahead a bit! According to one article I read, this Mac apparently earned the nickname "jelly mac"
for its ultra shiny and jelly-like finish on its icons.
This is the OS style I remember most vividly, since I used mostly Macs for video editing during my college years that started in 2003.
These icons are a huge leap in design from previous Mac OSes. Mac also added the Dock, which renders the icons from either a straight forward or slightly above point of view. These icons showed reflections and textures, and were a great draw for the user.
2001 Windows XP

Don't forget about Windows! Microsoft overhauled their OS system again,
introducing a brand new OS with a saturated color palette and an illustrative look.
The icons in Windows XP use a single light source and have a semi-transparent drop shadow. Continuing with the isometric style, these icons were attention grabbing and cutting edge for the time.
2007 Mac OS X Leopard

Apple decides to up its game even further, opting for a very clean, flashy, exciting look.
Check out that 3D reflective doc! The icons sit on them and the use of chrome and glass reflections make this even more popular than before. The icons themselves are pretty much the same as they were in 2001.
2007 Windows Vista

It seems like Vista wanted to get in on the more "reflective" look of its icons in order to keep up with Mac's innovations.
Interestingly, the icons in Vista are pretty different-looking from what Microsoft releases with Windows 7 later. The Windows 7 icons almost seem like a step back from the glossy, updated look that Vista showcases.
2009 Windows 7

I don't know about you, but I clung to Windows 7 as long as humanly possible before I finally had to switch to Windows 8.
Windows 7 re-imagines its icons almost completely differently from Windows XP. These icons are "softer" and appear to be more glassy than their predecessors.
2012 Windows 8

I definitely did NOT love this version of Windows. If I'd known about Start8 back in college,
I'd have downloaded it immediately to avoid all of the menu headaches.
The successor to Windows 7 introduced some pretty big changes to the OS's platform and user interface. Windows 8 was meant to be touch-optimized in order to compete with mobile operating systems like Android and iOS. The Start screen presents programs on a grid of tiles; white icons on backsplashes of color. Admittedly, I like the look here, but I hated the OS as a whole.
2015 Windows 10


Windows 10 is where we're at today.
Ah, good old Windows 10. It supports universal apps and the UI was revised in order to handle transitions between mouse-oriented interface and a touchscreen-optimized interface. It also introduced the Edge browser...which, admittedly, I never use personally.
The icons for Windows 10 are modern, sleek, and above all, recognizable.
Honestly, I really loved digging back through the last 40+ years of computer innovation and seeing how icons and imagery have evolved. If you're a fan of custom icons for your PC, make sure you check out IconPackager from our Object Desktop suite! You can replace the default Windows icons - lovely as they are - with cohesive and customized packages of icons that the app provides, or you can make your own! You can also change individual file type icons or recolor entire packages. I wrote a blog about it once upon a time.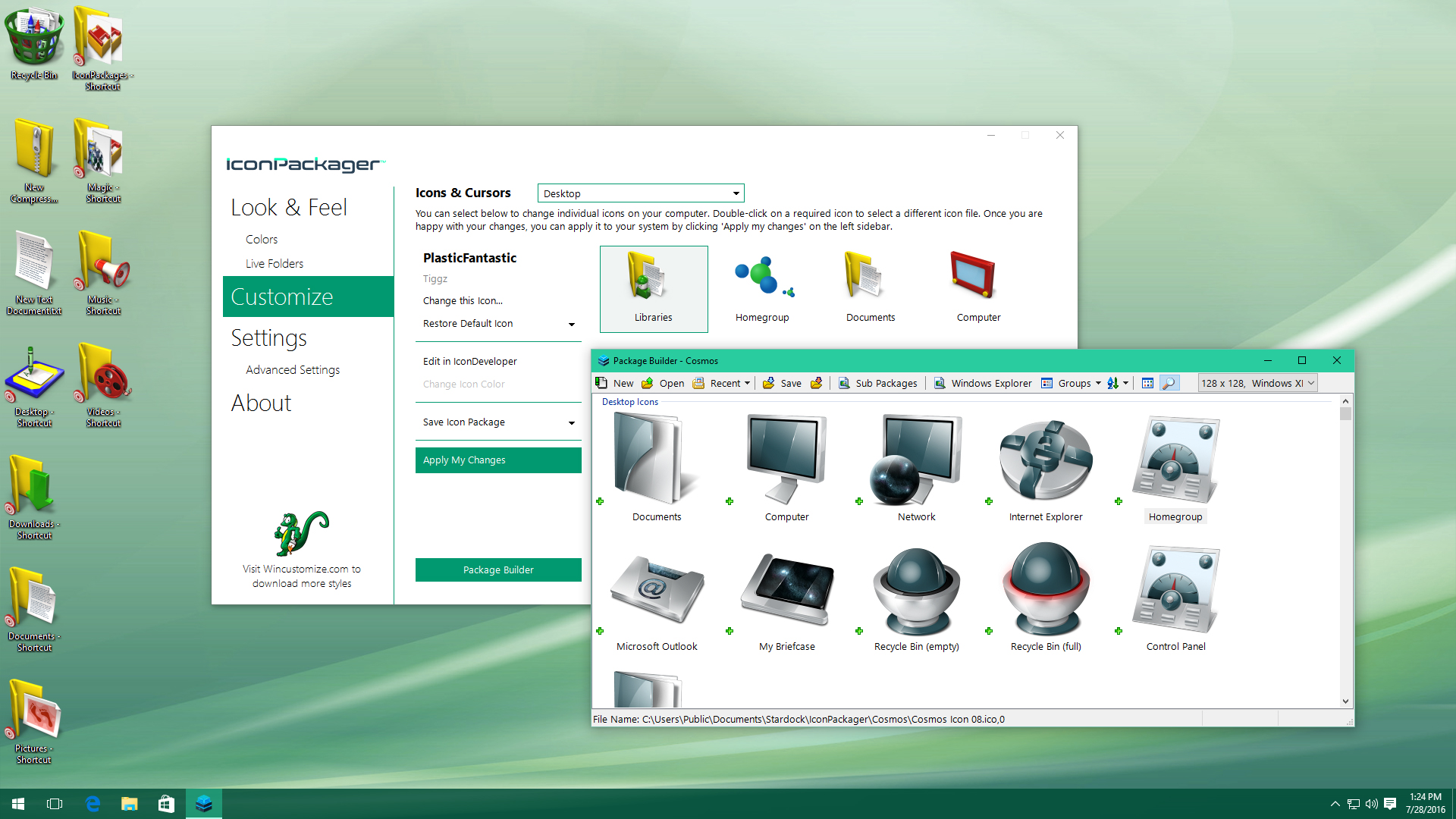 IconPackager will let you build your own icon sets with the included Package Builder!
Which OS has your favorite look? Did you ever use a Xerox Alto? Let me know in the comments!