It's crazy to think that we're already at the end of 2021! At least we have the Christmas and Winter holidays to celebrate while we wait for the new year to approach. As always, a new month means we have a new desktop screenshot thread in the forums so our awesome community members can show off their desktops.
Let us know what skins and themes you are using, especially if you have a holiday themed desktop!
Post your desktops to the monthly thread here: https://forums.wincustomize.com/508626/
(This is a news thread and will be locked. Screenshot taken by don5318)

We know the Christmas and Winter holiday season is one of most popular times of year for themes and skinning. WinCustomize has a huge amount of holiday skins available and finding them all can get a bit tricky. So, we wanted to ask what's your favorite holiday skins and themes to use?
Whether you created them yourself or just a fan of the theme, post the link in the comments so we can get some of them featured for others to see!


Thursday, December 2, 2021 by Tatiora | Discussion: Stardock Blog
I love open exploration.
This fact is actually relatively newfound information for me. I have always enjoyed RPGs and the "exploration" they offer - by that, I always meant whatever new world tidbit or experience I had as I progressed through a linear storyline.
But as open world exploration started to permeate several different game genres, I found myself finally at a place where open-world sandbox and RPG intersected: Skyrim.
As far as my immediate recollection goes, Skyrim was the first for me. My love for the thrill of a wide open world with endless possibilities that I could experience at my leisure was only further cemented when I played Zelda: Breath of the Wild. While at times I missed having a tight and linear story to follow, the allure of being able to go wherever and do whatever I wanted during a game was becoming stronger.
Open-world exploration is far from a new concept, but as I said above, I was far less aware of it until it strongly intersected with my preferred game genre. The primary downside for someone like me who is a very story-driven gamer is that the story often needs to take a bit of a backseat in an open world game. The emphasis is all on exploration and the freedom of choice. There are, of course, exceptions to this - Mass Effect, for example, balances plot and exploration fairly well - but in general the focus has to be put more on one or the other rather than both.
If we're looking at open-world exploration in genres outside of RPGs, then 4X is absolutely one of the biggest proponents of this idea. Games like Stellaris or the Galactic Civilizations series put emphasis on exploration - heck, it's literally one of the very foundations of what makes up 4X as a genre (which stands for eXplore, eXpand, eXploit, and eXterminate, in case you were unaware!).
I have often said that I find the more administrative side of 4X games to be daunting for me personally. While that still is largely true, I've found that I've become more comfortable with it as I've spent more time playing.
I realized recently that what really excites and compels me about these games is finding out what's out there. I frequently forgo the important stuff - like managing my governments, oops - because I am so wrapped up in sending my vessels out into the galaxy to find out what's lurking beyond the fog of war.
In a game like GalCiv, there's just so much out there to encounter, from new worlds to colonize, to drastic events that might alter the course of my entire civilization (I'm sure it's completely fine to accept those genetic enhancements and implant them in my people!), to encounters with pirates or other enemy civilizations who are tired of my nonsense. It's always a good feeling when I'm able to decimate a pirate fleet - we'll call that revenge for the numerous times they used to beat me up before I finally figured out what the heck I was doing.
The thing about exploration in 4X games is that it is also unfettered. I can go out and do as much as I want and explore as far as I'd like - though, certainly, there are some consequences for not being careful! I find it really interesting how the exploration in GalCiv actually becomes a part of the story you tell, along with the kinds of interactions you have with other civilizations, the ideological choices you make, and so on.
Is exploration a favorite aspect of gameplay for you? Do you love open world games? Share your thoughts with me!

We hope everyone had a fun and festive Thanksgiving, and now that November is winding down it's time to focus on our Christmas desktops! Christmas is always a fun time for skinning as we have such a wide variety of themes to choose from here on WinCustomize. Some of my favorites for the season is animated wallpapers for DeskScapes. It's always relaxing to have a nice scene of animated Christmas trees on the desktop, and we have plenty of holiday scenes to choose from.
Here are a few of our favorites to get your holiday desktop started. Be sure to post in the comments what your favorite Christmas themes are so we can feature them throughout December.


Xmas Holiday by don5318 (WindowBlinds)
Christmas Tree (DeskScapes animated wallpaper)
Christmas Holidays V.2 (WindowBlinds)
Christmas Lights (Desktop Gadget)
Gingerbreads Playing in Snow (Wallpaper)
I get to do this once a year on paper, but I feel it year-round.
Thursday, November 25, 2021 by Tatiora | Discussion: Stardock Blog
The weather in Michigan has started to turn colder, though for the time being we've dodged any real abundance of snow (I know, I know - I just cursed us). As we enter into the holiday season, I find it impossible not to reflect a bit on how fortunate I am to have become friends and share so many experiences with my inredible colleagues at Stardock.
The last two-ish years have been a bit strange, to say the very least. The pandemic forced us all into remote work and kept us from seeing each other for a long while - but, we managed to get around the loneliness by holding frequent online game nights. One night, we even organized a trivia competition, which turned out to be quite a lot of chaotic fun.
Since we've added several remote coworkers to our roster lately also, we still find time to run online game nights so that we can spend time with them, too! Of course, I'm not sure how effective it is as a team building activity when you're betraying each other in Among Us for hours on end...
Anyway, as vaccines started rolling out, we slowly and surely started returning to doing things together in the office. Our first big in person event was - surprise, surprise! - a board game night in our studio's cafe. It was the first time I had met a lot of our new hires at the time, and the energy in the room was joyful and excited as we got to connect with each other in person for the first time in ages.
What followed was a slew of other fun activities together - it's almost like we crammed a year's worth of gatherings into the month of October alone! Our annual chili cook-off was hugely successful and ended with us trudging back to our desks with bellies full of chili and smiles on our faces. The competition was fierce, but only three of us could take home the coveted prizes while everyone else plots on how to overthrow us next year.
We also had a trip to a local Cider Mill for some cider and donuts - plus a really toasty bonfire! - followed by our big Halloween party at the end of the month. Everyone here at Stardock loves Halloween and our array of costumes this year definitely didn't disappoint!
We may have burned the candle at both ends that day, since later in the evening we held our first ever Stardock D&D night. Most of us didn't leave the office until close to 1am - but it was more than worth it. Our adventure went off without a hitch and everyone had an amazing time.
We have a short break for Thanksgiving today and tomorrow, and then it's back for a couple of weeks so we can wrap up projects before our holiday! Stardock will be closed from December 24th - January 2nd so we can have a little vacation before we start ramping up for all of the great stuff we've got planned for 2022.
I hope your holiday season is safe and filled with joy. Thanks for reading!
The Thanksgiving holiday is this week for many of us in the community. We wanted to take a moment and send out a big thank you to our community and to send a big Happy Thanksgiving to everyone who is celebrating this week with family and friends. We appreciate everyone in our various Stardock communities, and we hope you have a great holiday!
Do you have any plans for this week or the weekend? Are you cooking anything good? Let us know in the comments!
We're halfway through November and the galleries are getting a nice stream of uploads over the past couple of weeks. There's lots to look at but today I just wanted to take a moment and feature some of the fantastic desktop wallpapers in the gallery.
You can check out all the latest desktop wallpapers here, and in the DeskScapes app.
Fences 4 Beta 1 Available Today with New Peek Feature
Fences Peek and Desktop Display will improve your workflow
Get into the Beta Now
Stardock has released the first beta of Fences 4, a program that allows users to automatically organize files, folders, and applications on their PC desktops into custom-sized spaces called fences. Fences 4, designed to work with Windows 10 and 11, introduces Peek, a new feature that will streamline your workflow while keeping your desktop organized.
Fences Peek lets users instantly view their fences by pressing Windows key + space to make accessing your content much faster. For example, while working in a program like Adobe's Premiere or Photoshop, users can bring up a folder portal filled with their source footage and images to the surface of their desktop by pressing the assigned hotkey. This eliminates the need to minimize the application and go searching for the required asset in File Explorer.
With the enhanced Desktop Display feature, users can configure Windows key + D to be either toggle or press-and-hold. This refinement makes the hotkey easier to use and allows users more control over how they manage and access their desktop content.
"Fences 4 is designed to meet the needs of today's PC user," said Brad Wardell, CEO of Stardock. "Fences has always been a great way to organize your desktop, and the new 'Fences Peek' and 'Desktop Display' features we have coming in the beta are perfect not only for organizing, but also optimizing your workflow in most applications."
Along with new features, Fences 4 has been optimized so that it loads before the desktop when a PC is booted up, making Fences 4 not only more functional but also more performant.
Coming soon, Fences for Business introduces new features for business users to make it easier keep their fleet of PCs organized and desktops standardized.
The Fences 4 beta is available for $9.99 or through Stardock's Object Desktop
For more information, visit the Fences 4 website here.
Thursday, November 11, 2021 by Tatiora | Discussion: Stardock Blog
I have long known that I work with plenty of people who love games - that's not news to me, and if you've been reading these blogs at all, it isn't to you either! What did surprise me, however, was just how many of my colleagues actually love Dungeons & Dragons and other table-top RPGs.
About two months ago, we were coming off the high of having a fantastic in-person game night. Raeann - a member of our amazing operations team - said in one of our chats "Stardock D&D night, when?", two of us game masters (GMs) raised our hands, and the rest is history.
What commenced after that conversation was about 6 weeks of careful planning and plotting. We could have just grabbed any old module and run it, but we had grander ideas in mind. I pitched the idea of running a Stardock-inspired adventure, Jacob (the other GM) suggested we run two tables and play with some cross-table meta stuff, and we went running from there.
The three of us met frequently to design the adventure, which is called a "one-shot." This means that the entire thing, start to finish, should be contained within a single night of play. We had 12 of our awesome coworkers sign up and split them into two teams of six. Since we had a mixture of experienced players and people who were brand new, we hosted a character creation night at the office to get everyone prepared!
Each encounter and aspect of the adventure was designed to be evocative of life and culture at Stardock in some way. The brave adventuring parties were sent to investigate some strange going-ons at an ancient temple. When they arrived, they discovered that the temple was devoted to a six-headed dog god that we called Astracanum ("Star Dog" in Latin). We have an amazing dog-friendly culture here and we know our players were delighted to see some of their beloved dogs referenced in the game.
The mid-boss fight was actually designed after the little Roomba that vacuums the carpet downstairs in the "pit" - which is the nickname we have for where most of our developers sit. It is affectionately called "Doomba" and is known for causing minor inconveniences like running into people's desks or pulling their headphones out of their PCs.
The players also had the pleasure (some of them would tell you misfortune) of interacting with Yargen the Goblin, an NPC that, I will admit, Jacob and I didn't really want to include at first. In the end, Raeann's insistence that he be added won out and Jacob and I had to admit that we were wrong to have ever been in doubt. The interactions our players shared with him were hilarious and only added to the greatness of the game.
The final fight was against Ceresa, the Fallen Enchantress - who, lo and behold, was twisting and shifting the dimensions between worlds and trying to merge one world into another in order to invade it with undead armies. If you've been playing our games for a while then you'll know exactly who she is and why this was an exciting surprise to everyone at the table.
Because I can't help myself, I wanted to make props for this adventure - and thankfully, Raeann and Jacob were both on board for doing so! I think the potions that Raeann and I made turned out perfectly. We filled them with Gatorade and luster dust, which meant they were 100% edible and that our players could drink them when they used them - which they did!
We had so much fun crafting together - and Jacob even took the first test drink of our concoction. Success! Our players were beyond delighted when these hit the table.
The adventure was designed to run simultaneously so that both groups would unknowingly interact with each other to solve some certain puzzles. Eventually, they figured out that the mysterious "person" they were communicating with via the magical tablet was the other party, and there were definitely some antics that ensued after this discovery. Their actions at each table even affected the final boss - we had designed her with a dimensional rift ability that allowed us to zap players to the other table for the duration of the fight.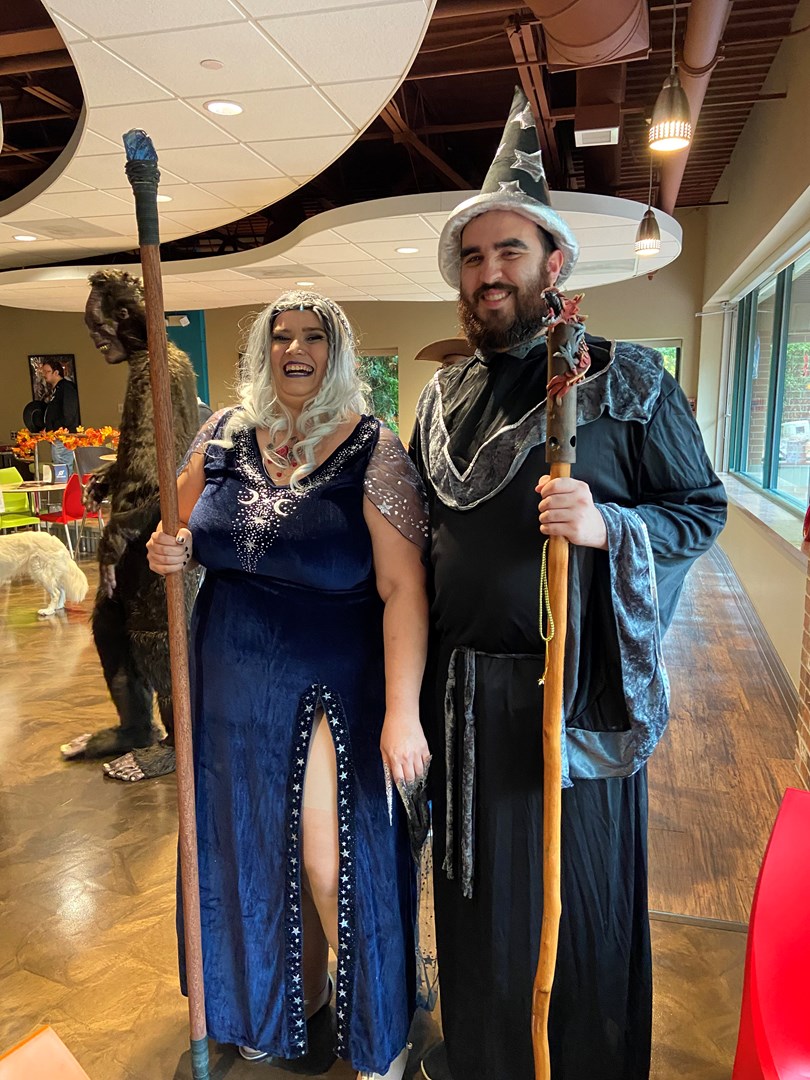 One of the benefits of running the game on the day of our Halloween party was that the game masters sort of got (and stayed!) in character. After about 13 hours in that wig, though, I was more than ready to rip it off when I got home! The game ended at midnight and I didn't get home until probably close to 2:00AM, but it was absolutely worth it.
In all, everything went off with barely a hitch. Our coworkers had a blast and the three of us are immensely proud of ourselves. We are definitely going to do some more D&D in the future - just probably not quite as elaborate as this.
Are you a table-top role player? If you have any fun stories to share, I'd love to hear them!
Thanksgiving isn't the most popular skinning holiday, but I wanted to feature a few Thanksgiving themes and wallpapers for those who want a festive desktop this month. The good thing about Thanksgiving is that many of our autumn skins will work perfectly for the holiday, and we have a wide selection of those already.
Check out a few of our favorites!
Happy Thanksgiving Holiday Spread