Fall is right around the corner and with that we have the latest edition of the WinCustomize monthly wrap-up! This is where we'll feature some of the best news, articles, and skins from the past month in case you might have missed them.

Stardock News:
NOW ON STEAM: Curtains - Add New Style Modes to Windows 10
"Stardock released its newest customization tool on Steam today. Curtains™ allows users to apply new styles along the lines of Dark Mode and Light to Windows® 10.


ANNOUNCING: Curtains v1.1 - try the beta today!
Stardock released a v1.1 beta for Curtains today, its popular customization tool that allows users to apply new styles along the lines of Dark and Light Modes to Windows® 10.

Taking advantage of the groundwork built to support light and dark mode, Curtains includes several new styles including Crystal, Sky, and Midnight mode that enhance the look and feel of the Windows UI along with apps that already support light and dark mode.
Community Posts You Might Have Missed:
Top Wallpaper Downloads for August!
Remember RightClick? I tried it on Windows 10
Have Your Vacation Plans Been Cut Due to COVID?
Make your next video stream seamless with Multiplicity
Important Questions to Consider When Shopping for Home Security Cameras
Creative Modifications: Animal Crossing
New Skins, Themes, and Wallpapers:
Sunrise Over Rice Fields (Wallpaper)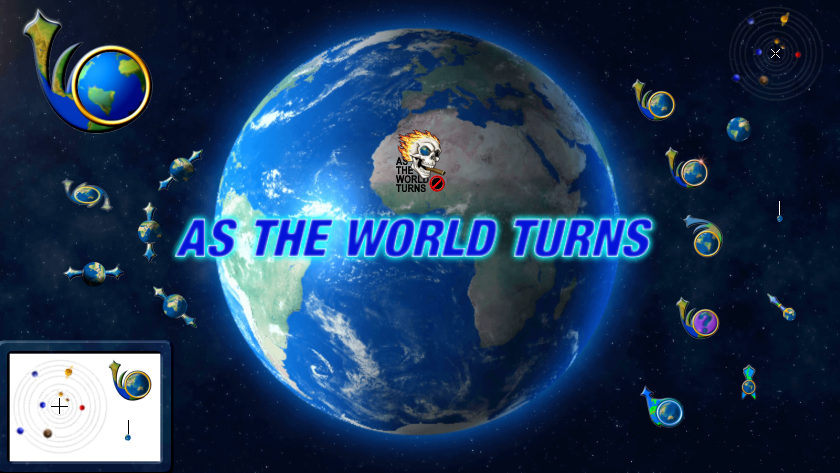 v1.1 is coming soon, but you can get the beta right now
Wednesday, August 26, 2020 by Tatiora | Discussion: Curtains News
Stardock announces v1.1 for Curtains, the popular Windows customization app
The v1.1 beta for all Curtains and Object Desktop users is available now
Stardock released a v1.1 beta for Curtains today, its popular customization tool that allows users to apply new styles along the lines of Dark and Light Modes to Windows® 10.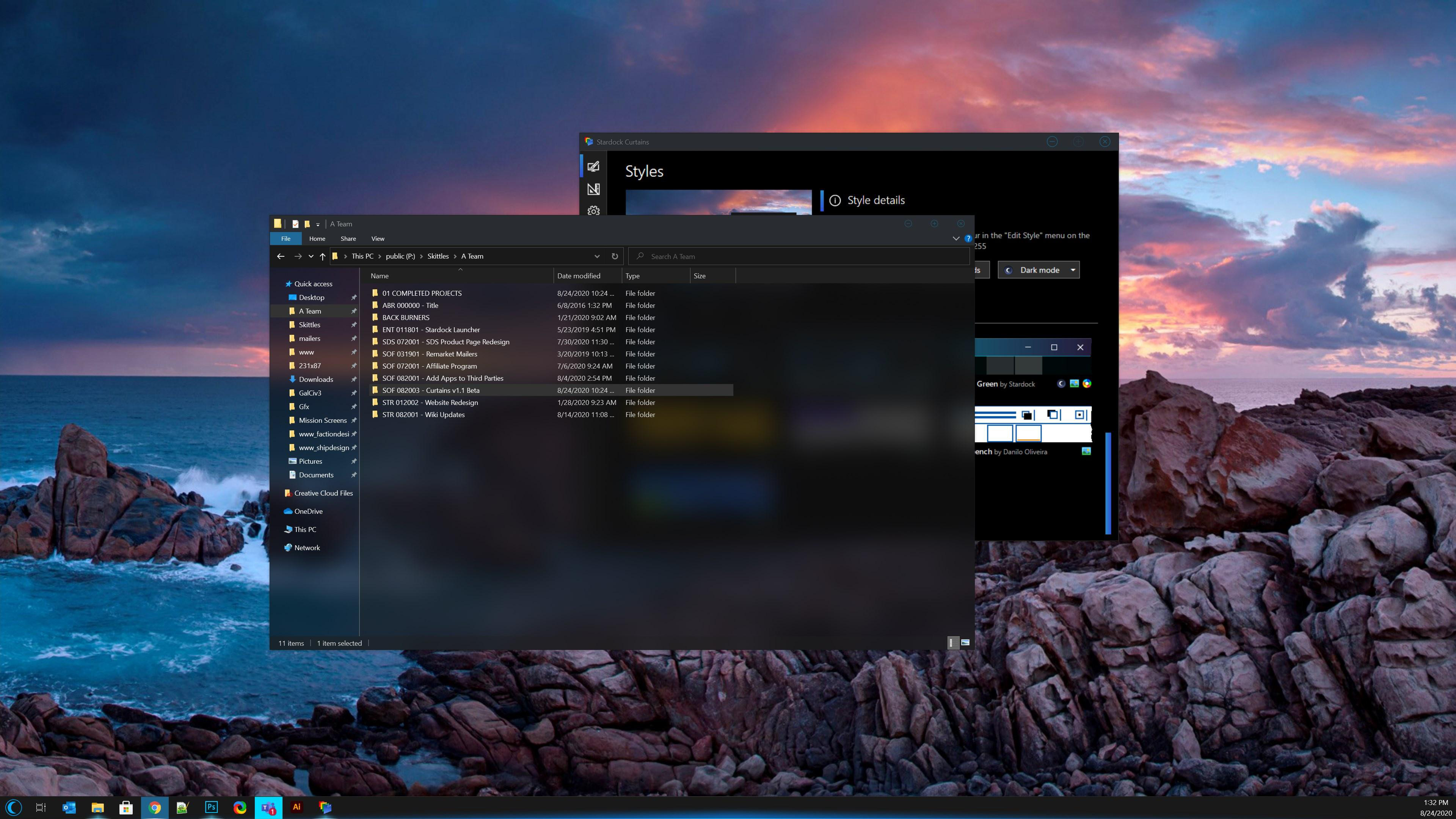 Taking advantage of the groundwork built to support light and dark mode, Curtains includes several new styles including Crystal, Sky, and Midnight mode that enhance the look and feel of the Windows UI along with apps that already support light and dark mode.
Curtains v1.1 Beta Features:
New options for explorer background transparency and blur effects (see screenshot above!)
New option to extend title bar into top of ribbon in explorer windows
Increased style application speed
Quality of life adjustments
To see a complete beta change log and to participate in our feedback thread, go here. The full release of v1.1 is coming soon. Enjoy the beta!
Don't have Curtains yet? Get it now through Stardock or Steam.
Curtains owners can get directions on how to access the beta below.
How to Get the Beta:
Object Desktop members can get the beta from within Object Desktop Manager with 'show beta downloads' enabled:
Individual purchases (as well as Object Desktop Members) can also be obtained from your an account page: https://store.stardock.com/myaccount/products
For guest check-out purchase (no account), from this link: http://www.stardock.com/support/productkeyretrieval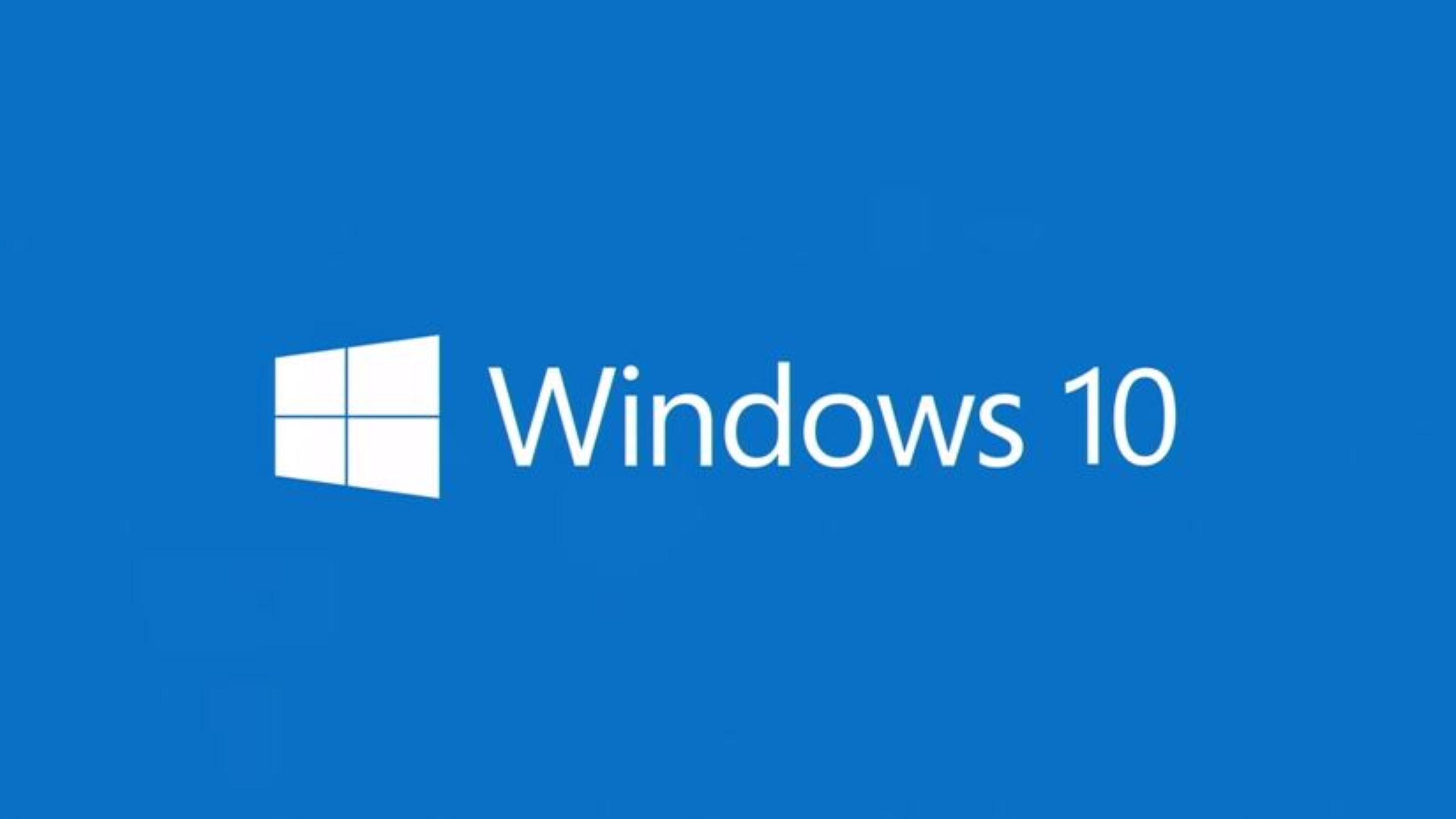 Last Friday, Microsoft announced a new Insider Preview build for Windows. Build 20197 focuses primarily on bringing Disk Management into the operating system's Settings panel.
The build is currently out in the Dev Channel right now and introduces a new Manage Disks and Volumes screen under Settings > System Storage. Users will be able to view disk information, create and format volumes, and assign drive letters this way. In their blog, Microsoft describes the new feature as a "modern experience built from the ground up with accessibility in mind."
Microsoft also stressed in its blog post that this build was a trial run experience meant to garner feedback and gauge interest. The experience won't show on newer builds, although insiders may see other experiences like it on newer builds coming soon.
There are some other updates included in this build, such as the Your Phone Apps experience, which was highlighted during the Samsung Unpacked event on August 5th. With this new feature, users can instantly access their Android phone's mobile apps directly from their Windows 10 PC. When an app is launched, it opens a separate window outside of the Your Phone app enabling multitasking.
The feedback on social media regarding the build was mixed. Do you keep up to date on Windows trial builds and have you had a chance to check this one out yet? If so, share your experience with us!
September is just over a week away and we are inching ever so close to the beginning of the autumn season. As we start winding down summer, lets take a look at wallpapers today and what has been popular over the last month.
You can download these here, and many more in our desktop wallpaper gallery here on WinCustomize!
If you have a favorite wallpaper, leave the link in the comments below.


With many people working out of the office, how are you handling it?
I confess I feel pretty blessed that I get to work daily with my sons up at the lake.  One is a 3D artists and the other a systems engineer.  Here is a picture of our setup.
It's a little messy and ad-hoc but super comfy and productive.
In one of my last blogs, I downloaded and tried out ObjectBar on my Windows 10 laptop. It was a fun experiment, and I enjoyed reading your comments on whether we should try to bring back ObjectBar. Since that got such a good response, I'd like to take a look at another app that was quite popular many years ago. It's one of my personal favorites: RightClick.
RightClick was first released somewhere around 2005, and was made in order to let Windows XP users greatly enhance the right-click desktop menu. The custom menus would let you add items such as shortcuts, system commands, tasks, and much more. You could even add DesktopX widgets to the menu!
Of course it was also skinnable, and even worked with WindowBlinds. We had a gallery on WinCustomize for RightClick skins.
Unfortunately, Windows 10 did not seem to work very well with RightClick. It took some time to get installed, and then only the menu editor would work - and that was about all I could do with Windows 10. I was a bit disappointed I couldn't get it to work, but it got me thinking about what I could possibly use it for now.

I used to setup my right-click menu to have quick access to a favorite folder, commonly used apps, and a widget or two. I also would use RightClick to completely replace the start menu for when I wanted a really minimal desktop.

Did any of you use RightClick back when it was available? What did you use it for, and what would uses do you think it should have for Windows 10?
We definitely want your feedback, so let us know in the comments below!
I noticed we have had some real nice wallpapers with great scenes of animal life of all types, so lets dedicate this weeks news to some. There are some great images here on WinCustomize of a variety of animal types, so be sure to use that search function and find a favorite.
Check out all the desktop wallpapers on WinCustomize here.
Video streaming and video content creation have risen greatly in popularity over the past few years. Video game streaming alone has turned into a multi-million dollar industry, and even just hobbyists are getting in on the action. Video creators like vloggers and many other channels on YouTube have created an amazing resource of educational and entertainment content.
If you're a streamer or content creator, you can use Multiplicity to help increase your productivity and delegation of your workload to multiple PCs.
Multiplicity can help by letting you control multiple PCs with one mouse and keyboard. Use those other PCs to do all those other tasks to free up your main computer for your streaming or editing. You won't have to worry about using hardware to control them; just setup Multiplicity on your PCs and you can seamlessly work across multiple devices easily. Here's a quick video on how it works:
If you are streaming a game or doing some serious video editing, then you are most likely using your main PC rig to handle all of that needed power. Of course while you're doing all that, there's still work to be done with another PC (or PCs). For example:
-Managing your online community
-Posting updates and monitoring social media accounts
-Researching and gathering media assets
-Chatting with other players and viewers
-Moving and managing files and documents
With Multiplicity, you'll also be able to copy and paste text and images between computers, drag and drop files and folders (KVM version), listen to audio from multiple PCs through one PC, and much more. Give Multiplicity a try on your next stream or content project, and see what a difference in productivity it can make!
Learn more about Multiplicity here.
We have a bunch of new and updated WindowBlinds skin hit the gallery and I wanted to feature a few here. These are both free and Master skins so be sure to check them all out.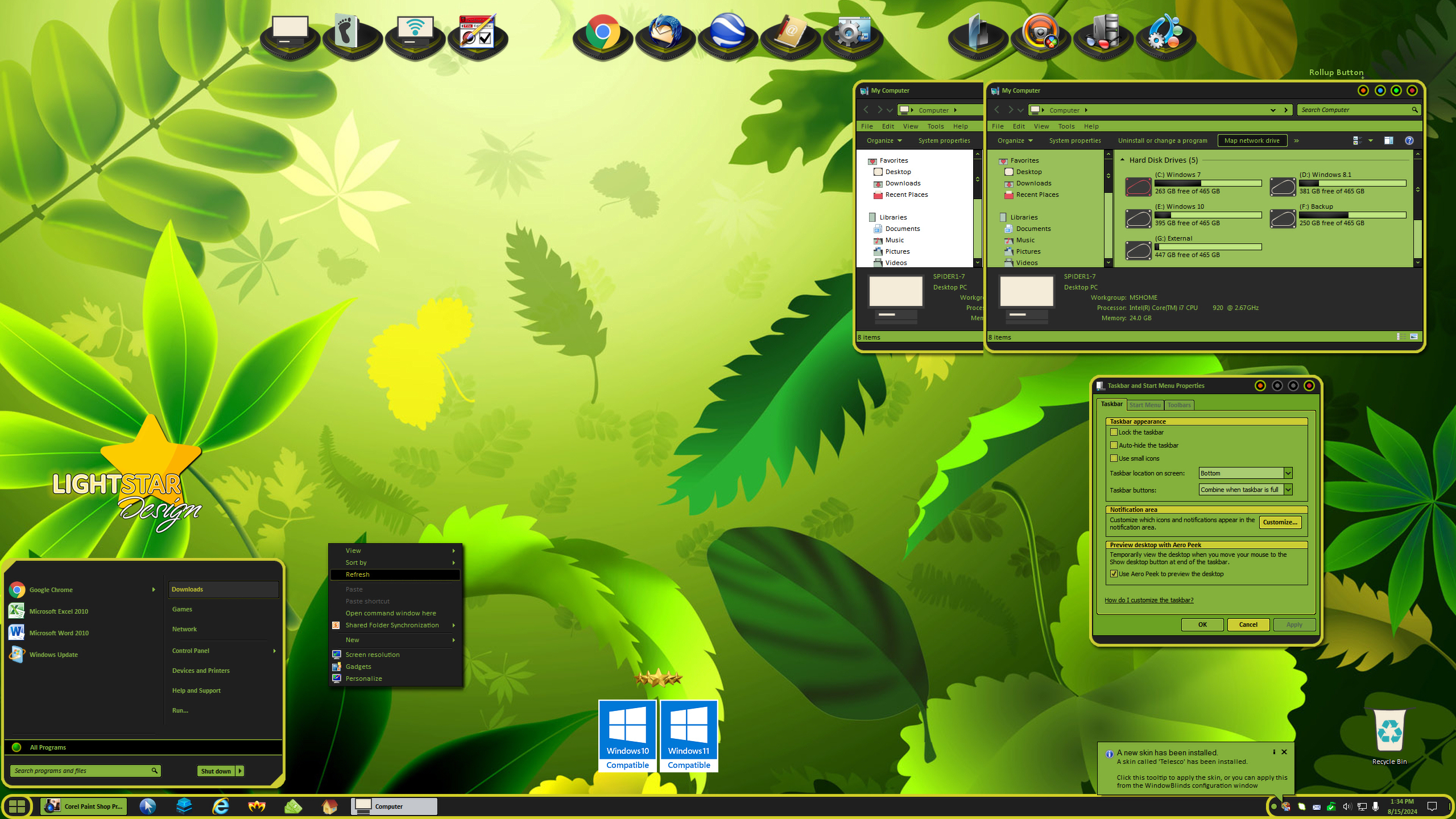 Thursday, August 6, 2020 by Tatiora | Discussion: Groupy News
Stardock Releases Groupy v1.4
Brings Improved Tabbed Experience to your Windows Desktop
Version 1.4 adds support for new Curtains app,
expands max tabs, and makes other major improvements.

Stardock has released a new version of its popular Windows desktop app, Groupy, today. With Groupy, you can organize multiple apps into grouped tabs on your desktop, making finding what you need while you work easier than ever. Version 1.4 improves the grouping user experience by adding several new features and taking into account user feedback to create an overall better user experience.
NEW Groupy v1.4 features
Curtains style support
Automatically selects suitable colors when using a Curtains style without custom Groupy parts
Expands max tabs in a group from 25 to 50
Tab bar remains dark in all apps for foreground state when in dark mode
New "close all" button added on the far right of the tab (must be in tabs above mode and tab bar set to fill full width)
Enables additional functionality for middle mouse-button in Explorer (open folders as new tabs like in a web browser)
New option for using ctrl+tab for tab switching (access on advanced options page)
Groupy works on Windows 10, 8, and 7. Once installed, creating groups with the app is simple: drag a window to another window, which combines into a single window, with tabs showing in the title bar. To ungroup apps, drag the tab off the group.
You can also create saved groups of apps and sort tabs by task or function easily. Once a group is created, quickly switch between different windows using a hotkey or clicking on the tab. Groupy can automatically add launched programs into an existing tab group.
For a full list of new features and improvements in v1.4, view the change log here.
Don't have Groupy yet? Get it now through Stardock or Steam.
Groupy owners can access the new build from their Stardock account page.