We've introduced a new app: Groupy! I think PC users are going to find the ability to group their apps into tabbed windows very useful in their daily workflow. Groupy works similarly to how you use tabs in web browsers, but now you can do the same with applications like Explorer windows, Excel spreadsheets, Adobe apps, and just about anything else.
It's really easy to setup and use Groupy, so here's a quick guide on how to get started!

Setting up Groupy
Start off by downloading Groupy from your Stardock account here. Once you go through the installation and start Groupy, you'll see the configuration window. Here, you can adjust a variety of options. Changing these settings is optional - you can just skip to the section below if you're ready to get started.
The Visuals tab in the Groupy configuration is where you can adjust items like the tab position, window icon, color settings, and other visual options.
The Settings tab is where you can change when and what windows Groupy combines, as well as how you'd like to switch and move tabs.

The Grouping tab is where you can set Groupy to combine windows automatically and adjust other group settings.
Using Groupy
It really can't get any easier to use Groupy. Just click and drag a window on top of another window that you want to group. That's it! If you want to remove a window from a group just drag the tab back off.
Groupy is available individually for your Windows PC, but you can get that and more with a low-cost membership to Object Desktop. While you're a member, you'll get free updates, access to all betas, and any new apps for one year. You'll also get access to other great programs like Fences, Start10, DeskScapes, WindowBlinds, Multiplicity, and more!
Visit the Object Desktop site for more information.
Check out thousands of downloads for Start menus, window skins, and dreams on WinCustomize
I'm one of those people. Yep, I'm the kind of person who starts getting all excited for the holiday season well before it even arrives. I've got the carols blaring on the radio and the decorations up before Thanksgiving dinner hits the table. My sister always used to say that if it could be decorated for the holidays, then I'd have it decked out and bleeding red and green.
...She's not wrong, and let me just say that my cat also doesn't appreciate my enthusiasm:
Until recently, I didn't realize that the festivities of the season could also extend to my PC desktop. As I've said before, I spent a lot of time at my computer - and if everything else is decorated for the season, why shouldn't my desktop be too?
Since coming to work at Stardock, I've been exposed to all sorts of great desktop enhancements through Object Desktop. In particular, I really enjoy applying animated wallpapers using DeskScapes. Have a look at some of my favorites!
Winter View by AzDude
Cold Winter's Night by Cyberslober
Winter Rainbow by AzDude
Winter Splendor by hansulrichveith
DeskScapes was just the start of my holiday rampage, though. I dove into WindowBlinds next so that I could find ways to make this even MORE festive. I'm happy to report that it's quite possible....
Christmas Fireplace by DaveBax
Merry Christmas by IceBabee
Christmas Flow by Destrohelix
Heck, I even found a few for IconPackager! Check this one out:
CYY Christmas by Yangge
DeskScapes, WindowBlinds, and IconPackager are all contained with our Object Desktop suite. If you want to go a step further with your holiday customization, you can get CursorFX or Object Dock and get some more custom downloads from WinCustomize.com.
From me, and everyone else here at Stardock, we wish you a warm and wonderful holiday season. Happy New Year!
Start10 is a popular choice for Windows 10 users who appreciate the look and feel of the classic Windows 7 Start menu. Its range of customizations and options make it an ideal choice to install with the OS. I wanted to focus on one feature in particular today, which is using custom images for the Start button. Start10 already includes several options for you to choose from, and there are many more available for download at WinCustomize.
Changing the Start Button
Achieving a unique look for your Start button is easy! Just click the 'pick image' box in the Style section of the Start10 configuration. It'll open up a window where you can choose from quite a few different images.
In addition to downloading custom buttons, you can make your own to submit to WinCustomize to share with other users. Once you download a Start button image, just place it in the Start button folder in the Start10 directory to access it.
Typically, that would find that directory here: C:\Program Files (x86)\Stardock\Start10\StartButtons
Creating Your Own Button
Start10 Start buttons are pretty easy to make. It's just one image file with 3 images stacked vertically and saved in a .PNG format.
Here's an example:
Here are the 3 graphics stacked (40px wide, 120px high - each button being 40px high). The top is the normal state, the middle is the hovered state, and the bottom is the pressed state. Each image represents what the button will look like in each state. When you have your image done, you can place it in the folder mentioned above.
Start10 is available individually for your Windows PC, but you can get that and more with a low-cost membership to Object Desktop. While you're a member, you'll get free updates, access to all betas (check out the beta for Groupy!), and any new apps for one year. You'll also get access to other great programs like Fences, DeskScapes, WindowBlinds, Multiplicity, and many more!
Visit the Object Desktop site for more information.
From the people who brought you Fences, Start8, ObjectDock, DeskScapes, and countless other amazing programs comes a new one that will transform the way you use your PC: Groupy.
At any given moment, people have a lot of windows open.
Maybe it's a few Explorer windows, a couple of Excel spreadsheets, maybe a a Word document or a PowerPoint presentation. Maybe they're working with Adobe Premiere and After Effects and a few other windows. In any event, dealing with all these windows can get to be quite a mess. So what's the solution?
The answer is: Stardock Groupy, the program that lets you treat all your windows the same way you are now used to treating browser windows -- put them them together with each window given its own tab.
Example 1: Got lots of Explorer windows?
No problem:
Example 2: So many spreadsheets
Lots of people end up with several Microsoft Office apps running that can easily get misplaced, especially if you have multiple monitors. Groupy fixes that.
Just put them together.
Example 3: For the Adobe power user
Many artists are familiar with working between the various amazing Adobe applications. Navigating between them adds up over time.
Instead, just put them together. Now you can switch between tabs with the Win-~ key instantly.
Now it acts as a single app. If you need to pull them apart, no problem - just drag the tab off like you would with a browser window.
Example 4: Chrome and Edge living together in harmony
Do you find yourself using multiple web browsers occasionally? Groupy can help with that, too.
Groupy supports tabs within tabs.
Edge and Chrome are now acting as a single web browser.
Example 5: Mix and Match
Maybe you are a power user or developer who has a diversified mix of applications in use to get a job done. No problem, Groupy will let you group any window with another window.
And to ungroup, just drag the tab off from the group.
It's both the simplest app and most useful app you may ever buy. Get it now as part of Stardock's award-winning Object Desktop suite of utilities at www.objectdesktop.com today.
Are you an active Object Desktop owner?
Get access to the Groupy beta today by logging into your Stardock Account. If you can't remember the email you used to purchase Object Desktop with, check out this helpful post.
Windows icons haven't changed much over the years and they're not something we think about too much, even though we click on them every day. One thing we can probably agree on is that the default icons on the Windows desktop or in the Explorer can be a bit plain - but, we can easily change that using IconPackager!
Instead of altering icons one by one, IconPackager uses an entire package of icons to change nearly every one at the click of a button.

Downloading new IconPackager themes
There are thousands of icon packs available on WinCustomize.com that can apply a matching icon set across your entire Windows PC. The program comes with several high-quality icon packs that you can start using right away, but I definitely recommend downloading even more. There are a wide variety of styles available to achieve the look that you desire for your desktop.
Just head over to the IconPackager gallery and start browsing. When you find a theme you like, just click the download button to get it. When you double-click the file, it will install to IconPackager.

Applying the Icon Theme
Open the IconPackager 10 configuration window and you'll immediately see all the icon packs that you currently have installed. Scroll through the list at the bottom of the window to see all of them, then select any of them and click the preview button to see a larger preview of the icons. When you are ready to apply, just click 'Apply icons to my desktop'. If you want to go back to the default Windows icons, just select that and apply.

Changing the Icons Colors
A cool feature in IconPackager 10 is the ability to change icon colors. Click the "Colors" section in the IconPackager configuration and you'll be presented with a variety of options. Use the sliders to change the color and you'll be able to preview the changes right from the preview window. When you're satisfied with your choice, just hit "apply" again and they will be applied to your PC.
Changing Individual Icons
If you want to just change individual icons, then click the Customize section in the IconPackager configuration. Here, you will see all of your icons. Double-clicking one will launch a new window that allows you to change that specific icon. When you're done, hit "apply."
IconPackager 10 is individually available for your Windows PC, but you can get that and more with a low-cost membership to Object Desktop. While you're a member, you'll get free updates, access to all betas, and any new apps for one year. You'll also get access to other great programs like Start10, DeskScapes, WindowBlinds, Multiplicity, and many more!
Visit the Object Desktop site for more information.
Check out these 3 tips for downloading, applying, and customizing wallpapers and dreams for your desktop!
Between work and gaming at home, I spend a lot of time on my computers. Because of this, I like to personalize my PCs to suit my style, both organizationally and aesthetically. There are tons of awesome apps for both in the Object Desktop Suite, but I want to focus on aesthetics for today. So, let's talk about how to get the most out of DeskScapes!
Get DeskScapes here.
Tip #1: Visit WinCustomize
You can actually create your own "Dreams" and wallpapers with DeskScapes (more on that later), but a good place to start gathering some for your desktop is WinCustomize. There are thousands of wallpapers and animated Dreams to choose from there and it caters to a very wide variety of tastes. If you enjoy theming your desktop to certain holidays, there are lots of options for all times of the year!
Start browsing DeskScapes Dreams here.
Downloading a wallpaper or Dream is extremely easy. Simply select the one you'd like and click the download link. Once it's complete, you can either click on the download itself and it'll apply to your desktop, or you can find it within your Deskscapes menu, along with some additional customization options.
Pro Tip: To get the most out of WinCustomize, please make sure you create an account! You can subscribe to WinCustomize for no ads, unlimited downloads, and other benefits as well. If you've purchased a product that utilizes WinCustomize, you'll have unlimited downloads for a year.
Tip #2: Adjust the Background Settings
Once you've selected a Dream or wallpaper, you can customize it to suit your desktop. Click on the "Adjust" tab in the DeskScapes menu to choose your background settings. You can assign the dream to a specific monitor, meaning that if you can't decide between Dreams, that's ok -- you can assign a different one to each monitor for a variety of looks! You can also set how it appears on the screen (stretched, tiled, centered, etc.).
Pro Tip: Some dreams have effects that you can apply your own background to! Instead of an "Adjust" tab, you'll see one that says "Settings" instead. Clicking on that will lead you to a secondary menu that will let you choose a picture saved on your PC to use with the animated effect. Try it out with "Water Dream" by Stardock Design (it is automatically included in DeskScapes).
Tip #3: Apply Effects
Once you've chosen your Dream(s), you can further customize them by going to the "Effects" tab for that Dream. There are dozens of options that will let you alter the Dream to suit your style! You can change it to black and white, add colored filters, textures, mirror effects, and more. If you've chosen a wallpaper, there will also be a tab for color adjustment and saturation available.
Pro Tip: You can combine different effects to make up your own! Click the "Combine effects" menu at the bottom of the menu, then choose "create new combined content." Give it a name, choose the effects you'd like to combine, and then save it. It will remain in your menu as an option for future applications.
I hope you get a chance to explore DeskScapes and browse the thousands of options available to you over at WinCustomize! Get access to unlimited downloads on WinCustomize and a bunch of other awesome desktop enhancement programs by becoming an Object Desktop member today.
Fences is one of our most popular desktop apps for Windows! It allows you to sort and organize your icons and folders into customizable "fences" on the desktop. Some of the coolest things about Fences are the customization features you can apply to make your fences look and function how you want them to.
In this guide, I'll show you some common customizations and how you can adjust and apply them to your fences.

Adjusting color and transparency
This is probably one of the most popular customization options available in Fences. Open the Fences configuration window and click the "Color & appearance" tab. Here, you will see most of the customization options you have to work with. You'll have several sliders which will allow you adjust the colors and transparency of your fences. Just use the sliders to apply the amount of transparency you want, and adjust the various coloring sliders to change the colors of the fences. You can apply these settings to all fences, or choose individual ones by selecting that option in the drop-down menu.

Changing the opacity of a fence
Adjusting the transparency slider in the configuration won't affect the opacity of your icons inside a fence. If you want to adjust the opacity of the fence and icons, then right-click inside a fence, select View, then Opacity, and adjust it to where you want it to be.

Re-sizing fences
When creating a new fence, you can draw the dimensions of the fence by clicking and dragging with your mouse. Some people don't realize that you can change the dimensions of a fence just by grabbing the edge of the fence and dragging it with your mouse to resize it. While re-sizing a fence, you can also hold down the Shift key to disable snapping for a more precise placement.
Fences is also available as part of the low-cost membership to Object Desktop. While you're a member, you'll get free updates, access to all betas, and any new apps for one year. You'll also get access to other great programs like Start10, DeskScapes, WindowBlinds, Multiplicity, and many more! Learn more about Object Desktop here.
If you're like me, you spend a lot of time at a computer every day. Whether it's for work or for hobbies (in my case, it's both), having an efficiently organized and productive desktop for your PC can cut down on the amount of time we spend hunting for documents or trying to remember where we put something.
Object Desktop contains over a dozen PC productivity, customization, and optimization apps that can keep your desktop a flawless and fun place to work.
Fences
For me, the number one app that helps me work efficiently is Fences. I'm one of those people who saves everything to her desktop so that I can access it easily, then gets frustrated when I've saved so much and I can't find a darn thing. Fences doesn't stop my bad habit of over-saving things to my desktop, but it does organize everything for me so that I can actually find it.
To create a Fence, I just click and drag a box around the icons I'd like to put in it. An option will pop up, I select it, and voila! -- new fence. You can name the fences anything you like and even set filters that will determine where items you save go to. Right-click on the desktop and select "Configure Fences" to get to the configuration menu, then click on the "Sorting and Organizing" section. You will be able to set your default location for all new icons, plus set type, name, and time-based rules for your fences.
If you love having a tidy desktop and appreciate what Fences does for you, then you'll be happy to know that it fully integrates with the next program we're going to talk about...
Start10
I don't know about you, but when Windows released Windows 8, the interface threw me completely for a loop. Windows 10 was definitely better, but I still find myself preferring the Start menu that I grew used to. Start10 lets you bring that classic menu - or a new, Modern styled menu - back to your PC.
Like I mentioned above, Start10 integrates with the Fences app so that you can access your fences right from the Start menu. It's great for keeping everything grouped and within quick access so you're not flooded with tons of folders and apps.
Start10 also has some cosmetic benefits for your PC. It allows you to change and customize Start menu color, layout, and icons. This can be helpful for creating unique and diverse desktop spaces among multiple computers in your work space. Our next app is a must have if you run more than one PC...
Multiplicity
In my house, physical desktop space is a premium. I also have a cat, so having one less keyboard for her to walk over and send indecipherable messages from is definitely a plus. Multiplicity has been a lifesaver for me and the 2 PCs that I run regularly.
One of the things I hate the most is sending files between computers either through email, or the cloud, or the archaic flash drive. With Multiplicity, all I have to do is drag my files and folders from one PC to another and I'm done! This is especially great when I'm working on editing streams or gaming videos and need to move saved files to my PC that has more space.
Speaking of video editing, another feature of Multiplicity that I appreciate is being able to listen to audio from both of my PCs through only one headset. I don't have to switch back and forth or fight with my speakers. The best thing, though? No expensive (and space-consuming) KVM hardware!
Since I mentioned conserving space above, that brings me to the last item on my list for a productive home office...
SpaceMonger
I tend to forget that I have a finite amount of space on my computer, shared networks, or in the cloud. When it starts running slowly or acting wonky, I like to know how I can make room on it to help it run more smoothly.
SpaceMonger will let me scan, map, and manage my storage by letting me copy, move, and delete files in order to free up space. The Treemap visuals let me locate large files and folders quickly - I can even set search criteria to let me look for file size or type.
This may seem like a little detail, but monitoring how much space is used up on your PC and knowing just how much you have left is critical for knowing what you're going to need to upgrade or adjust in order to remain efficient.
These apps can be found in the Object Desktop suite, along with several other great apps. You can learn more here.
WindowBlinds allows you to change the complete look and feel of Windows by applying skins to the user interface. This popular app includes several great looking skins, plus you can download thousands more on WinCustomize.com.
I wanted to share a few tips for using WindowBlinds, especially for those who are new to it!
Use WindowBlinds with Start10 for a complete customization experience
If you're a Windows 10 user and want the Start menu to be skinned, then you will need to get Start10. Start10 is a Windows Start menu alternative and, when used with WindowBlinds, it will let you skin your Start menu.

Modify a skin within WindowBlinds
There are tons of great skins that you can download and use with WindowBlinds, but sometimes you might want to customize it even further. WindowBlinds allows you to modify a skin by adjusting the color, transparency, texture, and fonts used in the skin. When you select a skin, just click 'Modify style' and you'll be able to adjust all those options to your liking. If you find a color and texture you like, you can also save that as a preset.

Manage and apply wallpapers
Not only can you apply skins, but WindowBlinds can also manage and apply your wallpapers. In the WindowBlinds configuration screen, click 'Wallpapers' and you will see the wallpapers on your PC. You can apply them by double-clicking. If you click the 'Settings' button, you have options to set wallpapers to change at certain times or events.
Learn more about WindowBlinds here.
WindowBlinds is also available as part of the low-cost membership to Object Desktop. While you're a member, you'll get free updates, access to all betas, and any new apps for one year. You'll also get access to other great apps such as Start10, DeskScapes, Fences, Multiplicity, and many more! Learn more about Object Desktop here.
Most of us use Windows 10 on our desktops, laptops, and tablet devices these days. Did you know that there are a ton of ways that you can customize Windows 10 to style it how you want and also make it easier to work with? I wanted to create a guide to customizing Windows 10 using Stardock software and the best skins, themes, and wallpapers that you can find on WinCustomize.com.

Use a custom theme with WindowBlinds
One of our most popular desktop customization apps is WindowBlinds. It lets you completely change the look and feel of your Windows desktop by applying skins to the user interface. These skins can change the start menu, window frames, taskbar, and much more. Thousands of skins are available to download from WinCustomize.com in a variety of styles and colors. They can also be customized further by adjusting transparency, applying different colors and textures, etc.
If you are using Start10 , then WindowBlinds will also change the Start menu to match the rest of the skin.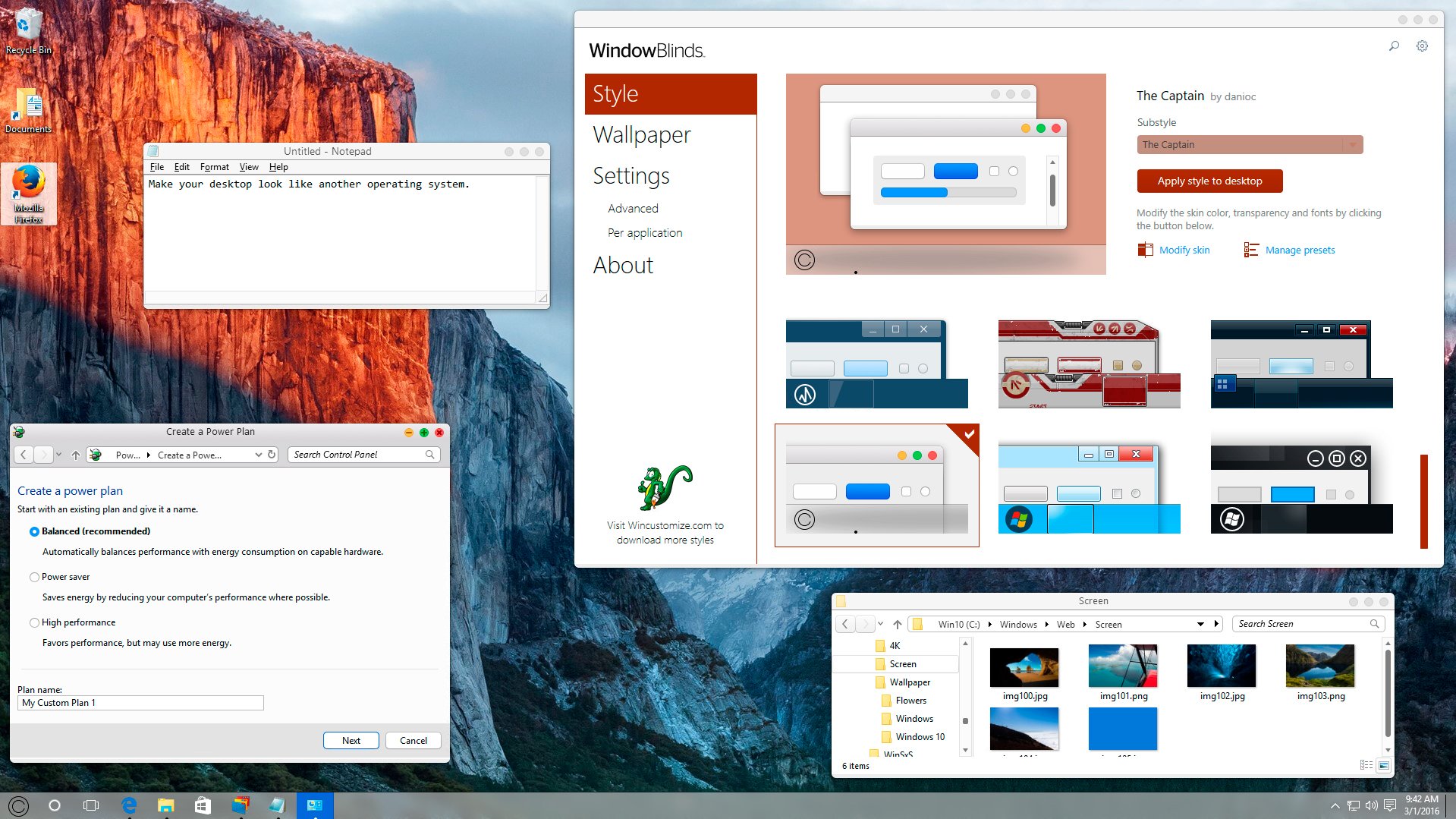 Add animated wallpapers with DeskScapes
DeskScapes gives you the ability to have custom animated wallpapers right on your desktop. Not only does it apply both animated and static wallpapers, it also has over 40 special effects that can be applied to them. Wallpapers can also be customized with animations, while animated wallpapers can be used as a screensaver. You can download dozens of options or even create your own from pictures or video!
Customize the Start menu with Start10
Start10 gives you the features and customization options to make the Windows 10 Start menu look and function like you want it to. Choose from a Windows 7 or Windows 10 style menu, or pick the Modern style to combine the best of both. Start10 also lets you maintain the "All Programs" folder metaphor, filter searches in the Start menu, and even integrates with Stardock Fences, another popular desktop application. You can also customize its transparency, coloring, texture, custom start buttons, and more!

Organize your desktop with Fences
Fences is designed to organize your desktop icons to help reduce clutter and allow you to sort icons for easy and quick access. You can create and label "fences" for your icons and folders, which then can be moved around and placed on your desktop however you like. You can adjust the size and shape of the fences to fit your needs, create rules to sort your icons and shortcuts, customize the color and transparency of the fences, and much more.
You can even create folder portals, which gives you easy access to frequently used folders without having to search around for them. Fences can also be rolled up (so that you just see the title bars) to create an even cleaner looking desktop.
Animate windows with WindowFX
WindowFX enhances your Windows desktop experience by adding over 30 animated effects to your desktop windows. There are even some (over 20!) that can be added to your Start menu. These animations can be applied to things like the opening and closing of windows, moving windows, and much more.
Additional features include the ability to automatically resize windows, hide labels on desktop icons, and use a focus feature to highlight open windows.

View and manage your running applications with Tiles
You can increase your productivity by adding Tiles to your desktop. Tiles lets you easily view and manage the running applications with a customizable sidebar that can be configured a variety of ways. Use pages for different classes of windows, and even drag applications to the bar to add them as shortcuts. Tiles is also skinnable and includes several themes and more can be downloaded from WinCustomize.com.
Add custom drop shadows
ShadowFX lets you add custom drop shadows to Windows 10. You can choose from a variety of pre-made shadows, or you can design and use your own. You can also download additional shadows from WinCustomize.com. ShadowFX is great to use when you have windows stacked on each other, since it helps you distinguish between the windows.

Change your desktop icons with IconPackager
There's really nothing more plain than the default icons in Windows. However, they're easily changed with just a few clicks using IconPackager. Instead of changing icons one by one, IconPackager uses an entire package of icons to change nearly every one at the click of a button. Of course, you can change icons individually, but there are thousands of icon packs available that can apply a matching set across your entire Windows PC. These bundled packs of custom icons can also be customized and recolored from within IconPackager.
All of these applications are individually available for your Windows PC, but you can get them all (and more!) with a low-cost membership to Object Desktop. While you're a member, you'll get free updates, access to all betas, and any new apps for one year. In addition to the apps listed above, Object Desktop suite includes:
Visit the Object Desktop site for more information!