It's back to school season! For some of you college-bound grads, it's "first time at a new school" season. If you're worried about how to keep track of all the new syllabuses and assignments you're going to have, stay productive, AND manage all of your budding social engagements on top of that, we have something for you. The productivity apps in the Object Desktop suite will make organizing the stuff piling up on your computer just a little bit easier, and the added customization apps will add some fun flare to your PC!
Improve your Productivity
Fences
Automatically organize your desktop shortcuts and running tasks
Fences lets you organize all your desktop icons by placing them in customizable shaded areas on your desktop. Configuration rules will let you automate what fence certain file types are placed in, which is great if you need to work on multiple projects or assignments. Folder portals give quick access to frequently used folders directly from the desktop, making that paper that's due in 15 minutes really easy to find.
Multiplicity
Connect two PCs with one keyboard and mouse
If you're lugging more than one computer up to school with you (does anyone do LAN parties anymore?), Multiplicity is a must-have. This wireless K(eyboard) and M(ouse) solution will let you control multiple PCs with just one keyboard and mouse. You can quickly copy and paste across them, keep multiple programs running and visible all at once, and it makes file sharing a breeze! If you'd like to get fancy, you can upgrade to the KVM or KVM Pro version for even more options, including remote viewing access in case you needed to pluck a file from a computer you left at home.
SpaceMonger
Quickly free up storage space on PCs, shared-network, and in the cloud
Running out of space on your hard drive for important projects (or pictures of the recent campus rally)? Sometimes, it can be hard to pinpoint what's hogging all of your hard drive. SpaceMonger can help! It will scan your PC, network, and cloud storage, then show you a graphic with details of what's taking up all of your space. You can also copy, move, or delte files to free up space across your hard drives. If you work with video, image editing, music files, or anything else that deals with lots of big files, this program is essential!
Customize Your PC
Start10
The number one Windows 10 Start menu alternative
No one likes to spend lots of time looking for a program in the Start menu. Start10 brings back the classic start menu and gives you several options for stylizing it so that it works how you want it to with the programs you use the most. Choose a Windows 7 style menu, a Windows 10 type, or a modern style to combine the best of both. Start10 also gives you quick access to universal apps, search filter enhancements, and integrates fully with Stardock Fences for even more enhanced productivity. You can also customize its transparency, coloring, texture, and more!
WindowBlinds
Customize the look and feel of your taskbar window frames and more
If you want the ultimate in desktop customization options, then WindowBlinds is what you're looking for. WindowBlinds changes the entire look and feel of Windows by applying custom skins to the user interface. There are thousands of these skins available that you can download from WinCustomize.com. The WindowBlinds customization menu offers even more options through applying color, changing transparency, and more.
DeskScapes
Personalize your desktop wallpaper with animated pictures and video
Stand out in the crowd with an awesome and unique wallpaper for your desktop. With DeskScapes, you can apply an animated wallpaper right onto your desktop background. You're going to be spending a lot of time on your computer, so you might as well enjoy what you're looking at! Thousands are available for download at WinCustomize, but if you're feeling fancy, you can easily make your own from a personal video.

All of these applications are individually available for your Windows PC, but you can get them all (and more!) with a low-cost membership to Object Desktop. While you're a member, you'll get free updates, access to all betas, and any new apps for one year. In addition to the apps listed above, Object Desktop suite includes:
Visit the Object Desktop site for more information, and good luck on your first day at school!
Fences and Start10 are two popular apps from Stardock. Fences is an app that lets you organize your desktop icons into customizable fences. Start10 is an alternative Start menu for Windows 10 that brings additional options over the default Start menu. Both of these are also included with an Object Desktop membership.
One of the great things about having both these apps is they work wonderfully together and Start10 has an integrated feature with Fences which allows you to show your fences in the Start menu.
There's really no setup involved, you just need to make sure in Start10 you are using either the Windows 7 Style or Modern Style Start menu configuration.
I have several fences on my desktop including folder portals, and with the Start10 integration I can now have quick access to them via my Start menu.
As you can see in the screenshot below, my 'Desktop Stuff' fence also shows up in my Start menu.
If you are a Windows 10 user, we have a great set of apps that can help you customize and enhance your user experience. The best part is, this can be done for under $10 each!
Below is a quick overview of each app and what it can do to improve your Windows 10 experience.

Fences
Fences lets you organize your icons and shortcuts by placing them into fences, which are customizable shaded areas located on your desktop. You can even create folder portals, which gives you easy access to frequently used folders without having to hunt around for them. Fences can also be rolled up to create an even cleaner looking desktop.
WindowBlinds
WindowBlinds lets you change the complete look and feel of your user interface by applying custom skins. There are thousands of skins available for download from WinCustomize.com in a variety of styles that can fit just about any style you might be looking for. These skins can also be customized further by adjusting transparency, applying different colors and textures, and much more.
If you are using Windows 10 and the popular Start10 application, then WindowBlinds will also change the Start menu to match the rest of the skin.
DeskScapes
DeskScapes is a very cool app. It puts animated wallpapers right on your desktop and works great with other applications, such as WindowBlinds. You can use animated videos and pictures - DeskScapes even has over 40 special effects that can be applied to your wallpapers. Wallpapers can also be customized with animations and the animated wallpapers can even be used as a screensaver.
IconPackager
If you are tired of the default icons in Windows, then we have a great solution for you. IconPackager can change the default Windows icons with icon packages. These bundled packs of custom icons can also be customized and recolored from within IconPackager.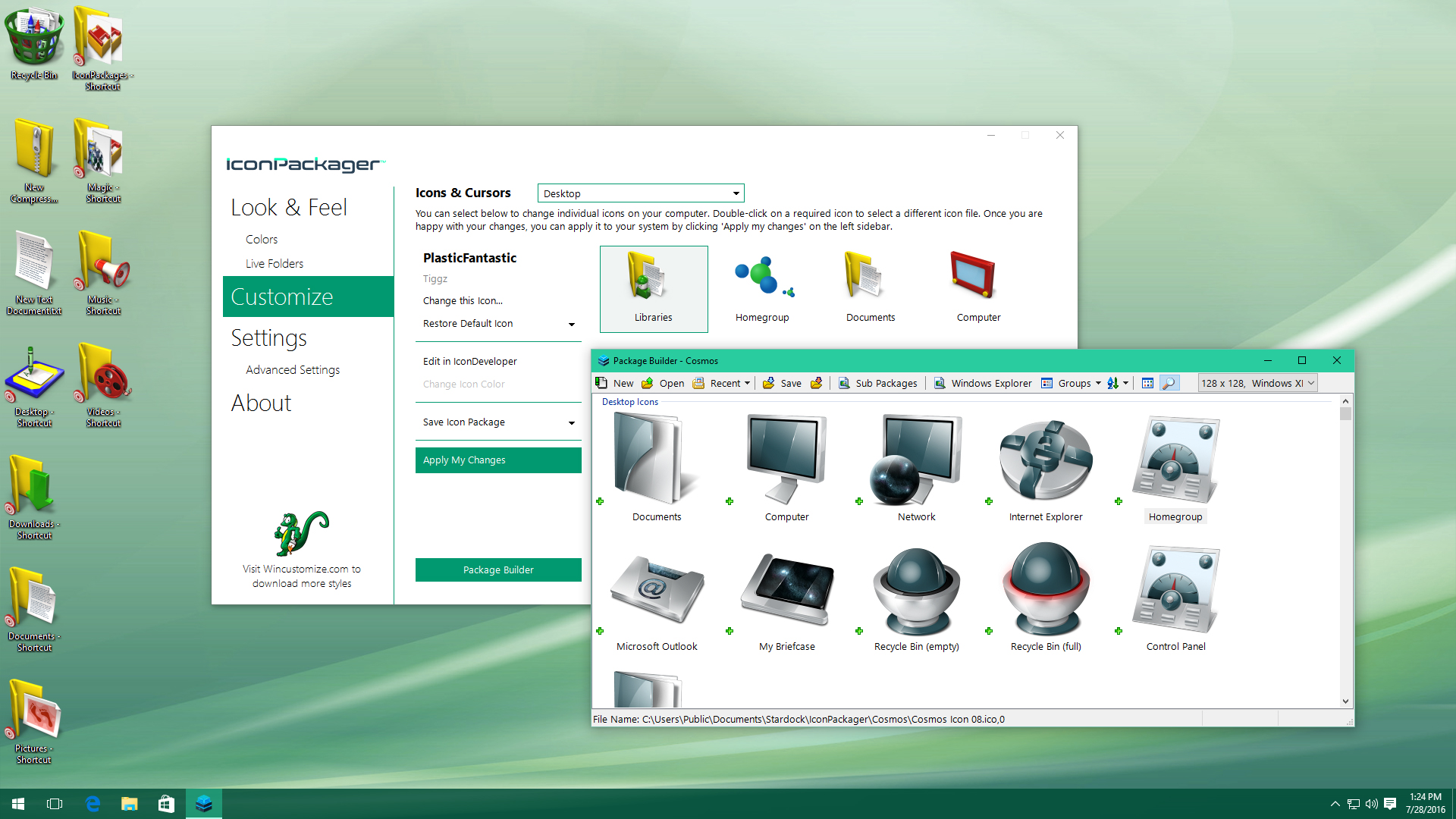 These are just a few examples of the many desktop enhancements we have available for Windows users. You can see all the rest of our apps here. I also recommend taking a look at Object Desktop, the suite of desktop apps which include everything mentioned above, and many more.
Learn more about Object Desktop here.
Fences, Stardock's desktop organization app, has become quite a fan favorite since it was first released. The app lets you automatically organize your desktop icons and shortcuts into fences to keep your desktop area clean and organized. The latest version, Fences 3, added several new features, including compatibility with Windows 10.
Get Fences here.
Fences has lots of cool features to help you organize your desktop just the way you want it. I'm going to share my top 3 tips for using Fences.

Save space with Roll-up Fences
This is a new feature introduced in version 3, and it's probably one of my top favorites. Fences already makes your desktop much more organized, and the roll-ups take it a bit further. A roll-up fence does just what the name implies: with this setting, the entire fence will roll-up and just display the title bar for the fence. This saves you even more desktop space. To see the contents of the fence, you simply move the mouse over it. This is especially useful if you have lots of fences, or a fence that has items you don't access too often.
Access frequently used folders with Folder Portals
This is another feature I use all the time. If you have a folder that you use often, you can create a fence in order to have access to that folder's contents right on your desktop. You can now navigate the folder structure right within the fence, making portals even more useful.
There are several ways to create a folder portal, but I just drag my mouse to create a fence and select the create a folder portal option. Other methods can be found in the Fences configuration.
Customize the look of your fences
I like to customize the items I have on my desktop, and Fences allows several different customization aspects to help make my desktop look the way I want it to. In the Fences configuration screen, you can select from a variety of options such as the background style and color, label customization, and more. In Windows 10, you can also have translucent backgrounds in the fences.

Those are just a few things that I find useful when using Fences. It really is a great piece of software to keep your desktop organized, so be sure to give it a try. Let us know in the comments below if you have any favorite tips or want to give us some examples of how you use Fences.
Learn more about Fences here.
WindowBlinds 10 gives Windows users the ability to change the look and feel of the desktop by applying custom skins to the user interface. There are thousands of skins available to create a truly custom feel. WindowBlinds has an interface that is very easy to use, but I wanted to go over the basics of the app and how to get started with changing your desktop theme.
Get WindowBlinds here.

WindowBlinds Overview
When you first open WindowBlinds, the main 'Style' configuration screen will pop up. Here you'll see the main window which displays all of your installed WindowBlinds skins. On the left side you have links to other features in WindowBlinds such as wallpaper management and settings. Clicking the WinCustomize logo at the bottom will take you directly to the WindowBlinds skin gallery where you can browse and download thousands of skins to use.

Applying a desktop skin
WindowBlinds includes several skins that you can immediately start using. If you don't find anything you like in the defaults, you can download more at WinCustomize.com. To install a skin that you've downloaded, just double-click the .wba file and it will automatically install into WindowBlinds. Click any skin in the WindowBlinds window and you'll get a preview of the skin with additional options shown at the top of the WindowBlinds window. These options include the ability to color the skin, adjust transparency, apply textures, and more.
Some skins will have a substyle that can be chosen by using the drop-down menu. Substyles are the same skin, but with different options such as different color options or substyles that are made for a particular version of Windows.
Once you have selected the skin you want to use, either double-click the WindowBlinds window or select 'apply style to desktop' to apply the skin. You desktop should now be skinned!

Examples of WindowBlinds skins:
Wallpapers
Another cool feature in WindowBlinds is being able to manage your desktop wallpaper right from the app. In the wallpaper section you'll see all your specified wallpapers in one place. Click the setting button and choose wallpaper locations. Here you can tell WindowBlinds where to look for your wallpapers so they'll be included.

Once you have your folder locations setup, you can easily browse through your wallpaper collections and apply them by double-clicking or hitting the apply button.
WindowBlinds Settings
Here you will find all the settings that you can adjust in WindowBlinds. I won't go into much of what these do, but if you need to adjust any settings or set specific app-specific settings this is where you will be able to do that.
So that was just a basic overview of the WindowBlinds configuration and how to apply a skin and wallpaper to your desktop. This should help any new users get started, and be sure to check back for more articles as we will take a look more at some of the features in WindowBlinds.
Learn more about WindowBlinds here.
If you are a Windows 10 user, we have a great set of apps that can help you customize and enhance your user experience. The best part is, this can be done for under $5 each!
Below is a quick overview of each app and what it can do to improve your Windows 10 experience.

Start10
Start10 is one of Stardock's most popular apps for Windows 10. It is an alternative Start menu that brings additional customization and functionality to the Windows 10 Start menu. If you prefer the look of the Windows 7 Start menu, you can configure that style using Start10. You can even apply custom Start buttons for even more individuality.
Start10 also gives you the ability to maintain the "All Programs" folder metaphor, filter searches in the Start menu, and even integrates with Stardock Fences, another popular desktop application.
ShadowFX
ShadowFX lets you add custom drop shadows to Windows 10. You can choose from a variety of pre-made shadows that are included with ShadowFX, or you can design and use your own custom shadows. Additional shadows can also be downloaded from WinCustomize.com. ShadowFX is great to use when you have windows stacked on each other, as it helps you distinguish between the windows.


Launch
Launch is a stationary dock that is designed to be used in the Windows 10 Start screen. This allows you to quickly launch applications right from the dock and use docked app jump lists for even quicker access. Launch can be positioned at the top or bottom of the screen and will always stay in place when you swipe left or right in the Start screen. This is a very useful tool when working in Tablet mode in Windows 10.
These are just a few examples of the many desktop enhancements we have available for Windows users. You can see all the rest of our apps here. I also recommend taking a look at Object Desktop, the suite of desktop apps which include all of the apps mentioned above.
Learn more about Object Desktop here.
My desktop running WindowBlinds, DeskScapes, WindowFX, Fences, Start10 at 5K resolution
IconPackager, Tiles and more at 5K resolution
Object Desktop is a suite of desktop enhancement utilities designed to allow users to customize their Windows desktop to work however they want it to work.
The core components of it are:
WindowBlinds – customize the Windows GUI
Fences – organize your desktop
IconPackager – customize your icons
DeskScapes – customize your desktop background
WindowFX – customize the UI behaviors
But that line up has changed as Windows has changed over the years as Windows has changed.
When Object Desktop first launched for Windows its 5 core parts were:
WindowBlinds
ControlCenter – virtual desktops
IconPackager
Tab LaunchPad – launching programs
Back then, the idea of "skinning" your Windows GUI was radical. 
By 2000, we had added a 5th item: DesktopX
DesktopX let us objectify the Windows desktop.  It was one of our most popular components.  Unfortunately, the Windows UAC (the security features built into Windows) eventually made DesktopX untenable because, by its very nature, it was designed to integrate executable code into the desktop which is the opposite of what Microsoft wanted to accomplish with its secure desktop initiative.
Windows XP Era
By 2004, Object Desktop had 3 years of Windows XP to be able standardize all its efforts on. This resulted being able to create Theme Manager which let users gain total control of the Windows desktop.
Object Desktop 2004
Windows Vista
Windows Vista was tough on Stardock and Object Desktop.  Microsoft pioneered a number of amazing technologies including Windows Presentation Foundation (WPF), XAML, Silverlight and more.  For two years, Stardock put a great deal of effort into creating an Object Desktop Vista.  This included a DesktopX that could import XAML and export sidebar objects, a version of WindowBlinds that would use WPF to create resolution independent windows and a desktop compositor and of course the animated wallpaper program, DeskScapes.
Unfortunately, two things happened.  First, Windows Vista did not replace Windows XP for most people. Second, Microsoft decided to change direction leaving its promising new technologies sidelined. 
Moreover, the new secure desktop, UAC, made it very hard to run DesktopX.
Object Desktop 2006
Windows 7
With Windows 7, Microsoft was back on course.   Stardock updated Object Desktop to version 2010. DesktopX was deprecated and in its place was Tweak 7 which gave users the ability to modify various largely hidden settings.
Tweak 7
Windows 8…sigh
For Object Desktop to thrive, it needs a single OS target.  This is very important.  Windows 8 split the Windows market.  It made Start8 possible (which became very popular) but it meant that any technology we developed would have to be aware that it might not work on most of our customers machines.
Start8
Object Desktop 2013 saw Start8 and Fences become the two stars of Object Desktop.  Neither program, however, was about customizing the look and feel of Windows as much as altering the way people work with Windows.
Windows 10
With Windows 10, Microsoft has created an OS that appears to be their new flagship.  It's still new but it appears that it will be a stable platform for us to focus our Object Desktop development efforts.  This means we can potentially revisit bringing back apps that were broken on certain versions of Windows and get them on Windows 10.
The real question is, in the age of mobile computing, what is the use case of a Windows desktop (or laptop) PC?
Object Desktop 2017
Since the release of Object Desktop 2016, Stardock has added two new programs to Object Desktop:
Multiplicity

SpaceMonger
Neither customizes the desktop but rather focuses on what we are calling the Metadesktop.   Multiplicity lets you easily access your other desktops on other machines and SpaceMonger lets you manage your drive space on your desktop and cloud drives.
This represents the start of the next stage of Object Desktop. 
Let's take a look at the core components now:
WindowBlinds
The hardest part of WindowBlinds development now is high DPI.  Many of the skins were designed when everyone was running much lower resolution.  WindowBlinds 10 nails high-DPI support but not all skins will play well with it.  This will be an ongoing evolution for WindowBlinds 10.
WindowBlinds 10
DeskScapes
Animated wallpapers are pretty cool. And today, they use trivial amounts of resources.  When DeskScapes first came out, CPU use was a concern for animated desktops. Now, machines are so much faster it's barely measurable.
DeskScapes 10: Animated wallpaper
Fences 3
Stardock released a new generation of Fences this year. 
Fences 3
But we have a lot of plans in mind for future versions of Fences.  For example, in the age of cloud storage, imagine being able to create fences to Google Drive folders? Or a Fence of your YouTube subscriptions? The mission of Fences, now that Windows 10 seems to be the standard will evolve to incorporate your world into your desktop experience.  We're very excited.
Tiles
Tiles is a program that doesn't get enough attention.  The idea behind Tiles is that you have a sidebar with a series of pages on it. Each page can have different things on it depending on what you're doing. 
Tiles
On my desktop I have these pages:
Development page.  I keep Visual Studio and a few other apps related to making software here.

Business page.  This is where I switch over to start working on budgets and contracts

Games page.  This is where I link to the various games

Surf page.  This is just a list of my favortie sites I visit.  It's how I quickly get to all the forums and such. Just click click click.
We are looking to further update Tiles (or possibly rebrand it as its mission has changed since its original release) to address Object Desktop 2017's mission of integrating your world onto your desktop.
Start10
Is the Windows 10 Start menu better than the Windows 8 thingy? Yes.  Is it good? That's only something you can decide for yourself.
As someone who deals with a lot of programs, Start10 is probably the first thing I install on a new box with Fences being a close second.
Start10
Windows 10 on my relatively new box. Thank goodness I know the weather.
Start10's mission, to keep with our theme, will evolve as Windows 10 stays around longer.   Think about how you use your modern desktop.  You may have an Android device or an iOS device.  Does your Start menu pick up any of this? Most people now have multiple devices. Their desktop is supposed to be a superset device.  That's where we have to go with Start10 in the future.  Keep the Start menu a simple, fast way to access your things but also give you the ability to quickly access anything on any device.  Google and Apple are already doing this on their devices.  Windows needs to do the same thing.
Multiplicity
Multiplicity is best known as the program that lets you control multiple PCs with a single keyboard and mouse.  The idea is that you might have a desktop and a laptop or maybe a couple other desktop machines that you have local access to and want to be able to combine these machines into a single user experience.
Multiplicity is super easy to set up.
More recently, Multiplicity added support for machines that aren't local.  In this case, it acts more like a KVM switch or a remote desktop solution.  What makes Multplicity differnet from a normal remote desktop solution is that it is focused on fidelity from top to bottom.  For example, you could play a video game via Multiplicity without a problem.
Once again, with Windows 10 becoming our target OS going forward, Multiplicity has a lot of room to grow over the next year. Our goal, again, is to integrate your digital world to your desktop.
The others
This past year we released IconPackager 10, the first major update to IconPackager in some time.  Once again, the reason is that Windows 10 is becoming a viable target for development – i.e. our finite development time isn't going to be put into targeting something that is going to be thrown out in 2 years.
WindowFX continues to evolve as well.  We haven't decided whether we will evolve the touch and other features we have in mind into WindowsFX or into a new Object Desktop program.
SpaceMonger is another recent entry into Object Desktop.  With its ability to manage not just your local storage but your cloud, it's compelling.
SpaceMonger will map out Google Drive, OneDrive and Dropbox use
We want to hear from you!
So how can you get Object Desktop 2017?
Just go to www.objectdesktop.com and there are options to renew your access to it (if you previously had Object Desktop) or get it new.  When you buy it, you access the Object Desktop manager which handles installing the components. 
Comment below with your own thoughts on what you'd like to see.
DeskScapes is a great way to mange your wallpapers, whether they are animated or static wallpapers. If you are not familiar with DeskScapes, it allows you to have animated wallpapers on your Windows desktop, and even lets you apply effects to those wallpapers for even more customization.
One of the questions I get asked the most about DeskScapes is how you can have wallpapers change randomly. It's a cool feature but it seems not everyone is aware how to enable it, so I wanted to focus on this feature today.

Open the DeskScapes configuration.
Next, hold down the Control key and select all the wallpapers you want be changed. You'll see a checkmark on each wallpaper that is selected.
When you select multiple wallpapers, you'll now have a random settings button appear. Select that and you'll now be able to select the interval in which your wallpapers will change.
Hit apply and you'll now have your animated wallpapers and static wallpapers applied according to your settings.

Learn more about DeskScapes here.
Object Desktop is a suite of desktop enhancements that lets you change the look and functionality of Windows. Being an Object Desktop member gives a lot of great value with full access to many popular Stardock applications, betas, and any new or updated apps.
Check out some of the apps that are included with your Object Desktop membership:
WindowBlinds
DeskScapes
Fences
Start10
Multiplicity
IconPackager
and more!
Learn more about Object Desktop here
As long as your membership is active, you will always get updates to the latest versions of everything within Object Desktop, as well as any new apps that are added during that time. When your membership expires, you will no longer have access to new updates, but you will still have access to the apps you had during your membership. Whether you plan to keep your membership active or not, it is still a good idea to keep backups of your apps, just so you have them in a pinch.
Here are two ways to get your apps backed up:


Download from your Stardock account
Every application you purchase, whether it's the Object Desktop membership or just a stand-alone app, is available in the 'my downloads' section of your Stardock account.
Access your Stardock account here: http://download.stardock.com
There, you will find all the links to the apps you have available. Simply download them and keep them for future use if needed.
Using Object Desktop Manager
If you download and install your apps using the Object Desktop Manager, then you should already have copies of all of your apps that have been installed.
The default location that they save to is: C:\Users\YourName\Downloads\Stardock
You can change where they are saved in the Object Desktop Manager preferences.
Ever since Windows 8 came out with the missing Start menu, Start8 has been a very popular Stardock app because it brought users back to Start menu they were familiar with. Even when the Start menu eventually returned, Start8 remained popular since it still offered Windows users a variety of options and customization.
Fast forward to today and now we have Windows 10 with its own take on the Windows Start menu. That's where Start10 comes in, and just like before, gives Windows users the features and customization options to make the Windows Start menu look and function like they want it to.
Below, check out a few tips to make your Start10 experience even better!
Start10 Integrates with Fences
Fences is another hugely popular Stardock app, so it makes perfect sense that some integration has been added. Fences lets you organize your desktop icons into grids called "fences", and now those fences are integrated right into the start menu with Start10. Any fence you have on your desktop will now also appear as entries in the Start menu.
Use a Custom Start Button
Start10 has several options for unique Start buttons that you can choose from included in the configuration screen. If you want to use a different image, there are hundreds available for download from WinCustomize.com that can be easily implemented. Pick the image you want to use, and that will be your new button on the Start menu.
Apply Textured Backgrounds to Start Menu and Taskbar
Start10 allows you to customize the Start menu and even the taskbar with the ability to apply textures. You can select from a variety of textures and can even adjust transparency, color, and other customizations to get your Start menu and taskbar looking exactly how you want it to.
Learn more about Start10 here.