We are just a week or into June and we've already had a nice batch of some WindowBlinds skins added to the WinCustomize galleries. Lets take a few minute and highlight some of these.


I have a 15" Dell XPS 4K touchscreen laptop that I primarily use for work purposes. Any productivity software I need is bought and used mostly for this machine. Over the years, I've tried out more types of apps than I could probably ever remember or count. Most of them I never stuck with because they ended up not being not very useful for what I needed.
Now, of course everyone's view on what is productive for them will vary from person to person, but I wanted to talk about the software I have used that has been absolutely essential in keeping my daily work productive and efficient.


Fences
If you've read any of my blogs over the years you'll know Fences is one of the first apps I install on a new PC. The biggest thing necessary for my productivity is organization. I have various project I work on throughout the week, most of which involve various type of files like images, video clips, text documents, etc. These can easily turn into a mess, and I use Fences to keep them organized so I know exactly where my files are.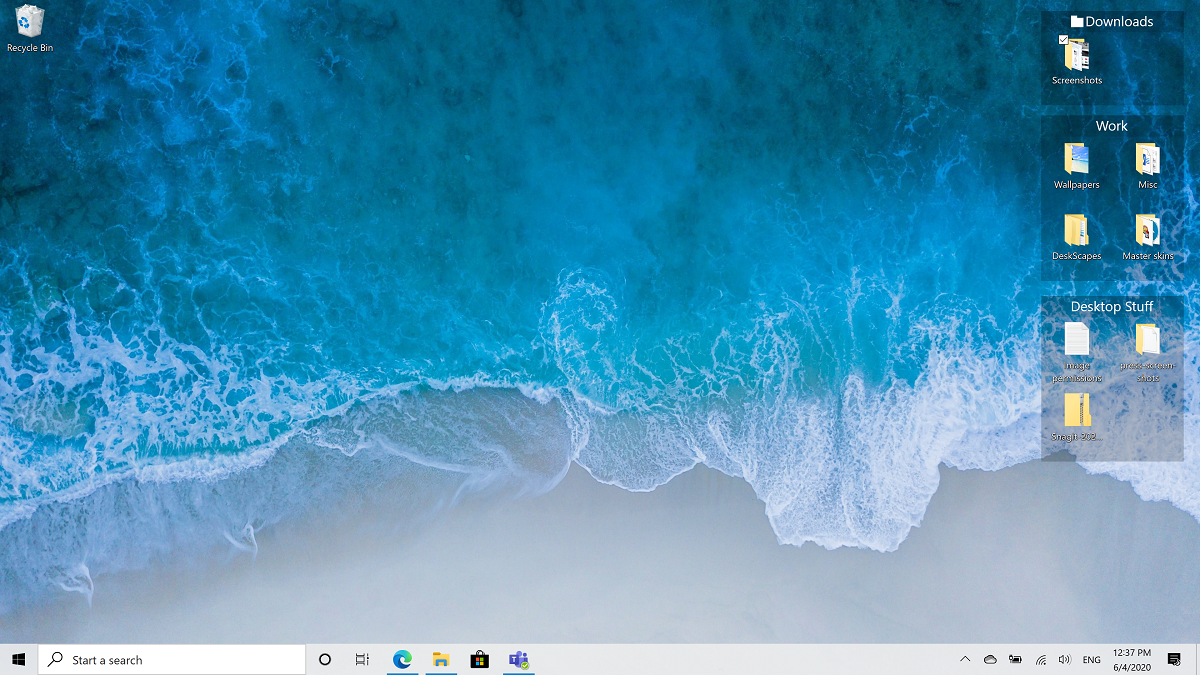 SnagIt
If you need to capture images or video of your screen, then there is nothing better than SnagIt. I have used it for longer than I can remember, and it is one of the main apps I use when creating tutorials, screenshots, blogs, and much more. Aside from taking the screenshots/video, it has a powerful editor where you can edit and mark-up for use in your media.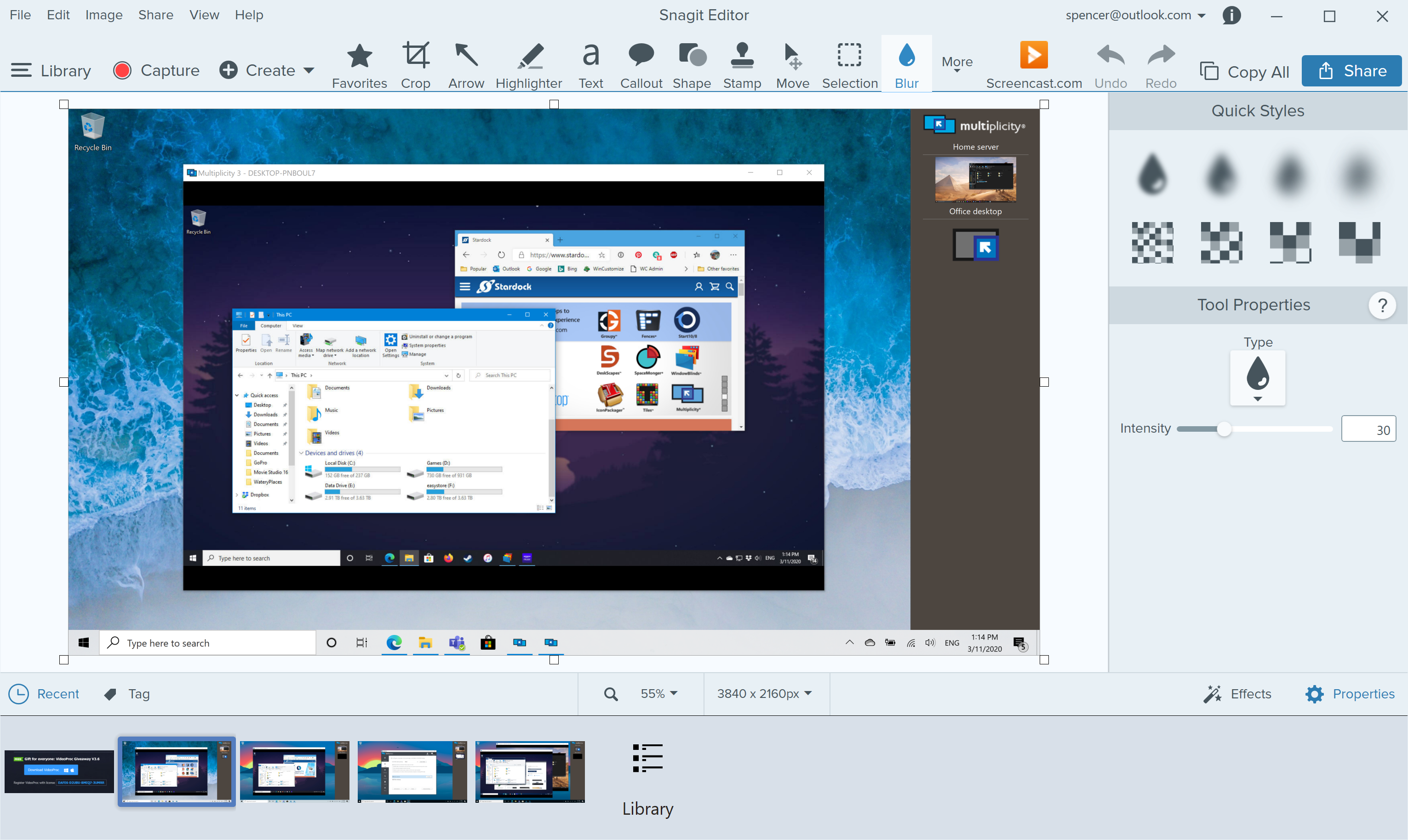 1Password
There are many password managers out there, and I've tried a fair share of them. 1Password ended up being my favorite, as I have found it's the easiest to use and works well with most web browsers. Another huge benefit is that it works across all my devices. I have all my passwords synced across my PCs, iPad, and iPhone, so I always have access to my passwords.

Groupy
Groupy is probably the newest addition to my PC out of the software I've listed here, but it has certainly earned its place. Groupy basically lets you group multiple apps into tabs so you can quickly create a workflow for whatever task you might have. Lets say I'm working on getting some content up on WinCustomize for DeskScapes - I might have my video editor, video encoder, DreamMaker, and notepad grouped so I can easily switch between them. That's just one simple example of the many ways you can use Groupy to up your desktop productivity.

Let me know in the comments if you use any of these apps, or any different ones that you recommend!
Summer isn't officially here for a couple of weeks yet, but it's the beginning of June and I'm getting my desktop ready for the beach. I like to keep some of my desktop themed with the seasons, and Summer is one of my favorites.
We have lots of skins and themes to change the whole look of Windows, but today I'm going to highlight some animated wallpapers for DeskScapes.
We've also been working on the site getting the tag functionality working great. Many creators have been adding them to their skins which should make searching for a particular type of skin a bit easier. So if you are looking for more of these use words like "tropical", "beach", "summer", etc. and you get a bunch of great selections.
OS/2 Forever!
Thanks Curtains! www.stardock.com/products/curtains
Object Desktop is a suite of desktop enhancements that lets you change the look and functionality of Windows. Being an Object Desktop member gives a lot of great value with full access to many popular Stardock applications, betas, and any new or updated apps.
Check out all the apps included with Object Desktop here.
https://www.stardock.com/products/odnt/
As long as your membership is active, you will always get updates to the latest versions of everything within Object Desktop, as well as any new apps that are added during that time. When your membership expires, you will no longer have access to new updates, but you will still have access to the apps you had during your membership. Whether you plan to keep your membership active or not, it is still a good idea to keep backups of your apps, just so you have them in a pinch.
Here are two ways to get your apps backed up:


Download from your Stardock account
Every application you purchase, whether it's the Object Desktop membership or just a stand-alone app, is available in the 'my downloads' section of your Stardock account.
Access your Stardock account here: http://download.stardock.com
There, you will find all the links to the apps you have available. Simply download them and keep them for future use if needed.
Using Object Desktop Manager
If you download and install your apps using the Object Desktop Manager, then you should already have copies of all of your apps that have been installed.
The default location that they save to is: C:\Users\YourName\Downloads\Stardock
First Astronauts Launched to Space Station from U.S. Since 2011
The Falcon 9 rocket and Crew Dragon spacecraft roll to pad 39A during its first test flight in February. Credit: NASA/Joel Kowsky
Today, American astronauts will launch on a rocket from American soil to the International Space Station, marking a new era of human spaceflight. NASA astronauts Robert Behnken and Douglas Hurley, chosen for their experience on several previous missions on the space shuttle and extensive test pilot and flight experience, will fly on SpaceX's Crew Dragon spacecraft, lifting off on a Falcon 9 rocket at 4:33 p.m. EDT May 26th from Launch Complex 39A in Florida. The astronauts will remain on the International Space Station for an extended stay for the Demo-2 mission.
This historic moment has been a decade in the making thanks to a groundbreaking public-private partnership that finally returns the United States to the business of human spaceflight for the first time since NASA's space shuttle fleet retired 2011. After successfully docking, Behnken and Hurley will be welcomed aboard station and will become members of the Expedition 63 crew. They will perform tests on Crew Dragon, which was built by Elon Musk's SpaceX company and funded by the US government under the Commercial Crew Program.
According to NASA's website for the mission: "Lifting off from Launch Pad 39A atop a specially instrumented Falcon 9 rocket, Crew Dragon will accelerate its two passengers to approximately 17,000 mph and put it on an intercept course with the International Space Station. Once in orbit, the crew and SpaceX mission control will verify the spacecraft is performing as intended by testing the environmental control system, the displays and control system and the maneuvering thrusters, among other things. In about 24 hours, Crew Dragon will be in position to rendezvous and dock with the space station. The spacecraft is designed to do this autonomously but astronauts aboard the spacecraft and the station will be diligently monitoring approach and docking and can take control of the spacecraft if necessary."
The Demo-2 mission will validate the company's crew transportation system, including the launch pad, rocket, spacecraft, and operational capabilities. This also will be the first time NASA astronauts will test the spacecraft systems in orbit. The mission website also states that, "This certification and regular operation of Crew Dragon will enable NASA to continue the important research and technology investigations taking place onboard the station, which benefits people on Earth and lays the groundwork for future exploration of the Moon and Mars starting with the agency's Artemis program, which will land the first woman and the next man on the lunar surface in 2024."
Want to watch the launch? You can see it live here on NASA's YouTube channel, plus visit their website to see what other upcoming events might be worth watching. Share your thoughts in the comments below!
It's hard to believe we're already heading into June! While we're slowly getting back to normal, the beach still may be a place that some of us cannot get to just yet. If that's the case at least consider putting a tropical beach theme on your desktop until you can get there!

Stardock News:
NOW AVAILABLE: Curtains Public Beta - Add additional style modes to Windows 10!
"Stardock released a public beta for its new customization tool today. Curtains™ allows users to apply new styles along the lines of Dark Mode and Light to Windows® 10.

Taking advantage of the groundwork built to support light and dark mode, Curtains includes several new styles including Fluent, Cairo, and Crystal mode that enhance the look and feel of the Windows UI along with apps that already support light and dark mode. "
Community Posts You Might Have Missed:
IKEA releases creative fort diagrams to build with your kids during quarantine - so I built one for myself
What Would You Like to See in an Updated SkinStudio?
Microsoft moves Build conference to online format
Stardock Curtains brings new customization options to Windows
Recent Leaks Give Look into New iPhone 12 models
Add these Curtains Styles from Danioc to your Collection!
New Skins and Wallpapers:
Flowing river between trees (Wallpaper)
One by SysInternals Mark Russinovich
Saw this article on MakeUseOf (linked above) offering five powerful alternatives to MS's improved Task Manager.
Right now I'm trying SysInternals Mark Russinovich's Process Explorer which looks best to me for my needs. If you like Process Explorer, it's landing page is here: https://docs.microsoft.com/en-us/sysinternals/downloads/process-explorer . If not, there are four other good ones in the MakeUseOf article.
Thought you'd be interested in this tool which has good explanatory notes in the zipped download and on its page.
Have a great weekend!
I met with...mixed results.
Thursday, May 21, 2020 by Tatiora | Discussion: Stardock Blog
I don't know about you, but I'm a little stir-crazy at this point.
The days are starting to blend together so much that I can scarcely keep track of what day it even is anymore, which becomes especially difficult during the work week since I've lost the routine of leaving my house and getting in my car to drive there every day. One of the cool things I've seen come out of this quarantine period, however, are the numerous people and companies who have come up with some pretty creative ideas for fighting the cabin fever.
Recently, IKEA Russia shared some photographs of cool new ways to build blanket forts - and, of course, in true IKEA fashion, they all look a little something like this:
A lot of the articles I saw covering the forts say that "if you have kids, these are great ideas" and that you should do them together as a family. I absolutely agree with this! However, I am a firm believer in the adage "Growing old is required, but growing up is optional," which leads me to the question: do you really have to have kids to enjoy this idea?
Nope, definitely not.
I admit, I have a few pieces of IKEA furniture in my home, but for the most part I'm still rocking out a lot of the free handouts I got from friends and family when I first bought my house, with a couch and a table or two that I inherited from grandparents thrown in. So, obviously I couldn't follow the instructions to the letter, but I did my best to stay within the spirit of things while I decided to turn my living room into a nice little gamer's getaway for me and my cat.
Let me start by ruining the punchline for the piece and telling you what I learned from this process right now:
I suck at building forts.
I tend to visualize things very vividly in my head, but when I actually try to execute (like drawing something, for example), it turns out pretty disastrously. Which explains a lot about why I'm a writer.
I started by loosely attempting to follow the "Castle" diagram provided by IKEA. That went south pretty quickly, and I went rogue almost instantly, cobbling together any little bit I could to just make it work. The general idea behind the design was fine, I just couldn't execute it efficiently with what I had on hand.
My biggest issue was the blanket drooping in the front. The goal for this fort was for me to be able to see my TV so I could play video games, but with the way it sagged I couldn't see past the blanket even when I was laying down on the floor. Another issue I tend to have is that when I start thinking about how to solve an issue, I go with the first solution I come up with and tunnel vision on that. Frequently, I end up over-complicating things, and it helps to have someone else to point out, "Hey, you know it'd be easier if you did it this way, right?"
Well, my cat definitely isn't that person, so I was flying solo on this.

You can see Miza watching in the background. She does NOT approve of my methods.
I grabbed one of my little 3M hooks and stuck it to the ceiling. My plan was to run a thread down from it, loop the thread through the blanket, and tie it off so it hung just enough above my line of sight. It worked!
For about .5 seconds.
That...did not last long.
I abandoned that idea, shuffled some stuff around some more (incidentally, NOT having clothespins on hand made keeping the blankets in place about 10x harder), and eventually decided that it was good enough, I'd just post a picture of a collapsed fort, giggle about it, and tell you all what a terrible architect I am.
Except, the fort stood. And while it certainly isn't what I envisioned, I have enough imagination to see past it and enjoy my little "cave" for the weekend. I tried one more time to re-run the thread from the 3M hook, and by giving it a little extra slack, it stayed intact.

I used my papasan mattress and a beautiful hand-crocheted blanket my friend made me to make things cozy.
The sides felt a little bare, so adding a blanket helped make it feel more enclosed. Again, something that would have been made so much easier if I actually had clothespins handy. My task complete, I excitedly ran off to get some fort essentials.

I also definitely grabbed the chocolate, because duh.
I got some books to read (and some source manuals for D&D 5E to brush up for running some campaigns soon), popcorn, a NERF gun to keep out any intruders (let me just remind you that I'm in quarantine alone), and made sure to charge my controllers. A few extra pillows made things pretty cozy, and when it got dark enough I turned off all the lights for added mood. Miza (my 10 year old Siamese cat) was a little dubious about it, but when I accidentally knocked the blanket down and just decided to put them away, she was quick to claim the newfound "giant catbed" on the floor, so I couldn't clean up completely just yet. Never move a resting cat, you know!
I moved back into my chair because, as I've discovered, laying on the floor for long periods
of time isn't as comfortable as it was when I was a kid.
What about you - will you build a blanket fort with your kids soon? Heck, forget the kids, build one for yourself and play some video games.
May your building endeavors go much more smoothly than mine. Have an awesome weekend!
New Power Tools Explained
For the power tool users among us, How To Geek put out a nice update to their prior article about MS's power toys, and a nice explanation about the new ones at the url linked above.