I recently picked up a new 4K monitor for my PC as I gave my current ultrawide to my wife for her work at home setup. I realized I had purchased that monitor in 2016 for this PC which means it was even older. Looking back at my receipts and my previous blog on my PC build, I was a bit surprised that I built it in 2015. I've updated a few things over the years with the last upgrade being a GTX 1660 Super video card, but otherwise it was mostly the same. It has worked very well over the years, but it was time for a new build.
After doing some research and using tools like the PC Builder on Newegg, I had a list of the parts I needed to get. Since I was going to put this PC on my desk, I wanted an RGB build so I went with mostly a Corsair build since I have a Corsair keyboard and I could sync all the colors up using their iCue software. Since the video card was fairly new, I just moved that to the new build as it works great, and I didn't want to deal with the current pricing and availability of video cards with the current situation. I also kept my data and games SSD drives as they were also a recent upgrade and it made it easier as I wouldn't have to move a lot of data around.
Parts used:
Case - Corsair iCUE 4000X RGB Mid-Tower ATX PC Case
Motherboard - Asus Prime Z390-A
CPU - Intel Core i5-9400F
RAM - Corsair Vengeance RGB Pro 16GB
PSU - Corsair CX650F RGB
M.2 SSD - Samsung 970 EVO 500GB
CPU cooler - Corsair iCUE H100i Elite Capellix
I ordered everything off Amazon as they had the best prices, and it would be here in just a couple of days. Everything arrived on the same day and I was excited to start the build. I pulled everything out and then I noticed something wasn't right about the motherboard. The M.2 heatsink was only attached with one screw, and the plastic covering the thermal pad was gone. Maybe it came loose during shipping, so then I moved on to putting the CPU on. Then it was pretty obvious I was sent a used motherboard.
Someone left their CPU cooler plate attached to the back of the motherboard, and then I saw the CPU pins were bent!
After a quick chat with an Amazon rep I had a replacement arrive the very next day. This one was brand new so now the build could continue!
For the most part this was a pretty easy build. The Corsair 4000X case was easy to work with and all the parts went in with out any issues at all. There was a tight squeeze between the top fans/radiator and the RAM, but it all went together just fine. The Corsair case has a nice cable channel in the back where most of the included cables were already ran, and i added a few more to help manage all the cables. I routed and cleaned up all the cables as best I could, but I didn't go crazy with cable management in the back as it's not visible at all, but I just wanted to make it organized for any future uprades I might make.

I got everything installed, double-checked all the wiring, and got the monitor and power cables all hooked up. Pressed that button, lights came on, and that's it. It didn't POST or anything. It had power and everything seemed like it was working, but I could not get it going. Thankfully this ASUS motherboard has LED status lights which will give an indication what might be wrong. The VGA and boot lights were lit so it was off to Bing to look for a solution. After just a few minutes I found a couple posts with similar issues, and what seemed like a strange solution. For whatever reason, this motherboard wants both a DisplayPort and HDMI cable plugged in at the same time.
Since I was using a DisplayPort cable already, I grabbed an HDMI from my parts box and plugged it in. And it worked. Went right to the BIOS and made sure everything was set up, and then put in my USB drive with Windows 10 on it. One more reboot and Windows was loading!
I'm incredibly happy with the build and excited to have a new PC!
I'm using Brave as my default, but am looking at Opera and Edge, and I'm wondering which extensions you guys use and if they slow you down.
I might also take a look at Vivaldi with its stacked tabs.
Last week's digital conference had a ton of neat announcements
CES was alive and active this year, even if the format was just a little bit different. Completely virtual for 2021, the Consumer Electronics Show lived up to its name by showcasing many of the top names in tech - not to mention more than a few startups! - and playing host to plenty of exciting product launch announcements.
There's obviously so much for me to cover here so that I'll barely scratch the surface, but let's take a look at some of the things I thought were pretty cool that popped up during the conference last week!
AMD Keynote
AMD made some pretty big announcements last year and made big waves in the market with the Ryzen 5000 desktop processors and Big Navi graphics cards. As was to be expected, this year was no exception as Dr. Lisa Su, President and CEO of AMD, detailed what exciting things AMD has been working on and what's coming in 2021.
Stealing the show was the much-anticipated AMD Ryzen 5000 series of mobile processors. Based on the same Zen 3 architecture as the desktop CPUs, AMD promises incredible performance, longer battery life, and "the only 8-core x86 CPU for ultrathin laptops."
Dr. Su's keynote is linked above if you'd like to hear all of the details and start budgeting for your next PC.
LG Rollable Smartphone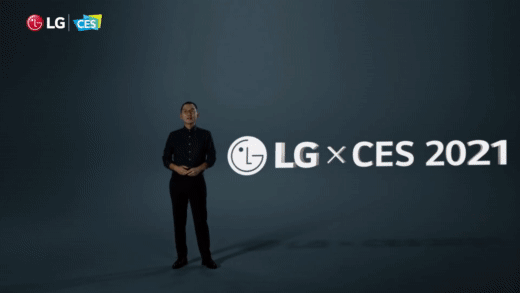 Image credit: LG
Rumors of a rollable smartphone have been circulating for awhile, but LG confirmed at CES that the phone is officially on its way. During their segment, LG showed a short teaser trailer which showcases a phone which can extend its edges to create a small tablet. Called the LG Rollable, the company confirmed that the phone will release sometime in 2021.
The tech is pretty cool, but I typically don't jump on the newest latest and greatest phones. Although no price has been confirmed, some leaks suggest that the price point may be around $2,300, and that's a little too steep for me! Anyone thinking about getting this gadget at launch? I want to hear about it if you do!
AARP Innovation Lab
AARP is a United States–based interest group focusing on issues affecting those over the age of fifty, and this year at CES they sponsored presentations from several start-up companies who are focused on making life easier for the aging population. There is so much that tech can do for seniors and their caregivers, and it was AARP's goal to shed some limelight on these types of innovations.
One of the main goals was to focus on tech that helps elderly people "age in place" - in other words, the hope is to keep them in their homes and communities rather than in a nursing home. An app called Mighty Health pairs seniors with health coaches and certified trainers, for example, while another startup, Zibrio, features a scale that assesses users' balance to predict whether or not they are fall risks.
All of my grandparents are, sadly, gone, but a lot of these startups and their ideas really interest and intrigue me because I can see things that I sure wish I'd had access to while they were still alive. I found the smart lamp, Nobi, to be an especially enlightening (sorry not sorry!) idea: it automatically turns on when users stand up and sends alerts to family members in case they fall. You can learn more about it in the YouTube video I've embedded above.
There were plenty of other fantastic ideas showcased during the Innovation Lab, so if you have an aging senior in your life be sure to check out some of the tech that's being developed!
Airpeak Drone
Sony offered the first glimpse of its new flying machine at CES this year, showcasing the drone flying above a snowy landscape while keeping pace with a prototype Sony Vision S car during a road test. Unfortunately for drone hobbyists, the Airpeak is definitely meant for professional cinematographers, but Sony has left the door open for possible future iterations on the brand, which may include consumer drones, too.
The Airpeak is set to launch in the spring of this year. Any drone hobbyists out there? I want to hear about what you fly!
Everything Else
I know, this is kind of a broad sweeping "and all this other stuff," but really - there's so much to cover! Plenty of sites out there have some great summaries of the various aspects of CES and some of the major announcements that occurred over the week. There were new TVs and home theater innovations, new gaming laptops, new soundbars, and so, so much more.
Want to see more of what was announced at CES? Check out their website! Did you watch the conference at all this year? Tell me what you're excited about!
Wonder offers a unique approach to online meetings by allowing people to wander and join "groups"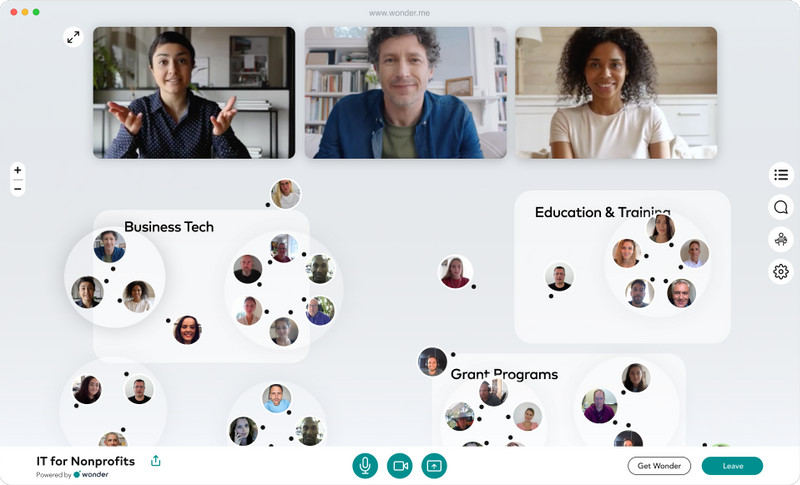 An image taken from Wonder's website showing off their new app
There is no substitute for organic mingling and in-person interaction. Planned calls on Zoom or Teams isn't the same as mingling with your friends or coworkers at a social event, no matter which way you slice it, but Wonder, a Berlin startup, has built a platform for people to come together in video-based groups.
How is this any different from Zoom, Teams, or the multitude of other video chat options there are out there now? This new program replaces the traditional video conference with something a little more unique. With it, users can meet up, network, and collaborate, all while maintaining a "bird's eye" view of a larger space where they can more intentionally interact with others, somewhat similar to an office or business venue.
While other conference apps dominate the market right now as many of us turn to remote work, Wonder's new program fills a gap that is sorely lacking in the other apps' overall experiences. Particularly, it addresses what's missing from being in physical spaces with other people.
Wonder is built around the idea of a "shared space" that you enter. You get a single window where you can "see" from an aerial view all of the other people whoa re in the same space and in areas of that space where they might cluster together. The clusters can be designed around a specific interest relevant to the people gathering (for example, if it's a company, you can have separate clusters for marketing and for HR). If the product is being used at a career fair, each "cluster" can represent a different organization participating in recruiting and interviewing.
Users can move around all of the clusters - or start their own - or sit in the margins with another person. When you come together to interact, you can join in a video chat. You can move your icon around the room by clicking and dragging, which will let you join into groups that are already chatting or having discussions. If you need to have a private meeting, you can make your cluster private, as if you were in a physical meeting room. The overall intended effect is that, without actually being in a physical space, you get this sense of a collective group of people in motion.
Wonder announced on Monday that it has raised $11 million for this endeavor in a substantial seed round. The funding was led by European VC EQT Ventures, with BlueYard Capital also participating. Wonder has seen some impressive traction this year with over 200,000 monthly users from a diverse set of organizations, including Deloitte, NASA, Harvard, and others. The organizations are using Wonder's program for a variety of purposes anywhere from team collaboration to career fairs.
According to co-founder Stephane Roux, Wonder will use their funding to add in more user-requested features and to hire more people for its team. Some of the features they are planning to implement includes sharing files and other technical services. Wonder is currently free to use, and will be until sometime in 2021.
What do you think of this? Does it sound like something you'd prefer to use either at work or to mingle and communicate with larger groups of friends who don't live nearby? As someone who personally has lots of friends who live all over, I'll admit that I'm rather intrigued.
Share your thoughts with me!
Happy Friday! I was sitting here trying to straighten up my work area before the work week ends and thought maybe that should be the part of the topic for this week's question.
I have my main desktop PC which I mostly use for gaming and design work. My Dell XPS laptop is really just dedicated for work stuff, and I also have an iPad on my desk for casual web browsing and keeping up with emails.
We have a desktop workstation thread here on the forums, and we've seen some really cool setups there, but we wanted to ask how do you have your PC and work area setup.
Do you have a desktop PC, or are you more mobile with a laptop? Or do you go for it all and have several?
I've been updating some of my countdown gadgets for Christmas, and I always had a lot of fun making them. They seem to work just fine on Windows 10 and I still see people using them and other gadgets like my Christmas lights when screenshots are posted around the holiday season.
So that brings us to weeks question. Do you still use desktop gadgets, and if so, do you have any favorites?
Share them in the comments below.
In 2015 I wrote a blog post here showing my PC build that I was working on. I've had that PC ever since and it's been one of the best PC build I've ever done. It would run many of the latest games at ultra settings, and has been a great PC to edit videos and just do general work with.
I've added a couple small upgrades such as doubling the RAM to 16GB, adding another SSD drive for games, and replacing smaller hard drives for bigger storage.
Lately though, games are running a bit slower but the GTX 970 has been a fabulous video card overall. I definitely got my money's worth from I guess what would have been considered more of a mid-range card back then. I figured it was time to start thinking about an upgrade.
With my birthday around this time, I was gifted a EVGA GeForce GTX 1660 Super Sc Ultra Gaming card. This is another mid-range card, but its performance has exceeded my expectations. Everything is fast and I can again run games at ultra settings!
Sure, it might not be latest and most expensive card available, but it works great for me and it was a great price.
In an effort to create a more "deeply integrated user experience," Google has overhauled G Suite and rebranded it as Google Workspace earlier this week. The new Workspace has all of the old beloved programs - Gmail, Calendar, Drive, Docs, etc., but has improved on how its productivity services blend and work together.
Google Workspace now offers a more fluid experience; for example, users can create and collaborate on a document, but also discuss real-time changes in a chat room with a preview without needing to juggle between multiple programs. Google Meet picture-in-picture mode is now available for Docs, Sheets, and Slides, which allows colleagues to work collectively on a single document.
Tagging coworkers in documents comes with added features now, too: giving someone an @ mention now brings up a menu that has contact details, suggested actions, and provides additional context. While Google Workspace is available immediately to all current G Suite customers, not all new features are available at launch. Google has also added "Business Plus," which features custom and secure business email, 250+ participant meetings and the ability to record and track attendance, 5 TB cloud storage per user, and more.
This transition, according to Google, is the product of years of incremental evolution and evaluation. "10 years ago, when many of our products were first developed, they were created as individual apps that solved distinct challenges," Javier Soltero, VP and GM of Google Workspace, wrote. "Over time, our products have become more integrated, so much so that the lines between our apps have started to disappear."
According to Soltero, the change to the suite was spurred, in part, by the global pandemic that suddenly saw millions of people working from home. "Teams need to thrive without meeting in person, protect their time to focus on the most impactful work, and build human connection in new ways."
For the time being, Google Workspace is available only for business customers, though the new features will start to arrive to consumer offerings over time.
Do you use a lot of G Suite for collaboration, especially when working from home? Let us know your thoughts!
Amazon unveiled plans for the new "Amazon One" machine yesterday, a contactless card reader that accesses your payment information through just a wave of your hand. Users will insert their credit card and then hover their palms over the device in order to link the payment mechanism with their palm signatures. Once the card is on file, you'll be able to enter the store in the future just by holding your palm over the device for 1-2 seconds.
Amazon stresses that the device is contactless, which might prove to be greatly beneficial during a pandemic. The new device uses computer vision technology in real time to create the unique palm signature, a choice made by the company because they believe it to be more private than some other means of biometric authentication.
According to Amazon, the data is secure - images are encrypted and sent to a secure area in the cloud where the palm signatures are created. The Amazon One device also does not require a customer to have an Amazon.com account in order to enter the store: just a palm and a phone number.
Currently, the device is being trialed at two Seattle-area Amazon stores. Amazon also said that the device isn't just for stores: they envision it being used by third-parties, including non-Amazon retailers, office buildings, stadiums, and more.
What do you think about this? Too futuristic and too invasive? Let us know your thoughts!
Somehow, I missed this giveaway earlier, but I wanted to post it as it ends this weekend. Our friends over at Neowin are giving a Lenovo Legion 5i gaming laptop (U.S. only).
Head over to Neowin for the details and how to enter: https://www.neowin.net/news/giveaway-were-giving-away-a-lenovo-legion-5i-gaming-laptop-us-only