Do you skin on Turkey day? Get it.... Turkeys....skins......oh never mind.
As we have discussed before, Halloween and Christmas are the two biggest skinning holidays of the year, but we do have one more between that, and that would be Thanksgiving. It hasn't been a big skinning holiday and there's only about two pages worth of uploads.
My question is though, is it something you skin your desktop for? Just wondering if we should be looking out for more or just focusing on the next big holiday.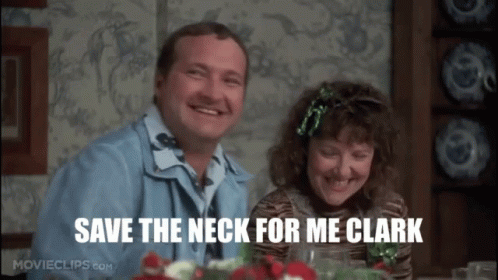 We're getting closer to Halloween and we've been featuring many of the fantastic Halloween skins we have here on WinCustomize. I was browsing through the CursorFX gallery this morning and noticed another Halloween themed cursor, so I thought CursorFX would be fun to spotlight this week.
Use CursorFX to easily change your Windows mouse cursor to one of thousands available on WinCustomize!
Thursday, October 15, 2020 by Tatiora | Discussion: Stardock Blog
Before coming to Stardock, I never really had a deep appreciation for Windows customization. I remember downloading the occasional Windows background and all sorts of skins (and frankly, probably viruses - sorry mom and dad!) for WinAmp back in my teen years, but that was about the extent of it.
Since being here though, I've garnered an entirely new appreciation for being able to make my desktop look fun and unique - both my PC desktop AND my workspace desktop, too.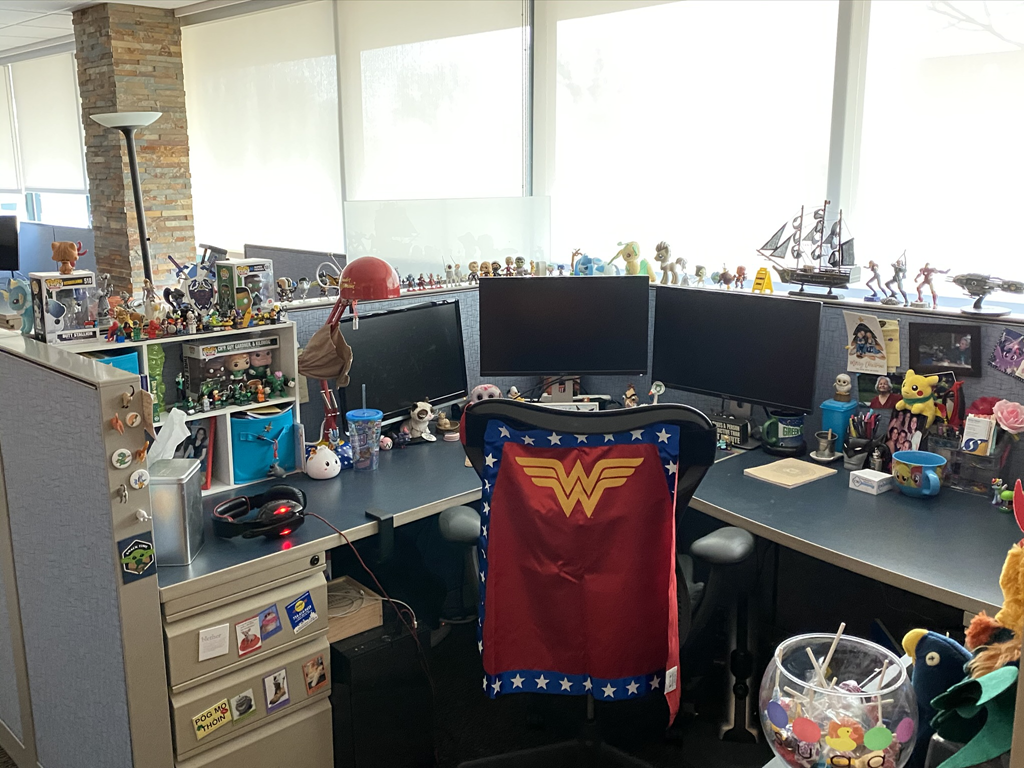 My work desktop.
Fortunately, I work with a bunch of wonderful nerds, so no one thinks twice about the chaos.
Honestly, the thought of changing the icons on my desktop had never crossed my mind before I started exploring the apps in the Object Desktop suite and came across IconPackager. Initially, I didn't think much about it - I have no idea how to make custom icons, after all - but the good news is, you don't have to!
IconPackager lets you instantly replace Windows' default icons with high quality custom icons. There are several packages that come as a default (including my favorite, which is a Christmas theme), but thousands more are available on WinCustomize.com. One of the best things about IconPackager is that you can also edit the color scheme of a package so that everything has a nice cohesive look while sporting your favorite color.

Browse thousands of icon packages on Wincustomize.com.
One of the best things about IconPackager is that you can also edit the color scheme of a package so that everything has a nice cohesive look while sporting your favorite color.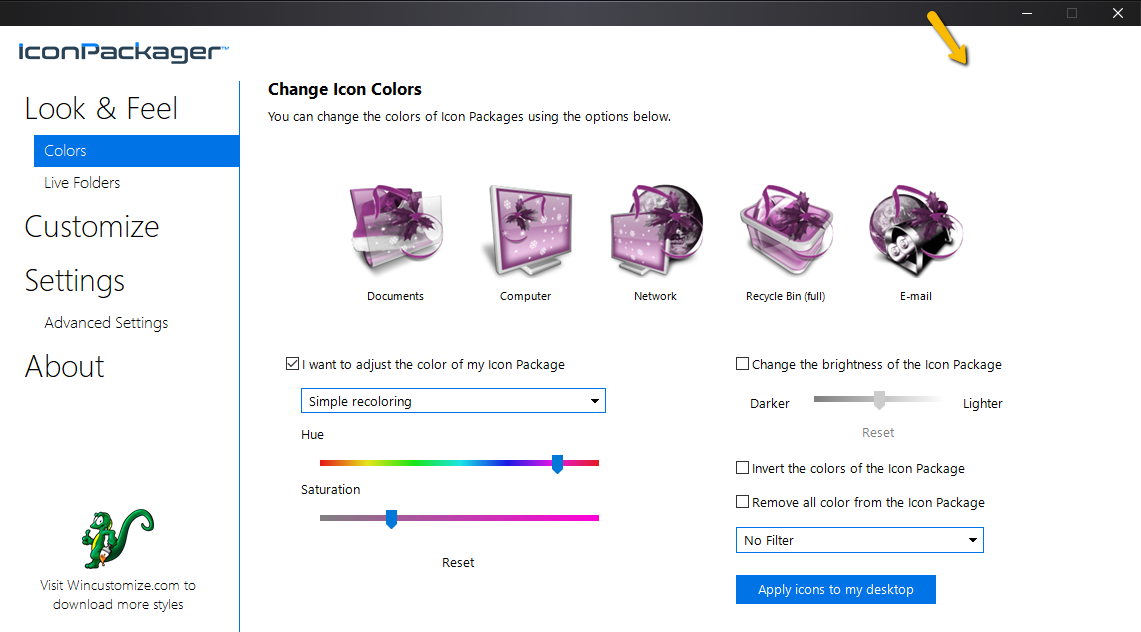 I know purple isn't especially representative of Christmas, but I'm trying to show a point here!
If you're like me and you appreciate a little bit of of an eclectic look, you don't have to change all your icons to a single theme - you are free to change them individually, too!

An example of changing individual icons.
IconPackager is compatible with the most popular versions of Windows, including Windows 10. Have you tried it yet? Check it out here!
DeskScapes is a great way to manage your wallpapers, whether they are animated or static wallpapers. If you are not familiar with DeskScapes, it allows you to have animated wallpapers on your Windows desktop, and even lets you apply effects to those wallpapers for even more customization.
One of the questions I get asked the most about DeskScapes is how you can have wallpapers change randomly. It's a cool feature but it seems not everyone is aware how to enable it, so I wanted to focus on this feature today.

Open the DeskScapes configuration.
You'll see Random backgrounds in the left menu. Select that and this is where you can add and manage the wallpapers you want to be shown at random.
To add wallpapers to the random folder, just right-click a wallpaper and select "add to random backgrounds". You can select multiple wallpapers by holding down the Control key while selecting.
Just hit Apply and these wallpapers will change at the random times you select. You can change the intervals by clicking the random background settings button and changing to your preference.

Learn more about DeskScapes here.
Let's all give a big congrats to our newest Journeyman....BONEHEADdb! BONEHEAD has been a member of WinCustomize since 2004 and has shared many skins with the community including tons of great CursorFX themes.
With his recent return to skinning we thought of no better time than now to recognize his contributions. Congrats from all of us at WinCustomize!


We're getting closer to Halloween and I've been digging through WinCustomize looking for some of the best animated wallpapers for DeskScapes. There are a bunch to choose from, and you have a favorite be sure to post it the comments below!
Don't forget we have our October desktop screenshot thread ready, so let's see those Halloween desktops!


Spooky Halloween Forest with Bats
In an effort to create a more "deeply integrated user experience," Google has overhauled G Suite and rebranded it as Google Workspace earlier this week. The new Workspace has all of the old beloved programs - Gmail, Calendar, Drive, Docs, etc., but has improved on how its productivity services blend and work together.
Google Workspace now offers a more fluid experience; for example, users can create and collaborate on a document, but also discuss real-time changes in a chat room with a preview without needing to juggle between multiple programs. Google Meet picture-in-picture mode is now available for Docs, Sheets, and Slides, which allows colleagues to work collectively on a single document.
Tagging coworkers in documents comes with added features now, too: giving someone an @ mention now brings up a menu that has contact details, suggested actions, and provides additional context. While Google Workspace is available immediately to all current G Suite customers, not all new features are available at launch. Google has also added "Business Plus," which features custom and secure business email, 250+ participant meetings and the ability to record and track attendance, 5 TB cloud storage per user, and more.
This transition, according to Google, is the product of years of incremental evolution and evaluation. "10 years ago, when many of our products were first developed, they were created as individual apps that solved distinct challenges," Javier Soltero, VP and GM of Google Workspace, wrote. "Over time, our products have become more integrated, so much so that the lines between our apps have started to disappear."
According to Soltero, the change to the suite was spurred, in part, by the global pandemic that suddenly saw millions of people working from home. "Teams need to thrive without meeting in person, protect their time to focus on the most impactful work, and build human connection in new ways."
For the time being, Google Workspace is available only for business customers, though the new features will start to arrive to consumer offerings over time.
Do you use a lot of G Suite for collaboration, especially when working from home? Let us know your thoughts!
Use your own custom cursors!
If you want to change the default Windows cursor to something way cooler, then we're going to show you how using Stardock's CursorFX!
What is CursorFX?

CursorFX allows you to apply custom cursor themes to your Windows PC. Users can easily apply skins, shadows, motion trails and sounds to your cursors. CursorFX comes complete with several unique cursors installed so you can get started right away.
Changing Your Cursor Theme
Once you purchase CursorFX, you can find your download in your Stardock account or download via the Object Desktop Manager. You can get your products and keys here. Once it's installed, start the application and you will see the main configuration screen.
By clicking the magnifying glass icon on the right of the selection, it will show the full preview of all the included cursor states. It will even preview the animations so you can see exactly what the cursor looks like in the center of the window you see the list of currently installed cursor themes.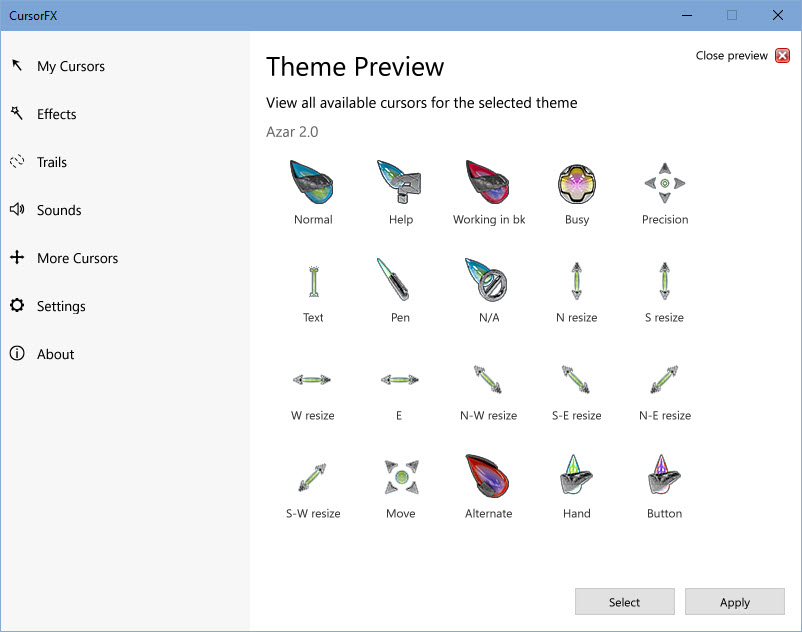 CursorFX by default comes with several themes included, but I will also show you where to get more later in the article. You can simply browse the list of cursor themes by scrolling through the list, and when you find one you like, just double-click the selection or hit the Apply button. That will automatically change your cursor to the selected one.
Special Effects
CursorFX adds many features including special effects and trails. In the main configuration window on the left side, you have a list of additional features like effects and trails.

You can select different cursor actions and states and apply the available effects to that selection. It's a fantastic way to add some more customization to your cursor theme.


Adjust Color, Size, and More
In the Settings menu, you will also have a variety of ways to customize our cursor even further. Here you can adjust the coloring of a cursor theme, increase/decrease the size of the cursor, add shadows, and more.
Getting More Themes
CursorFX includes several high-quality cursors, but no need to limit yourself to those. There are hundreds available on WinCustomize.com that you can download and use with CursorFX!
CursorFX gallery on WinCustomize
We have finally hit Fall and now we start our way through the holiday season! First up, we have Halloween coming up and we've been busy getting some Halloween wallpapers and other spooky themes up. We're also featuring a ton of Halloween skins this month so be sure to check the daily feature.
Here's a wrap-up of some new, articles, forum posts, and skins you might have missed!

Stardock News:
Curtains v1.1 is Now Available
"The newest version of Curtains adds a major new feature for Explorer background transparency and blur effects. While the new option only comes standard with certain styles in the app, users can edit other styles and apply the blur and transparency effects themselves for further customization.

A new option to extend the title bar ribbon in Explorer windows also adds an extra layer of customization for those who enjoy editing every detail of their Windows experience. v1.1 also introduces several quality of life improvements and increased style application speed."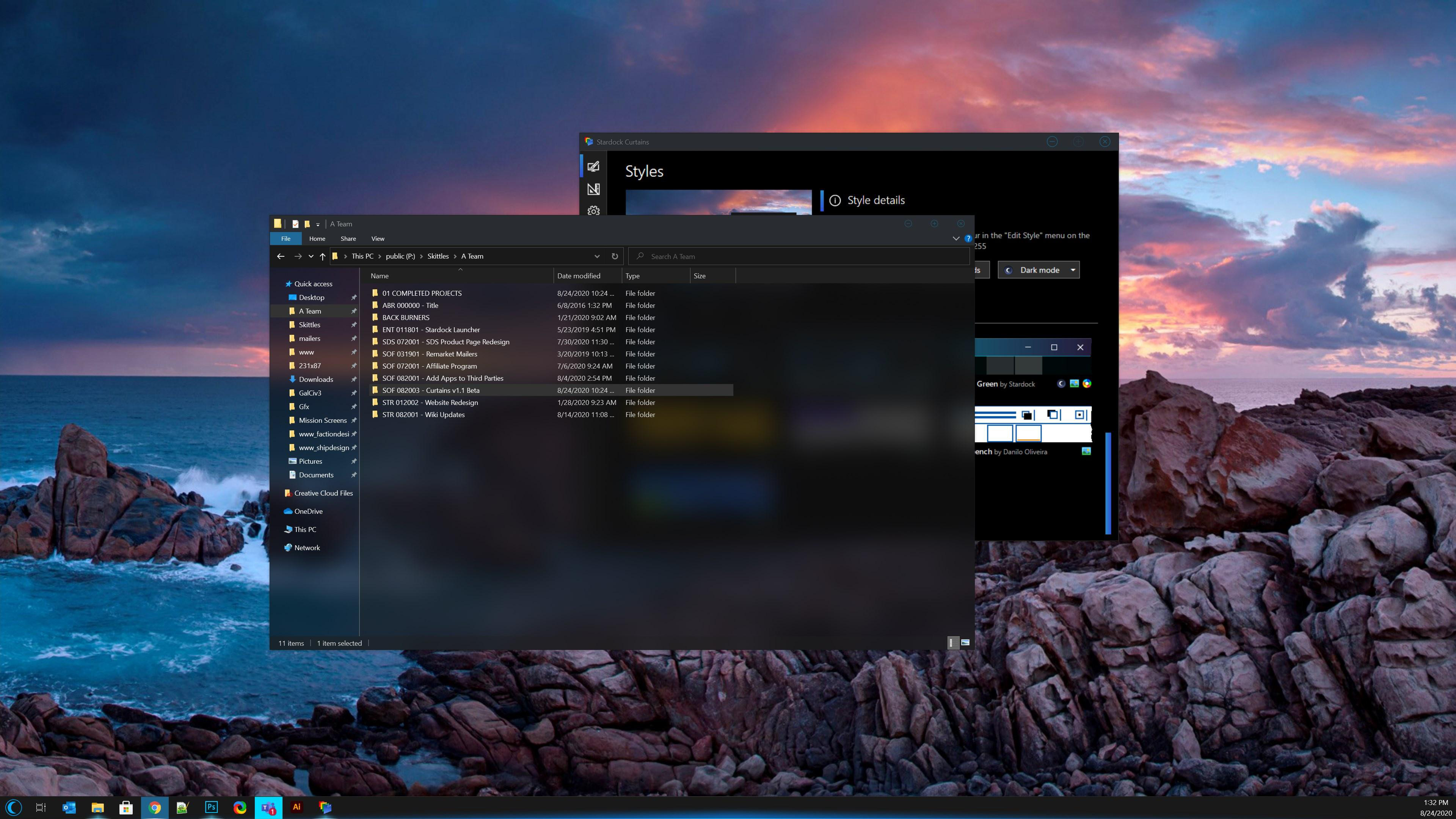 Community Posts You Might Have Missed:
WC Community Question: Do You Use Desktop Wallpapers on Your Mobile Devices?
New CursorFX Themes from BONEHEADdb!
The Mandalorian Season 2 Official Trailer!
WC Community Question: WindowBlinds Skins - Minimal or Wild?
Getting an Early Start on a Halloween Desktop!
Netflix Offers Certain Shows and Movies for Free to Non-Subscribers


New Skins, Themes, and Wallpapers:
Spooky Halloween Forest with Bats (DeskScapes)
This week's question we'll focus on something that doesn't get talked about as much.......and that would be icons. We have a couple of different categories for icons here on WinCustomize.
We have been curious on how the community uses icons in their desktop setups. Do you change the entire icon set with IconPackager, or do you just change individual icons just for certain files or folders?
Let us know how you use icons and if you'd like to see more on WinCustomize in the comments below!