Halloween is this weekend, so there's just a few more days to get your desktop ready for the day! We've been looking at many skins over the past couple of weeks, so I wanted to finish off the Halloween season with a few of our favorites.
We want to see your Halloween desktops, so be sure to post a screenshot in our October desktop thread.
Thursday, October 21, 2021 by Tatiora | Discussion: Stardock Blog
I am a lover of soups, stews, and chilis.
The very second the weather dipped below 60 here in Michigan, I popped my head out the door and bellowed "SOUP SEASON!"
...you think I'm exaggerating or being dramatic, but I'm not. My friends (and my poor neighbors) will attest.
Anyway, I'm not the only one who loves this time of year around here! Fall sees all sorts of fun activities popping up at Stardock, from visits to Cider Mills, to Halloween costume contests, and of course also chili cook-offs. We missed out on pretty much all of these things last year, so we're hitting 2021 with a vengeance.
Last week was our annual chili cook-off, and we brought our best offerings to share with our coworkers and appeal to their better judgments. Some people even teamed up and took to google to find the ultimate recipe for the competition! We had a lot of delicious chilis to taste that day.
Our six competitors were:
Bacon's The Bomb Chili - Traditional style red chili with ground beef and bacon
Chili.lua - Dark chocolate chili with stout and beef stew chunks
Dance Magic Chili - White chicken chili with green chiles, cream, and cumin
Verde Chicken Chili - Chicken chili with green chiles
Winning Chili - Traditional red chili
M-34 Chili - Dark chili made with beer
After vigorous taste testing (and some precarious balancing acts trying to get all the tasting cups back to our seats!), we voted via a QR code that Raeann, our one of our brilliant members of the Operations team, set up for us. A dramatic drumroll or three later, we had our winners!
Debbie's Bacon chili came in at 3rd place, followed by Max and Jacob's dark chocolate chili. Their medal is being beautifully modeled by Scherzer, one of our resident office doggos.
My white chicken chili took 1st place, and the trophy is now nestled on my desk next to several other Stardock prizes and mementos I've collected through my years here.
We do cook-offs occasionally here, and it's always fun to see what different tastes and experiences everyone brings with their cooking! Some of us bring tried and true family favorites, while others do some online research, find one that looks good, and gives it a whirl. Every method is valid and delicious - I'm looking forward to whatever our next cook-off is going to be!
Do you have a favorite chili recipe? Have you done cook-offs at work or with friends before? Tell me about it!
Now with a refreshed interface and Win 11 support, users can continue to organize shortcuts and icons on their PC desktop
Stardock Announces Fences 4 with new features, a Refreshed
Interface and Support for Windows 11
Fences 4 offers an array of customizations to keep PC desktops clean and organized
Get into the alpha now (available exclusively through Object Desktop)
Stardock announced Fences 4, a program that allows users to automatically organize shortcuts and icons on their PC desktops into custom-sized spaces called fences. As with previous editions of the software, Fences 4 creates dedicated areas to organize icons and folders and offers additional customization features that has made it popular with millions of users of Microsoft Windows®.
"Fences 4 is being designed to meet the needs of today's PC user," said Brad Wardell, CEO of Stardock. "Fences has always been a great way to show a clean desktop or to organize it and now we are adding features that allow users who want a minimalistic desktop to have that while also supporting users who use the desktop as a natural extension of their work space."
Stardock has released an alpha version of Fences 4 for Windows 10 and 11 to users of its Object Desktop suite. New features will be added to it throughout the fall with a targeted release later this winter.
Upcoming features for Fences 4 include virtual desktop support, enhanced search functionality, roaming profiles, and many other updates that will help home and business users stay organized.
Additionally, Stardock has announced Fences for Business, which will help keep PCs organized and standardized across the workforce. A new kiosk mode will help administrators lock their entire desktop layout, while the Snapshots feature will allow them to replicate layouts across multiple devices.
The Fences 4 alpha is available exclusively through the Object Desktop™ suite.
For more information, visit the Fences 4 website here.
Halloween is just a couple of weeks away, and now is the time to get your desktop ready! Today I wanted to feature some of the fantastic, animated wallpapers for DeskScapes that we have on WinCustomize. An animated wallpaper is a fun way to add some customization to your desktop, and Halloween is an especially fun time.
Come check out some of top animated wallpapers for Halloween!
Spooky Halloween Forest with Bats
Candle Inside Halloween Pumpkin
Fences, Groupy, and Start10/11 are the real MVPs
Thursday, October 14, 2021 by Tatiora | Discussion: Stardock Blog
If you know me, then you know that the idea of me writing about any form of organization is a ploy of comedy in and of itself. Still, as all over the place as I am with just about every aspect of my life, that doesn't stop me from trying to be more organized.
I spend quite a lot of time at my computer, both for work and for leisure. Beyond a few very important things, I don't really have much of a system for where I put documents or shortcuts - they just sort of get lobbed on the desktop as a problem for future Kristy to swear over while she tries to find wherever the $*#! she put that really important program she needs right now.
Obviously, this isn't very efficient, and is certainly more than a little frustrating. I've gotten a lot better about this in recent years, and I admit that the primary reason for that is the software I started using when I came to Stardock back in 2015. A few programs in particular have defined my workflow over the years, and I'd like to share a brief overview of them with you. Let's take a look!
Fences
This program seriously revolutionized how I manage my Windows desktop space. I use it both at work and at home, and whenever I find myself trying to navigate a PC without it, I feel a little bit lost. I run two monitors at home and actually have them split for work and play, just so I can find what I need more easily. I talk about it a bit more in a blog here.
If I didn't have two monitors, I would probably use the "pages" feature in Fences so that I could swipe between my personal leisure apps and my professional work programs. I also take a lot of screenshots, so being able to double-click on the desktop to hide all of my icons is super convenient. Most of all, though, I just love how I can make categories and then sort items into those fences based on setting specific rules pertaining to them. If you haven't made use of that feature, definitely make sure you try it out!
Groupy
Where do I even begin with Groupy? It was honestly a program that I had no idea I needed until I had it, and now I can't live without it. Not only is Groupy a huge space saver, but it also lets me sort my work into categories, which is really important for what I do. Because I'm on the marketing team, I have my hands in a lot of different projects at once, sometimes bouncing between multiple different titles within a single day. Groupy helps me keep them all apart.
When I stream, I love being able to group Xsplit, my Twitch channel, my Discord, and any other notes or websites I might need for the game I'm playing onto one monitor while my game takes up the other monitor. I then set a hotkey and use it to tab between them easily while I'm streaming - I don't know if I can ever go back to not having this app! If you want to read about it in a little more detail, you can check out a blog I wrote here.
Start10/11
I held onto Windows 7 as long as I possibly could before I built a new PC for myself and had no choice but to move onto Windows 10. The thing about change is that we all tend to resist it at first - I think it's a fairly natural thing! - and then eventually fold over into acceptance when we realize that maybe it wasn't so bad after all. In the case of Windows operating system, this seems to be a very cyclical thing - and I know many of us are experiencing this very emotion with Windows 11 right now!
When I got to Stardock, the IT team asked me if I would like Start10 installed on my computer. When they explained to me what it was, I absolutely said yes - and then was overjoyed to see the return of my familiar and favorite menu style. When Microsoft announced Windows 11, we launched immediately into developing Start11, which I currently have installed (along with the new OS) on my laptop. Start11 not only helps me restore my favorite versions of the Windows menu style, but also extends that to support a bunch of new menu ideas like the concept of pages and minimalism.
The newest update to Start11 released today, actually - if you're a Start11 user, make sure you try out Release Candidate 2!
Those are my top 3 organization apps for my Windows PC. What are some of your favorites and how do you use them to keep yourself organized? Share with me!
Halloween is just a few short weeks away, and it's always a fun time to put a "costume" on your desktop! We've asked the WinCustomize community in the past what their favorite "skinning holidays" are and Halloween is always one of the favorites. I've been going through the gallery and grabbing some of my favorites and wanted to share them in this week's post.
Halloween Night (DeskScapes animated wallpaper)
Black Widow Halloween (CursorFX)
Enhance the Start Menu and Restore Classic Functionality with Start11

Stardock announced the availability of the Release Candidate 1 update for Start11, a program that allows users to customize the Windows Start menu and taskbar. This update brings several new Start menu layouts to choose from, restored context menu functionality, enabled repositioning of the taskbar, plus one of our users' favorite features: Fences integration. As with previous editions of StartX products, Start11 allows users to restore the Start menu to appear as it does in previous versions of Windows, as well as customize and enhance its functionality.
Start11 is designed for Windows 11 and Windows 10 and comes loaded with features intended to make Windows more productive and personal. Start11 supports moving the Start button to the middle or to the left, adjusting the taskbar size, re-ordering quick access shortcut lists, options for adjusting grid spacing, enhanced classic and modern search experiences, and much more.
For users who want to personalize their Start menu, Start11 offers robust customization options ranging from aesthetic to functional. The software enables enhanced Windows 10 and Windows 11 style Start menus, a compact Windows 7 design, optional Windows 11 style for classic menus, and many additional settings that let you configure your personalized Start menu.
Start11 extends this to support a host of new Start menu ideas such as the concept of pages, minimalism, and features for our enterprise customers.
The Start11 beta is currently available for $4.99.
Get into the Beta
Thursday, October 7, 2021 by Tatiora | Discussion: Stardock Blog
If you're a Windows user, then you've definitely had this happen before.
You're playing or working, deeply engrossed in whatever it is you're doing, and then suddenly your computer alerts you to a Windows update! Or, in some cases, just shuts down and decides to update right then and there. It's obnoxious, it's frustrating, and now it's hopefully a thing of the past.
Windows 11 launched just a couple of days ago and Microsoft had been telling us quite a lot about their new OS leading up the launch, including providing details on how Windows 11 intends to deliver seamless updates that will be 40% smaller than those of Windows 10. These updates are supposed to take place with a lot less frequency, which means they shouldn't interrupt what you're doing - a bonus!
According to Microsoft, Windows 11 will have fewer feature updates than Windows 10 did, with a single feature update released every year, much like Apple's annual macOS updates. In order to achieve this, Microsoft has made some quality-of-life improvements to Windows 11's updates.

Image credit: Microsoft
When a new patch is available and you go to check for updates, Windows 11 will compare the contents of the new update with what's already installed on your PC. That way, it will only download the necessary parts of what you need, which makes the size of the update significantly smaller and way more efficient.
Windows 11 users will see their updates downloaded automatically when they aren't actively using their PC thanks to a new version of Microsoft's AI and machine learning software. Although there's a lot about upcoming Windows 11 updates that are great, it should be noted that the updates won't necessarily be faster. You will still have to restart your machine after an update and stare at a blank screen while it implements for a bit.

Image credit: Microsoft
Microsoft launched Windows 11 just two days ago on October 5th and will continue to roll it out gradually over the next few months. If you're planning to make the move over to the new OS and want to jump right into customizing, make sure to check out Start11 and the other great programs in our Object Desktop suite, many of which can still be utilized on Windows 11.
Did you download Windows 11 yet? Tell me about your favorite features!
We are finally into fall and October is already here! Since it is October, now is a fun time to get your Halloween themed desktops ready! We have a bunch of Halloween skins, so it'll be fun to see what you put together this month. Take a screenshot and post to our desktop screenshot thread linked below and let us know what themes you are using this month.
Post your desktops to the monthly thread here: https://forums.wincustomize.com/507200/
(This is a news thread and will be locked. Screenshot taken by teddybearcholla)
Thursday, September 30, 2021 by Tatiora | Discussion: Stardock Blog
In news that shouldn't be especially shocking: we really love games here at Stardock.
This extends beyond just PC and video games and well into things like board games and tabletop RPGs like Dungeons & Dragons. I've definitely talked about it before, but I also have a fairly sizeable board game collection at home. Before the pandemic, I used to bring games in fairly regularly and have game nights so that my coworkers and I could enjoy playing some together.
Earlier this month, we held our first in-person game night in over a year. About 22 of us showed up to play games and eat Italian food that Raeann (one of our awesome HR peeps) and I prepared. Throughout the pandemic, there were several new hires at the studio who have all been working remotely like the rest of us, and many of those people whose faces we hadn't yet seen in person drove in to share some home cooked food, play a few games, and indulge in some good old-fashioned comradery.

Raeann and I went downstairs after work and made
garlic bread, mostaccioli, and salad for everyone!
This is the largest game night I've ever had at Stardock, and I loved it! Normally we'd average between 8-10 people and would have to break out games like Codenames or Avalon in order for us all to play together. There aren't too many games that can comfortably handle 22 people, so I brought a selection (two large Sterelite tubs worth!) and encouraged everyone to pick whatever they wanted to play.

Everyone fueled up on pasta before we got to the games!
After we stuffed ourselves full of carbs, we broke off into groups and started in on our first games for the evening: Codenames and Secret Hitler. I was finally Hitler for one of these games and I couldn't get anyone to make me chancellor, which was super disappointing! I guess I just don't look innocent enough.
We continued to flip between games throughout the evening; below, I'll give a quick rundown of each game and what they're like so you can check them out for your next game night!
Obscurio
This is one of my favorite co-op games! In Obscurio, you're playing as a wizard who is in possession of a magical grimoire and is trying to escape the evil wizard's library. One of your companions has been enchanted by the wizard, though, and is actively working in secret to try and trip you up and force you to pick the wrong path, thus trapping you in the library forever.
One player plays as the grimoire, who gives clues and tries to guide the players to safety, while up to six other people can play as the wizards, with one hidden traitor among them. As gameplay progresses, the wizards must find ways to work around traps that make the grimoire more difficult to interpret, all while wondering just who exactly among them is in cahoots with the wizard. It's an exciting game that relies heavily on teamwork and abstract thinking, and is very much loved by most of us here at Stardock.
Codenames
Codenames is a team game of secret words and deduction. Two rival spymasters know the secret identities of 25 field agents, but their teammates know the agents only by their codenames. In this game, two teams compete to see who can make contact with all of their agents first. To do this, the spymaster will give their team a one-word clue in hopes of getting them to guess the correct word on the board - but be careful! If you don't choose your clues wisely, your team might end up picking the codename of a rival agent, a civilian, or an assassin, which will instantly end the game and give victory to your rivals.
This game is fun and challenging - and it feels like it changes and is different every time depending on who's on your team and who is playing as the spymaster. It's a relatively inexpensive buy and can accommodate a larger number of players, so I definitely recommend keeping it on hand for impromptu game nights!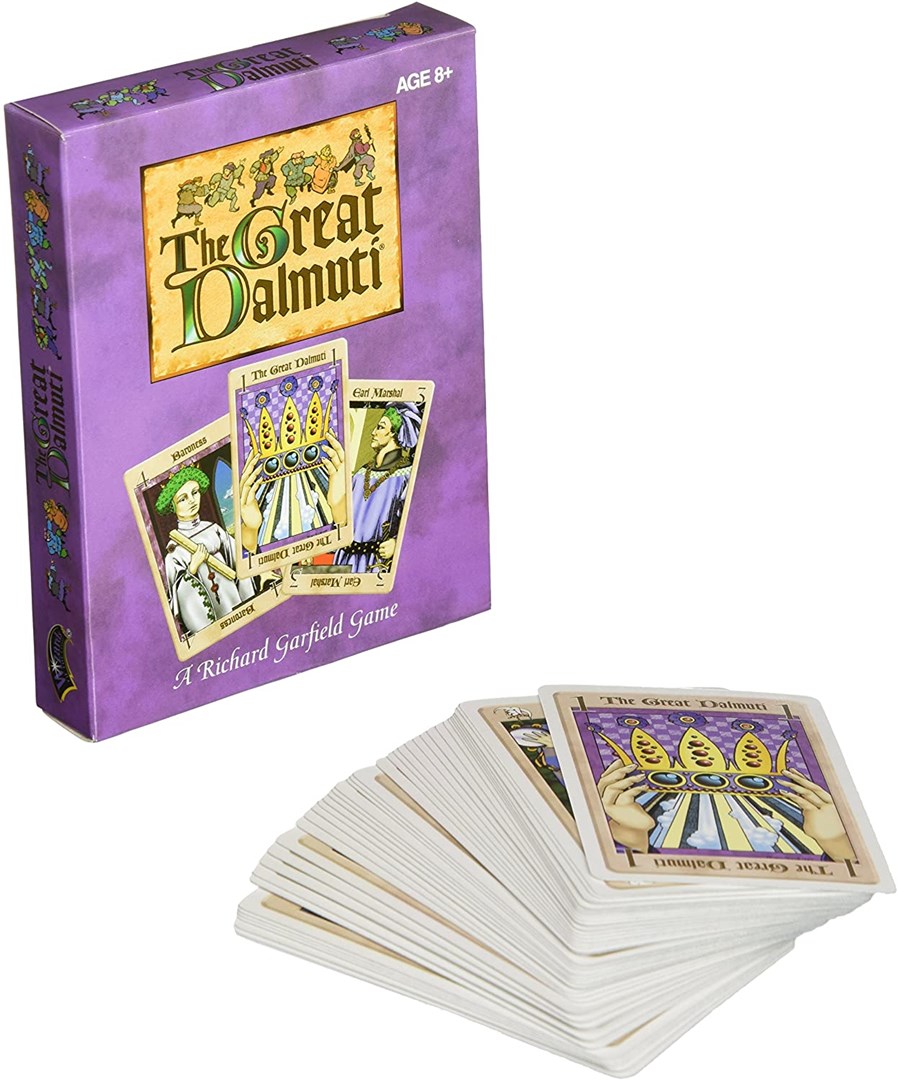 The Great Dalmuti
This game has been around for a long time - I remember playing this at the hobby shop in high school! - but it's still one of my favorite games to break out in a group of people. This light and easy card game can play up to 7 players and honestly, the more the merrier! The goal is to empty your hand first, a feat that is much easier if you are lucky enough to find yourself in the position of being either the Greater or Lesser Dalmuti, a ruler who can tax the best cards out of their peons' hands.
This game requires players to shuffle seats - we also used silly hats! - whenever their position changed. Our table was constantly roaring with laughter, and because the game is so easy to teach we were able to get up and playing right away, so we got several rounds in before we moved onto our next activity.
Secret Hitler
We love social deduction games here at Stardock. I keep telling Derek that maybe betrayal and lies doesn't make for the best team-building activity, but that doesn't stop us.
Secret Hitler is a dramatic game of political intrigue and betrayal set in 1950's Germany. Players are secretly divided into 2 teams: liberals and fascists. Known only to each other, the fascists must coordinate to sow distrust and install their cold-blooded leader, while the liberals must find and stop the Secret Hitler before it's too late.
Each round, a player takes the mantle as president and must propose a chancellor for election. Working together, they enact a law from the deck, but the chancellor could be forced into passing a law they don't want to pass depending on what their president gives them! Because all laws are viewed in secret, the players only have the president and chancellor's word to go off of, which can spread a lot of chaos very quickly.
If the Secret Hitler is ever elected chancellor after 3 fascist laws have already passed, the fascists automatically win. If the liberals manage to pass 5 liberal laws before this occurs, they win. The game is fast-paced and chaotic, and hits the table, along with the game Avalon, quite often at Stardock gatherings.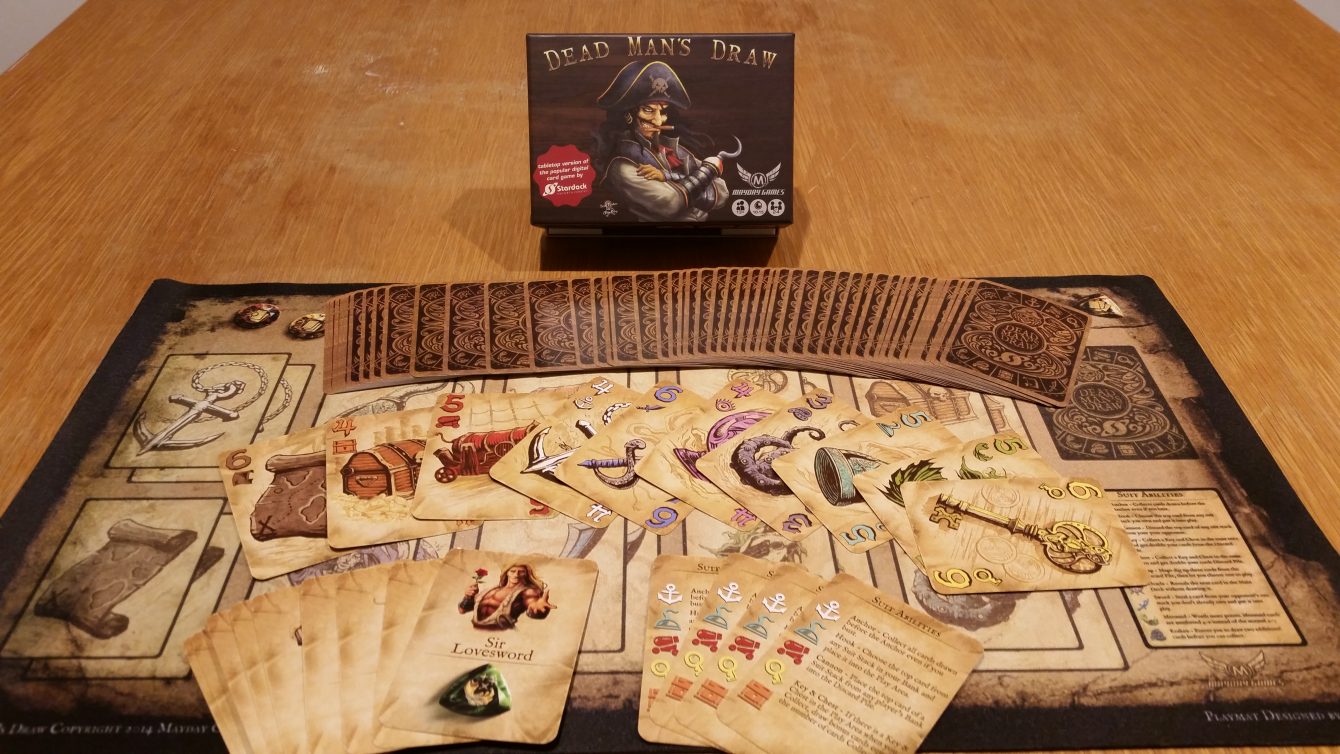 Dead Man's Draw
Look familiar? This game is honestly one of my absolute favorites in my collection because it is so easy to teach and everyone who has ever learned it has had an absolute blast! We have a lot of new Stardock blood here now, so I thought it was more than appropriate to introduce them to our only physical board game.
In Dead Man's Draw, you push your luck trying to score the most points by trying not to bust as you flip cards over out of the deck. If you ever flip up a suit that you already have in the lineup, you bust and don't get to score any cards for that round, so be sure to know when to stop!
Each suit has its own special ability, ranging from blowing up or stealing an opponent's card, protecting previous cards in the lineup, or even forcing you to flip over 2 cards whether you want to or not. The gameplay is fast paced and easy, and I know that the new Stardockians really enjoyed the game as much as I enjoyed teaching it!
Well, that was our game night in a nutshell! What are some of your favorite board games, and have you played any of the ones above? Tell me about it!