Galactic Civilizations IV was recently announced and is the newest installment of its award-winning space 4X strategy sandbox game series takes the best of what its predecessors had to offer and adds to it with many new and exciting features. As the all-powerful leader of a spacefaring civilization, the player must seek out new star systems and discover the exciting potential of the subspace realm.
Learn more about the game here: https://www.galciv4.com/
To help celebrate the announcement, we've released several animated wallpapers for DeskScapes featuring video assets created for the game.
Galactic Civilizations IV Animated Logo
This is the animated logo for Galactic Civilizations IV that you can have right on your desktop.

Galactic Civilizations IV Background
This is one of the animated backgrounds for the game and makes for a really cool animated desktop!
Galactic Civilizations IV Announcement Trailer
We took the official announcement trailer and edited it a bit to make this animated wallpaper work on the desktop.
Here's the trailer:
I used to enjoy changing the login or lock screen on Windows. We had LogonStudio which was a great tool for customization, but as Windows progressed versions the ability to customize it was pretty much gone. In Windows 10 you can set to your selected image or slideshow or use the Windows Spotlight feature which picks a daily image for you to display. You can also select certain apps that will show a quick status on the screen such as your calendar or mail app.
I usually don't pay much attention to the lock screen as when I boot my PC up, I'm trying to get right to the desktop. When I notice the lock screen sometimes, I'll usually just change image to something for the current season and that'll be it.
I just wanted to ask the question if anyone takes the time to change their lock screen, or gives it much attention?
The WindowBlinds gallery has been updated with quite a few new and updated skins from some of our talented community skinners lately! I wanted to feature some of them in the news this week in case you might have missed them.
Download these and see many more in the WindowBlinds gallery here.
Everything is online this year
Wednesday, June 9, 2021 by Tatiora | Discussion: PC Gaming
You know what I miss? Conventions.
Things obviously ground to a halt last year as COVID made its rounds across the world, shutting down big events and huge gatherings of people. Many of the larger conventions like San Diego Comic Con, New York Comic Con, E3, and others, turned to an online format in order to try and salvage at least some of their events. It doesn't beat being there in person, but hey - at least it's something!

Me at the Star Control: Origins booth, E3 2018
Now, things are slowly starting to open up again as vaccines are distributed, but several large events are still adopting a virtual format this year. This is largely out of an abundance of caution, since they would have been planning for their shows long before they knew what the pandemic would look like at the time their convention was supposed to be. E3 is one such show, and will be presented digitally from June 12-15, 2021.
If you're unfamiliar with E3, it's the world's premier event for computer and video games and related products. The show is owned and operated by the ESA, the US trade association dedicated to serving the business and public affairs needs of the companies developing and publishing interactive games for video game consoles, handheld devices, personal computers, and the internet.
On E3's website, there is a field for subscribing to a mailing list for updates and information. Fan registration began recently, and as people began to get registered scheduling details began to make their way into circulation. A blog post offers a schedule overview, with the caveat that some things may change leading up to the first day of the broadcast.
Fan access allows people to check out the following:
Select Exhibitor Booths
Lounges
Forums
Leaderboards
Profile Creation
If you're wondering how exhibitor booths work, E3 provided this explanation: Each booth will feature special events, VOD content and articles, and act as hubs within the portal for key announcements and game or product information tied to participating exhibitors. You can view a full list of exhibitors here.
In addition to the exhibitor booths, virtual attendees will have access to lounges where they can gather and chat with each other, special forum boards that will focus on discussing and sharing what's happening at E3, leaderboards that feature gamified elements that can be collected and displayed, and more.
There are several places to watch the expo live:
While the online format isn't exactly ideal, there are some benefits - namely, anyone can attend and have the same access! There aren't any attendance limits like you might have for an actual physical event. As an added bonus, you won't have to travel and navigate the Los Angeles Airport - let me tell you, LAX was a bit of a terrifying new experience for me the first time I went!
Have you ever been to an E3 before, and what was your favorite moment? Do you plan to attend E3 virtually this year?
Hello all,
Just a heads up that we released DeskScapes 11 Beta 3 today for Object Desktop subscribers and individual purchasers of DeskScapes 11. You can see the changelog here:
https://forums.stardock.com/505115
Any feedback you may have can be posted there.
As always, thank you for your time and patronage.
As we close in on the first days of summer, it's always fun to pick and feature some of our favorite wallpapers that you can use on your desktop. Of course, there's no reason you can't download these and use them on your various mobile devices as well!
Here are five of our favorite summer wallpapers!


Thursday, June 3, 2021 by Tatiora | Discussion: Stardock Blog
WindowBlinds is one of our software products that has been around for quite a long time - longer than I've been at Stardock, at any rate! If you're unfamiliar with it, WindowBlinds allows you to customize the look and feel of your taskbar, window frames, and more. You can make your desktop look unique by choosing from several different styles and skins and adjusting them to suit your personal tastes.
I think one of my absolute favorite features of WindowBlinds 10 is the randomization. If I like a bunch of skins, I can use this option to have my computer cycle through them at random intervals, giving me a fresh look and a bit of a surprise every time I boot up. The per-application skinning is great for variety, too - I can use one skin for my word processing software, and use a different skin for something like Premiere.
But, I digress! Recently, we've been developing some new skins for WindowBlinds and today I get to give you a little sneak peek of what's coming. PLEASE NOTE: These are not 100% final and some aspects of these may change before they are available.
Let's have a look!
Aero Executive
NeXTSTEP
Open Windows
AbraCadabra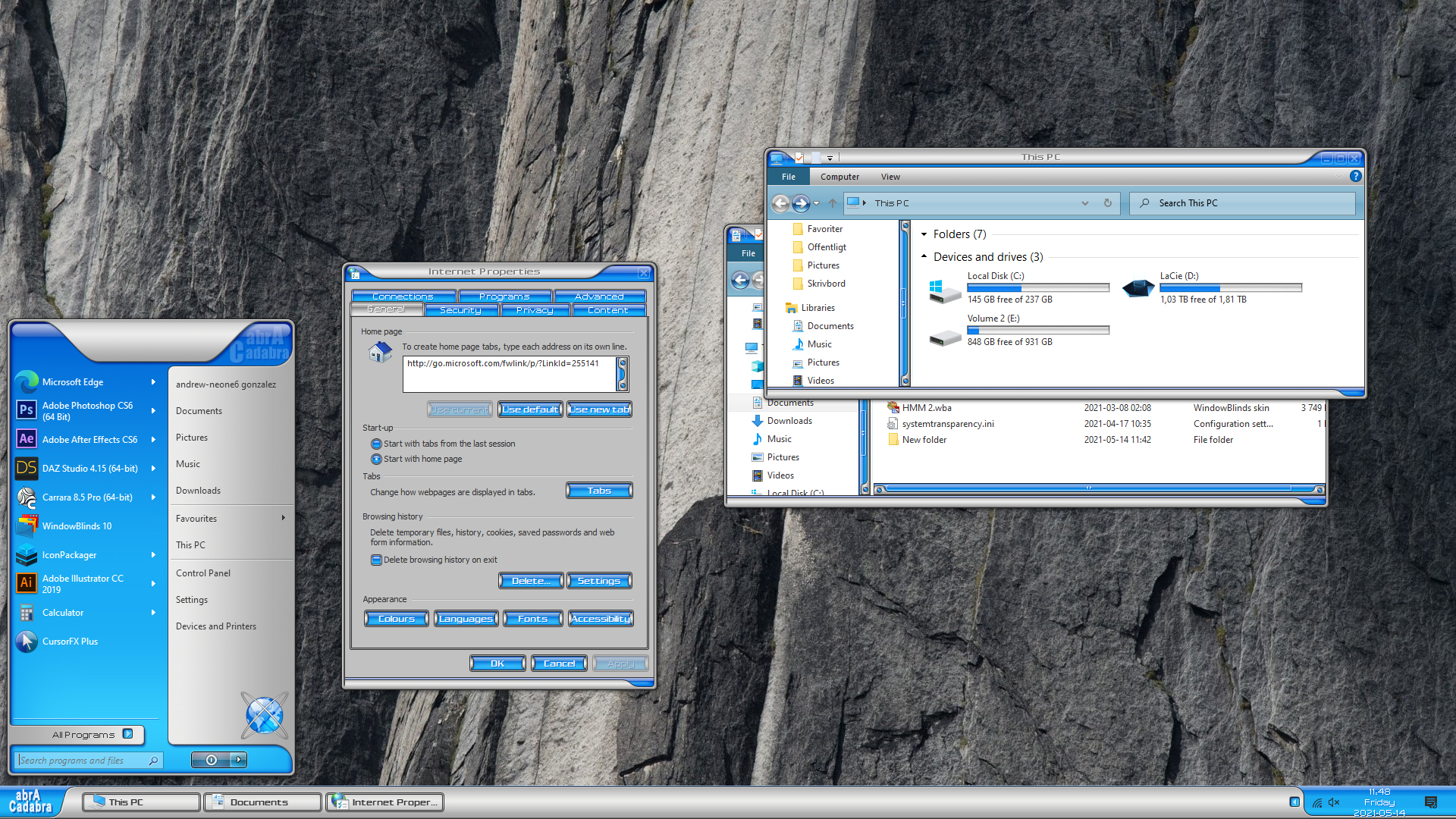 Aero Metal
Aquarium
Dragon
Elegance
Aero Midnight
Airframe
Driftwood
Parchment
PlasticXP
Whew! That's a lot of new skins. They'll be available soon, but in the meantime, let me ask you this: which one is your favorite? Share with me!
This means that your Amazon devices will automatically share your Internet with neighbors
Over the weekend, a friend shared an article discussing the new Amazon Sidewalk service that will be debuting as an experiment on June 8th. If you live in the U.S. and use Alexa, Echo, or any other Amazon device (this includes Ring doorbells, security cams, outdoor lights, motion sensors, etc.) you will be automatically enrolled in this service unless you manually opt out.
This new wireless mesh service will share a small bit of your Internet bandwidth with nearby neighbors who don't have connectivity and will help you to their bandwidth when you don't, too. Amazon's website claims that Amazon Sidewalk can help your devices "work better at home and beyond the front door. When enabled, Sidewalk can unlock unique benefits for your device, support other Sidewalk devices in your community, and even locate pets or lost items."
The goal of Sidewalk is to help devices work better by simplifying new device setups, extending the low-bandwidth working range of devices to better locate things with Tile trackers, and help devices stay online even if they are outside of the range of the home wi-fi. Amazon says users should participate in the experiment because it helps your devices get connected and stay connected, and there are no fees charged for this service.
The first thing I thought when I saw this (other than my security concerns) was, "how much is this going to affect my personal wireless bandwidth?" According to Amazon, "the maximum bandwidth of a Sidewalk Bridge to the Sidewalk server is 80Kbps, which is about 1/40th of the bandwidth used to stream a typical high definition video. Today, when you share your Bridge's connection with Sidewalk, total monthly data used by Sidewalk, per account, is capped at 500MB, which is equivalent to streaming about 10 minutes of high definition video."
Amazon has published a white paper detailing Sidewalk and all of its benefits. Users have been assured that data is encrypted and privacy is protected, but I'm personally not so sure that I want to participate in this experiment. You can opt-out your devices using their associated apps, and I think that I will be doing that myself. If you're also looking to opt out of this service, here are some instructions on how to do so:
Where can I change my Amazon Sidewalk preferences?
Ring customers who own an eligible device can choose to update their Amazon Sidewalk preferences anytime from the Control Center in the Ring app or Ring website. Echo customers who own an eligible device can update their Amazon Sidewalk preferences anytime from Settings in the Alexa app. If you have linked your Ring and Amazon accounts, your Sidewalk preferences on either your Alexa or Ring app will apply to all of your eligible Echo and Ring devices.
Amazon also provided a white paper detailing all of the service's security measures which you can read here.
What do you think - are you absolutely opting out of this service, or does it sound appealing to you? I would love to hear your thoughts in order to better inform my own decision on this.
June is here and summer will be officially here soon! I think it's going to be a hot one, and I'm going to keep some beach and tropical themes on my desktop! With a new month brings a new desktop screenshot thread, so post your desktop screenshot in the forum and lets us know what skins you are using!
Post your desktops to the monthly thread here: https://forums.wincustomize.com/505165/
(This is a news thread and will be locked. Screenshot taken by Chasbo)
We are less than a month away from the official start of summer, and we've been talking about it over the past few weeks here. Last week, we looked at some animated wallpapers for you beach lovers, and today we'll look at some WindowBlinds skins for that same summer theme.
If you have a favorite skin that you use for summer, let us know in the comments below and be sure to post them in our monthly desktop screenshot thread here.