Use your own custom cursors!
If you want to change the default Windows cursor to something way cooler, then we're going to show you how using Stardock's CursorFX!
What is CursorFX?

CursorFX allows you to apply custom cursor themes to your Windows PC. Users can easily apply skins, shadows, motion trails and sounds to your cursors. CursorFX comes complete with several unique cursors installed so you can get started right away.
Changing Your Cursor Theme
Once you purchase CursorFX, you can find your download in your Stardock account or download via the Object Desktop Manager. You can get your products and keys here. Once it's installed, start the application and you will see the main configuration screen.
By clicking the magnifying glass icon on the right of the selection, it will show the full preview of all the included cursor states. It will even preview the animations so you can see exactly what the cursor looks like in the center of the window you see the list of currently installed cursor themes.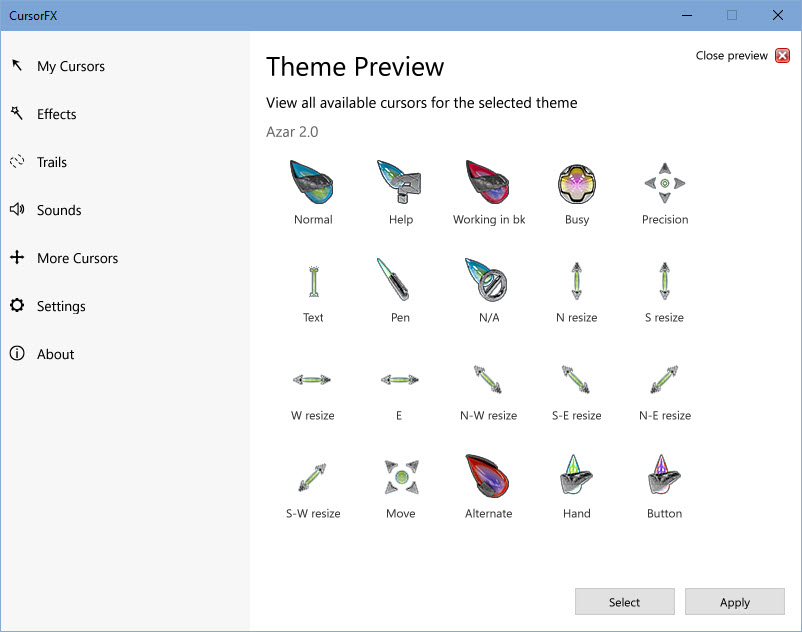 CursorFX by default comes with several themes included, but I will also show you where to get more later in the article. You can simply browse the list of cursor themes by scrolling through the list, and when you find one you like, just double-click the selection or hit the Apply button. That will automatically change your cursor to the selected one.
Special Effects
CursorFX adds many features including special effects and trails. In the main configuration window on the left side, you have a list of additional features like effects and trails.

You can select different cursor actions and states and apply the available effects to that selection. It's a fantastic way to add some more customization to your cursor theme.


Adjust Color, Size, and More
In the Settings menu, you will also have a variety of ways to customize our cursor even further. Here you can adjust the coloring of a cursor theme, increase/decrease the size of the cursor, add shadows, and more.
Getting More Themes
CursorFX includes several high-quality cursors, but no need to limit yourself to those. There are hundreds available on WinCustomize.com that you can download and use with CursorFX!
CursorFX gallery on WinCustomize
This week's question we'll focus on something that doesn't get talked about as much.......and that would be icons. We have a couple of different categories for icons here on WinCustomize.
We have been curious on how the community uses icons in their desktop setups. Do you change the entire icon set with IconPackager, or do you just change individual icons just for certain files or folders?
Let us know how you use icons and if you'd like to see more on WinCustomize in the comments below!
This week's community question is focusing on desktop skinning, WindowBlinds in particular! There are so many WindowBlinds skins available and I probably couldn't describe all the styles and colors available.
I personally like more of a minimal style skin, but more "wild" skins have also been popular. If you have no preference that's certainly great, but I wanted to put out the question to our community.
Do you prefer more minimal type skins, more "wild" designs, or does it matter to you? Tell us your thoughts in the comments below!


The holidays we celebrate throughout the year have always been a popular occasion to apply some cool skins and themes to your desktop. Out of all the holidays during the year, a few stand out for skinning.
Christmas
Halloween
Valentine's Day
New Years
I think Christmas and Halloween are the two favorites, and they are definitely mine!
Do you have a favorite skinning "holiday"? Let me know in the comments if any of these area favorite, or if I missed one.


I'm working on types of content people like and want more of on WinCustomize. Something I'm looking at now is triggered .dreams for DeskScapes. A triggered .dream is basically an animated wallpapers that changes at a designed point. Blissful Dream was always one of my favorites.
So my question to the community is do you use any triggered .dreams?
If so, what specifically do you like and what themes would you like to see. For example, .dreams that switch from day to night.
If you have any other thoughts on triggered .dreams, please leave them in the comments.
This is a detailed tutorial for SkinStudio which shows you step-by-step with images on how to create a WindowBlinds skin. It was created by Master Skinner Vampothika and we give her a big thanks for helping out the community with this. Also, another big thanks to gmc2 for getting the resources for this so we could share it with the community.
There's a lot of images with this tutorial, and it's broken up into 3 directories. I wanted to make it easy to view, so I created an html image gallery that will allow you to browse and view the images on your PC.
Download: SkinStudio Tutorial
Unzip the folder and double-click the Index shortcut and the gallery will open with your browser. Now, get to creating a WindowBlinds skin!
OS/2 Forever!
Thanks Curtains! www.stardock.com/products/curtains
Object Desktop is a suite of desktop enhancements that lets you change the look and functionality of Windows. Being an Object Desktop member gives a lot of great value with full access to many popular Stardock applications, betas, and any new or updated apps.
Check out all the apps included with Object Desktop here.
https://www.stardock.com/products/odnt/
As long as your membership is active, you will always get updates to the latest versions of everything within Object Desktop, as well as any new apps that are added during that time. When your membership expires, you will no longer have access to new updates, but you will still have access to the apps you had during your membership. Whether you plan to keep your membership active or not, it is still a good idea to keep backups of your apps, just so you have them in a pinch.
Here are two ways to get your apps backed up:


Download from your Stardock account
Every application you purchase, whether it's the Object Desktop membership or just a stand-alone app, is available in the 'my downloads' section of your Stardock account.
Access your Stardock account here: http://download.stardock.com
There, you will find all the links to the apps you have available. Simply download them and keep them for future use if needed.
Using Object Desktop Manager
If you download and install your apps using the Object Desktop Manager, then you should already have copies of all of your apps that have been installed.
The default location that they save to is: C:\Users\YourName\Downloads\Stardock
Lots of exciting things happening this year.
Stardock is actively hiring software developers to begin revamping all of Object Desktop. You will begin to see the changes starting in mid November as new and old things alike start being added.
A few things on our plate include:
Updating SoundPackager. The sounds in Windows 10 are a bit annoying. Stardock has a lot of audio talent here that we plan to use to revamp the sound packages that it includes as well as put dev resources into updating it.
Updating Keyboard LaunchPad. This is mostly about updating the UX and feature set to support modern apps as well as changing the defaults short-cuts. Sorry WinAmp fans!
DeskScapes 10.1. We are going to be integrating in-app Dream creation (not just DreamMaker but a full on mini app for creating really cool effects and dreams!).
NEW APP. I can't talk about this yet but it should show up within the next month or so. It's the biggest new customization app we've put out in years.
And that's just by end of this year!
Stay tuned!
We had some questions come in asking about some of the additional features of WindowBlinds regarding textures and backgrounds, so I wanted to write a post going into more detail about it. These are all features that aren't really difficult to use, but if you are a new user you just might not be familiar with where everything is and how they work.
If you are completely new to WindowBlinds, let me recommend you also take a read through the WindowBlinds 10 Walkthrough: Changing your Desktop Theme.
Get WindowBlinds here.
Colors, Textures, and Fonts
On most WindowBlinds skins, you'll see an option to 'modify skin' on the right of the WindowBlinds interface. Clicking that will bring up the options for Color, Transparency, Texture, and Fonts. Clicking one of those expands the section with all the available options for that particular feature. We'll start out with selecting Color, and that will bring up the coloring options in WindowBlinds. Using this option you can change the color of a WindowBlinds skin by selecting a color and using the sliders to adjust it even further. You can just the brightness and saturation, and there's also options to adjust the range and primary skin colors. Of course you can also stick with WindowBlinds smart recoloring which will give you excellent results. Note that some skins will accept color changes better than others depending on their design.
The last option in the Color tab is for fonts. Here you can override the font that is defined in the skin, and you also have the option to adjust the size of the fonts.

Transparency
Next we have the Transparency option which gives you the ability to change the transparency of the start menu, task bar, window frames, and context menus. Just adjust the sliders to the amount of transparency you want, and apply the changes to see them in use.
Textures
Textures is another feature available in WindowBlinds that gives users the ability to add textures to a WindowBlinds skin. When adding a texture, it can dramatically change the way a skin looks depending on what type of texture image is used. There are a bunch of textures included, and it's fairly simple to create and add your own so you can customize a skin to your personal liking.
We even have a WindowBlinds Texture gallery on WinCustomize.com where people can download textures other people have made and shared.
WindowBlinds is available individually for your Windows PC, but you can get that and more with a low-cost membership to Object Desktop. While you're a member, you'll get free updates, access to all betas, and any new apps for one year. You'll also get access to other great programs like Groupy, Start10, DeskScapes, Fences, Multiplicity, and more!
Visit the Object Desktop site for more information.