Last week's digital conference had a ton of neat announcements
CES was alive and active this year, even if the format was just a little bit different. Completely virtual for 2021, the Consumer Electronics Show lived up to its name by showcasing many of the top names in tech - not to mention more than a few startups! - and playing host to plenty of exciting product launch announcements.
There's obviously so much for me to cover here so that I'll barely scratch the surface, but let's take a look at some of the things I thought were pretty cool that popped up during the conference last week!
AMD Keynote
AMD made some pretty big announcements last year and made big waves in the market with the Ryzen 5000 desktop processors and Big Navi graphics cards. As was to be expected, this year was no exception as Dr. Lisa Su, President and CEO of AMD, detailed what exciting things AMD has been working on and what's coming in 2021.
Stealing the show was the much-anticipated AMD Ryzen 5000 series of mobile processors. Based on the same Zen 3 architecture as the desktop CPUs, AMD promises incredible performance, longer battery life, and "the only 8-core x86 CPU for ultrathin laptops."
Dr. Su's keynote is linked above if you'd like to hear all of the details and start budgeting for your next PC.
LG Rollable Smartphone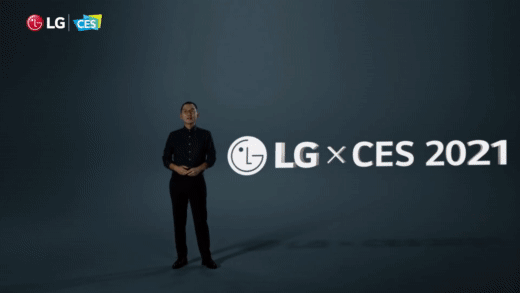 Image credit: LG
Rumors of a rollable smartphone have been circulating for awhile, but LG confirmed at CES that the phone is officially on its way. During their segment, LG showed a short teaser trailer which showcases a phone which can extend its edges to create a small tablet. Called the LG Rollable, the company confirmed that the phone will release sometime in 2021.
The tech is pretty cool, but I typically don't jump on the newest latest and greatest phones. Although no price has been confirmed, some leaks suggest that the price point may be around $2,300, and that's a little too steep for me! Anyone thinking about getting this gadget at launch? I want to hear about it if you do!
AARP Innovation Lab
AARP is a United States–based interest group focusing on issues affecting those over the age of fifty, and this year at CES they sponsored presentations from several start-up companies who are focused on making life easier for the aging population. There is so much that tech can do for seniors and their caregivers, and it was AARP's goal to shed some limelight on these types of innovations.
One of the main goals was to focus on tech that helps elderly people "age in place" - in other words, the hope is to keep them in their homes and communities rather than in a nursing home. An app called Mighty Health pairs seniors with health coaches and certified trainers, for example, while another startup, Zibrio, features a scale that assesses users' balance to predict whether or not they are fall risks.
All of my grandparents are, sadly, gone, but a lot of these startups and their ideas really interest and intrigue me because I can see things that I sure wish I'd had access to while they were still alive. I found the smart lamp, Nobi, to be an especially enlightening (sorry not sorry!) idea: it automatically turns on when users stand up and sends alerts to family members in case they fall. You can learn more about it in the YouTube video I've embedded above.
There were plenty of other fantastic ideas showcased during the Innovation Lab, so if you have an aging senior in your life be sure to check out some of the tech that's being developed!
Airpeak Drone
Sony offered the first glimpse of its new flying machine at CES this year, showcasing the drone flying above a snowy landscape while keeping pace with a prototype Sony Vision S car during a road test. Unfortunately for drone hobbyists, the Airpeak is definitely meant for professional cinematographers, but Sony has left the door open for possible future iterations on the brand, which may include consumer drones, too.
The Airpeak is set to launch in the spring of this year. Any drone hobbyists out there? I want to hear about what you fly!
Everything Else
I know, this is kind of a broad sweeping "and all this other stuff," but really - there's so much to cover! Plenty of sites out there have some great summaries of the various aspects of CES and some of the major announcements that occurred over the week. There were new TVs and home theater innovations, new gaming laptops, new soundbars, and so, so much more.
Want to see more of what was announced at CES? Check out their website! Did you watch the conference at all this year? Tell me what you're excited about!
Please login to comment and/or vote for this skin.
Welcome Guest! Please take the time to register with us.
There are many great features available to you once you register, including:
Richer content, access to many features that are disabled for guests like commenting on the forums and downloading skins.
Access to a great community, with a massive database of many, many areas of interest.
Access to contests & subscription offers like exclusive emails.
It's simple, and FREE!