Wonder offers a unique approach to online meetings by allowing people to wander and join "groups"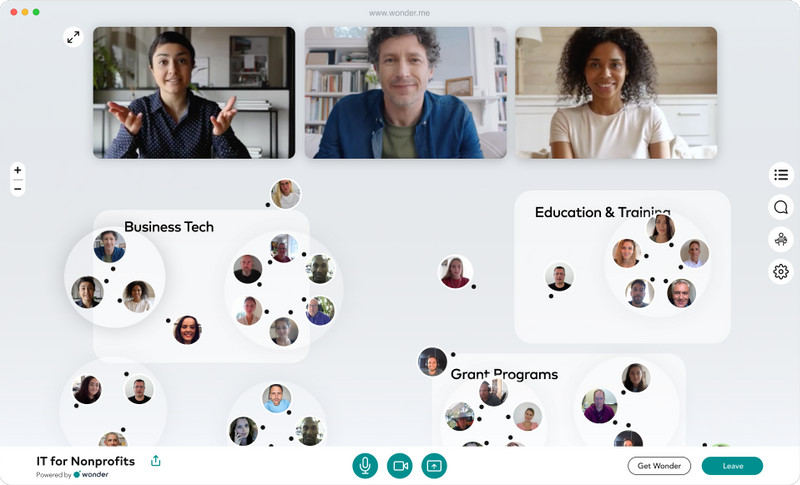 An image taken from Wonder's website showing off their new app
There is no substitute for organic mingling and in-person interaction. Planned calls on Zoom or Teams isn't the same as mingling with your friends or coworkers at a social event, no matter which way you slice it, but Wonder, a Berlin startup, has built a platform for people to come together in video-based groups.
How is this any different from Zoom, Teams, or the multitude of other video chat options there are out there now? This new program replaces the traditional video conference with something a little more unique. With it, users can meet up, network, and collaborate, all while maintaining a "bird's eye" view of a larger space where they can more intentionally interact with others, somewhat similar to an office or business venue.
While other conference apps dominate the market right now as many of us turn to remote work, Wonder's new program fills a gap that is sorely lacking in the other apps' overall experiences. Particularly, it addresses what's missing from being in physical spaces with other people.
Wonder is built around the idea of a "shared space" that you enter. You get a single window where you can "see" from an aerial view all of the other people whoa re in the same space and in areas of that space where they might cluster together. The clusters can be designed around a specific interest relevant to the people gathering (for example, if it's a company, you can have separate clusters for marketing and for HR). If the product is being used at a career fair, each "cluster" can represent a different organization participating in recruiting and interviewing.
Users can move around all of the clusters - or start their own - or sit in the margins with another person. When you come together to interact, you can join in a video chat. You can move your icon around the room by clicking and dragging, which will let you join into groups that are already chatting or having discussions. If you need to have a private meeting, you can make your cluster private, as if you were in a physical meeting room. The overall intended effect is that, without actually being in a physical space, you get this sense of a collective group of people in motion.
Wonder announced on Monday that it has raised $11 million for this endeavor in a substantial seed round. The funding was led by European VC EQT Ventures, with BlueYard Capital also participating. Wonder has seen some impressive traction this year with over 200,000 monthly users from a diverse set of organizations, including Deloitte, NASA, Harvard, and others. The organizations are using Wonder's program for a variety of purposes anywhere from team collaboration to career fairs.
According to co-founder Stephane Roux, Wonder will use their funding to add in more user-requested features and to hire more people for its team. Some of the features they are planning to implement includes sharing files and other technical services. Wonder is currently free to use, and will be until sometime in 2021.
What do you think of this? Does it sound like something you'd prefer to use either at work or to mingle and communicate with larger groups of friends who don't live nearby? As someone who personally has lots of friends who live all over, I'll admit that I'm rather intrigued.
Share your thoughts with me!
Please login to comment and/or vote for this skin.
Welcome Guest! Please take the time to register with us.
There are many great features available to you once you register, including:
Richer content, access to many features that are disabled for guests like commenting on the forums and downloading skins.
Access to a great community, with a massive database of many, many areas of interest.
Access to contests & subscription offers like exclusive emails.
It's simple, and FREE!