...and an interview with Murex!
Wednesday, April 1, 2009 by sViz | Discussion: Community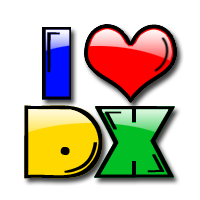 I'd just like to take a moment to thank the readers and commenters on the ILDX articles. It's great to see so many others who love DesktopX, too. This month, I'm thrilled to present our very first community spotlight. For this issue, I interviewed DX theme wiz, Murex.
But first, the picks!
Outstanding General Info
Popup Weather by Bilbo1930
This little widget has been sitting on my desktop since the first time I downloaded and ran it.
In less than 100 square pixels, or about the same space as a standard shortcut, I can see what the weather is like right now, which is pretty much all I need to know at a glance.
But if I need to know more, a click on the icon pops up more information over my system tray. The pop up menu shows a six-day forecast, and by clicking on the small circle in the upper-left corner of the icon, it switches to show a calendar.
In about six seconds, the pop up menu hides itself--a simple function, but one that makes the whole thing wonderfully unobtrusive. Added to that is the clean, clear, user-friendly design.
I highly recommend this nifty little widget!
Most Creative / Original
Space by CerebroJD
Just when I thought I'd seen every kind of meter there is to see, CerebroJD makes Space. It's a drive space meter that uses your screen height to represent the amount of free and used space on your drive.
It's a simple and clever design style, and he's also used it to create a 'fancy second hand' called Filler. Since we're talking Cerebro, it's worth looking under the hood, too. He's got nicely streamlined scripts that are well-commented and serve as great examples on how to pull information from your computer, do simple rotation, or position stuff on your screen. So download 'em and check 'em out.
Most Innovative / Resourceful
Youtube Downloader Bar by Julynessi
With this widget you can download any Youtube video onto your computer. Just paste the url, click download, and you're off. It downloads and .flv file, so you'll want to have an FLV player on which you can view the video (google it; there are free players available.)
This is just a great example of the wide range of things you can do with DesktopX to fill almost any basic need, simply and effectively. Need a widget that automatically archives text as you copy them? I did, and DX could do it. Need a widget that downloads videos from Youtube onto your computer? You might, and thanks to Julynessi, DX got the job done.
DX Theme of the Month
There was some seriously stiff competition this month in DX themes. Which is a great thing for DesktopX! Not so good for the sucker that has to pick just one of them. Man, I feel sorry for that poor soul! Hahaha...oh, wait.
How does IslandDog do this every week?
This month, I chose Maximum Zenith by Black-Knight
I found this theme to be very usable. The color scheme is near neutral so it goes great with almost any wall. Though, the Maximum Zenith wall is included in the zip.
It's got meters, weather, and shortcuts galore, yet the layout is minimalistic and feels very natural on my desktop. The different globe animations and menu colors add a touch of flare to the overall design, and the overall design itself is sleek and cool as a cucumber.
Last but not least, folks, this is only Black-Knight's second theme.
I kid you not.
Check out his first, Gilded Sage, then grab this one, and you'll come to the same conclusion as I did. This DXer is gonna be making some awesome themes!
Which is great for the DesktopX community, not so good for the sucker who has to choose from all these talented artists...lol!
Templates! Get your fresh, hot templates!
During the course of the last week or so, a few things clicked as far as what else I can do to share tips and tricks.
First, when working on a script for someone else, I had to make it readily-applicable and require as little modification as possible. Second, I observed that recent uploads by Milksama and RomanDA were categorized as Tutorials & Tips--never noticed that category before. Finally, I put two and two together.
Why not upload these scripts to the object gallery as templates so others can use them, too? And so my template making days begin. Templates are something DXers can import, open up, fool around with, sink their teeth into, and actually 'see' how an object works. And I think DesktopX definitely needs to come with more template objects. The lack of examples in the DesktopX Tutorial folder is pretty sad. Here's hoping the good folks at Stardock beef up that folder for the next release.
Here are the templates I've uploaded so far. Each comes with instructions on how to use & modify them, and how to make them from scratch.
Scrolling Components Templates
Drag and Drop Shortcuts Templates

Master Apprentice Murex has been a part of the community for years, and he's been rockin' the DesktopX themes gallery here since 2005. Most recently, he's taken his unique designs and turned them into some pretty amazing Xion skins. Below is just a small sample of his work.
Murex is also just a really nice guy and a great asset to the skinning community at large. I'm proud to have him as our first community spotlight.
ILDX: Have you always been into graphic design, or did you more recently begin pixel pushing?
Murex: Some one gave me and old 486 computer somewhere around 1997. It was the first computer that I had ever even turned on. I didn't start making any graphics until I joined WinCustomize in 2002. So, yes, I most recently started pushing pixels. But I had a design background; in high school I had classes in mechanical Architectural design. I also use a kitchen cad program to design and build custom kitchens. And I think that has been a big help in my graphics.
How do you come up with theme ideas? Are there any 'eureka' stories you'd like to share?
I suppose I get my ideas the same as any other skinner. I get ideas from other skinners. Sometimes, I will see something on my kid's video games and that will spark my imagination. A car grill, a motorcycle. One of my themes was based on a web page I saw.
I guess you could say my eureka story would be when I found the hide scripts by RomanDA. And sViz wrote me a script to hide one menu behind another menu that would switch back and forth with a click of a button. The hide scripts made it possible for me to make my theme (Space Barge.) I have always wanted to make a theme with pistons and mechanical parts that actually looked as if they were moving instead of now you see it now you don't type of action, or the graphic gets stretched out of place.
What do you do to continually improve your craft & stay inventive?
I try to improve upon my Photoshop skills for one, so that I can make better-looking graphics. I also try to stay current with what is new in the skinning community. And I look to see what other skinners are doing.
Up until recently it has been, try to find new ways to present old ideas with new graphics. Now that we have members like RomanDA and sViz who write and share scripts along with tutorials with the rest of the community, it makes it a lot easier to be inventive.
Any tips, tricks, or words of advice for someone getting started in making DX themes?
If you think you want to try making a DX theme read the tutorials that are available. After that, take apart someone else's theme and see how it is put together. Then try to make your own. Then if you run into problems ask for help. There are a lot of skinners that are willing to help, including myself.
Do not be afraid to make something that is different from other skinners. Make the theme the way you would like it to be.
For anyone who is maybe, sort of, kinda thinking about getting into DX, what are some reasons why they should give it a try?
It's a lot of fun, and it gives you a chance to use your imagination. DX gives you the ability to create a work of art that looks good, and at the same time, you can make something that can be used for work or play every day on your desktop.
Do you have a scrap heap? Any half-started, half-finished, what-was-I-thinking creations you'd like to share? Screenshots?
Yes I have a few half creations taking up drive space.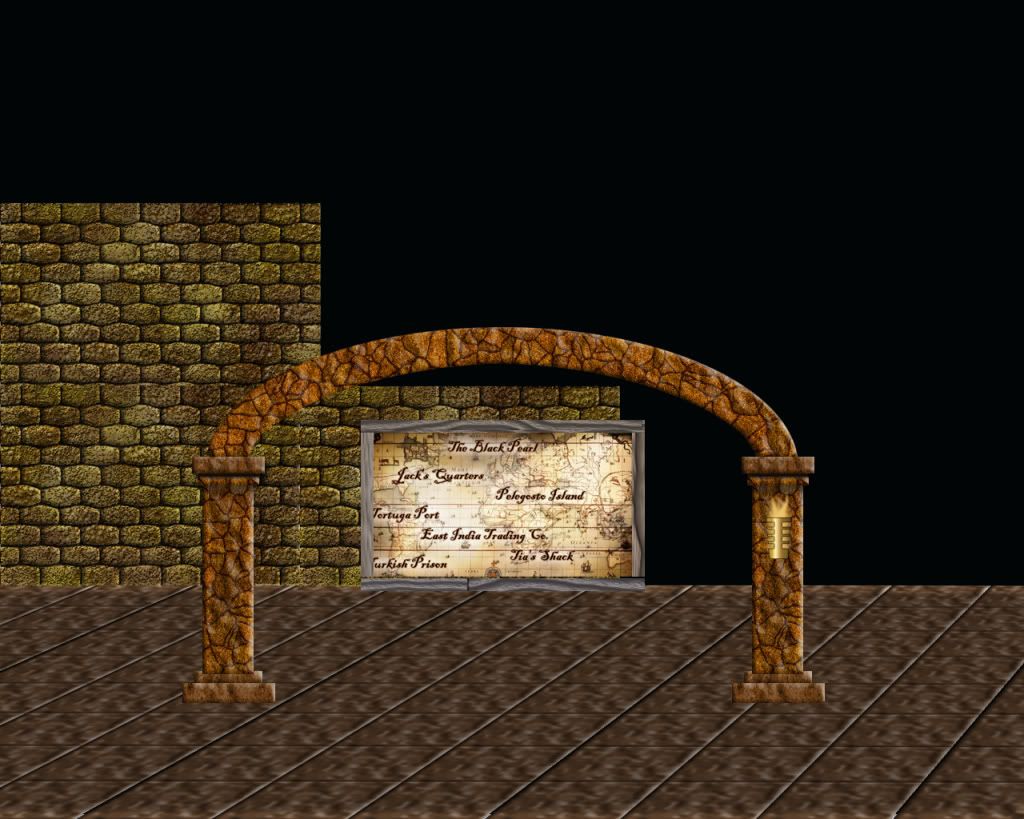 Dead Man Arch was going to be a Pirates of the Caribbean theme.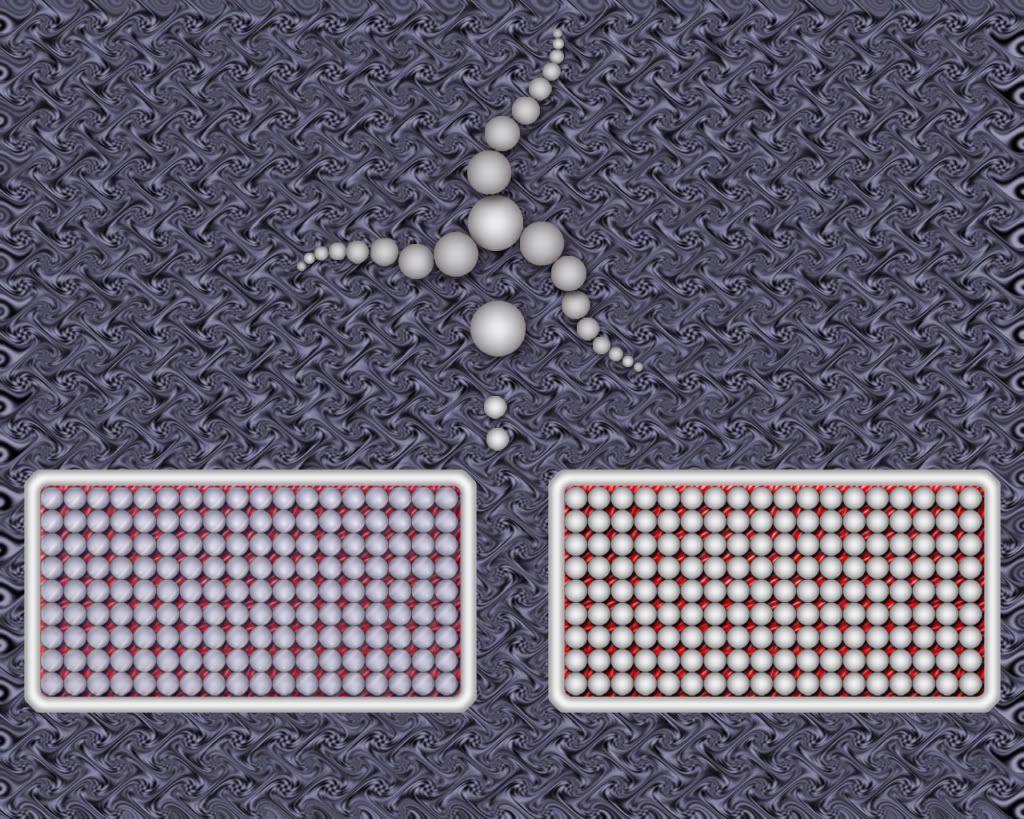 Orbs was…I don't know what it was going to be, some kind of theme.
These other two were going to be menus for a theme.
On the flipside, which creation are you most proud of & why?
I would have to say my last theme, Black Ovation. Because I managed to place all the information I normally put into 5 or 6 different objects into one main object that takes up very little space on the desktop. And it can be used at almost any screen resolution.
Finally, why do you love DesktopX?
I like the flexibility. There is no end to what you can do with a little imagination .You are not confined to any area of the desktop. You can place an object, text, or an animation anywhere you want on the desktop. Unlike some other programs that limit where you can place the graphics and what size your graphic can be, with DX there is no limit.
---
Thank you, Murex, for taking the time and for your great themes! We're glad to have you as part of the DesktopX community!
Be sure to check out Murex's gallery here: LINK
You can also find his work on Skinbase.org, Skinning.net, and TheSkinningSuite to name a few sites.
Got questions you'd like to ask a fellow DXer? A nominee for DX community spotlight? Content suggestions? Drop me a PM or EMAIL.
Until next month, happy DXing!
Please login to comment and/or vote for this skin.
Welcome Guest! Please take the time to register with us.
There are many great features available to you once you register, including:
Richer content, access to many features that are disabled for guests like commenting on the forums and downloading skins.
Access to a great community, with a massive database of many, many areas of interest.
Access to contests & subscription offers like exclusive emails.
It's simple, and FREE!