Have a nice day and smile :)
Thursday, December 11, 2008 by TYCUS | Discussion: WinCustomize Talk
SO., i guess it's the tme of the year that i have just an enormous free time so instead of wasting it watching the huge spider on my room (realy., some spiders in here are so big that they have a health bar like in video games), i'll share my list of presents that i make for santa:
Dear Santa, this year i want to ask you just few things that i think i deserve., and for a hint i copy paste this images:
1.- Like the past five years, i want a GOOD girldfriend., not like the first one, it was a joke? (i hope it was
) >>
or the second one >>>
..and dont make talk about the other three!
2. Also., i would like a new cat., the one that i have last year., well., he had a not so friendly attitude
>>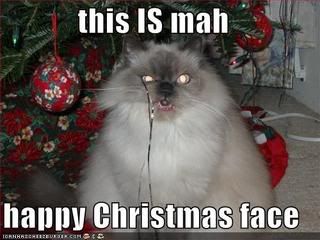 3. Something that i really want is a green and huge christmas tree.., not like the one i have to made this year., since i made a party with my friend i ran out of mony to buy a tree so i have to improvise
>>>
I guess that is all....
Some notes., about the cat i want.., this are some good example of what i DONT want you to bring me >>>
I know cats are lazy., but this is too much!
Yes, i want a cat that is clean.., but not so clean...
So., please.., i guess i'm not askig too much., if not., you know i can still use this to make you bring my presents
>>>
Please login to comment and/or vote for this skin.
Welcome Guest! Please take the time to register with us.
There are many great features available to you once you register, including:
Richer content, access to many features that are disabled for guests like commenting on the forums and downloading skins.
Access to a great community, with a massive database of many, many areas of interest.
Access to contests & subscription offers like exclusive emails.
It's simple, and FREE!