I finally got Windows 11 installed and running on my main PC this week. Since the official release is approaching, I wanted to make sure I had time to test software out on Windows 11. As with any new install of Windows, the first apps I put on my PC are Fences, Start11, and Groupy. These help my productivity while I setup the rest of the OS and get all the other necessary applications installed.
While I'm downloading new installers and organizing my files, I usually have a couple of file explorer windows open to move and copy items around. This can get to be quite an unorganized mess with a big monitor, so this is where Groupy comes in.


As you can see in the screenshot above, I have four explorer windows open, but they are all tabbed in one window. This way I can easily and quickly change to each window depending on what I'm working on. It also makes it extremely easy to drag and drop files from one folder to another.
I have Groupy set up so it will group identical windows automatically. That way, any explorer windows I open will automatically open in my tabbed group.
Of course, this will also work the same way in Windows 10, but I wanted to show off that you can get tabbed windows in Windows 11!
AKA, why we play certain games over and over and over again...
Thursday, September 2, 2021 by Tatiora | Discussion: Stardock Blog
I've said it before, and I'll say it again: I am highly prone to nostalgia.
I am an emotionally memory-based person who lives and breathes sentimentality. I have a hard time parting with objects I own because I can remember exactly who gave it to me, the circumstances surrounding the gift, and why it was important at the time (even if it hasn't been useful for a very long time).
It's not just physical things, either - it's anything that allows me to return to a memory that I am fond of. Frequently, this means games - both video and board/card. My grandmother in particular was an avid Rummikub player; I can remember many times where we sat in her kitchen on a quiet afternoon and played together while we chatted.
Just down the hall, my grandfather and his study would house many other loving memories for me in the form of hours spent playing computer games together. Returning to these games still, all these years later, instills me with a joy and a fondness for those times that's hard to put into words.
I've taken a look at how nostalgia can drive people to replay games or repeat activities that they've done many times before, but what is nostalgia exactly? Let's talk a little bit about what it is and why it affects us.
What is Nostalgia?
The dictionary defines nostalgia as "a sentimental longing or wistful affection for the past, typically for a period or place with happy personal associations." The word comes from the Greek word nostos, which means "return" or "home," and the Greek word algos, which means "pain."
Nostalgia is sometimes also described as homesickness, although I view nostalgia as a more general term, while homesick is much more specific.
Why is Nostalgia so Powerful?
Think about it for a minute. Nostalgia is a return to our happy places and thoughts. These moments that made us feel things in our younger days, often for the first time, are what define what those emotions mean to us.
Specifically regarding happiness, nostalgia allows us to return and feel grounded toward that which built our feelings and how we react to the world around us as we have grown. Recalling our past experiences allows us to build better present experiences, and nostalgia can serve as an aid in that regard.
However, not all nostalgia is happiness. It seems silly, conceptually, to long for any days or memories that aren't happy memories for us, but all experiences, whether you define them as good or bad, form us in some way. Nostalgia can help people deal with anxiety surrounding change. Our memories are grounded, they can't change anymore - because they're memories. They've already happened.
Does Nostalgia Have a Psychological Effect?
Dr. Krystine Batcho, a licensed psychologist and professor of psychology at LeMoyne College, says that nostalgia is a "wonderfully complex paradoxical experience." According to Batcho, nostalgia serves a number of functions.
Ultimately, nostalgia is an emotional experience that unifies. It helps unite our sense of who we are, our self, our identity over time - but over time, we also change in pretty incredible ways. Nostalgia helps connect us to our authentic self and remind us of who we have been, so we can compare ourselves to who we are today.
A podcast interview with Dr. Batcho that I found on the American Psychological Association's website is what got me thinking about this. You can listen to (or read the transcript) of the whole thing here.
Nostalgia Today
I think it's fairly obvious that there are many corporations seeking to appeal to peoples' sense of nostalgia in order to make their products or services more relatable. Networks are bringing back the shows of our childhood and making them accessible to us in hopes that we will share them with our own children and perpetuate the cycle of fond memories.
Admittedly, nostalgia has driven me to purchase certain remastered games or collectors editions before. You could say that I am prone to marketing tactics - and you wouldn't be completely wrong there - but in many cases it isn't the marketing that sells me on purchasing an old favorite. It's the sense of happiness that I remember, that feeling of nostalgia that drives me to return to that state of being a kid again, even if just for a little bit.
What games hit your nostalgia button? Do you enjoy revisiting those memories? Share your thoughts with me!
CursorFX has always been one of my favorite customization apps and was an effortless way to get started customizing your Windows desktop. The default Windows cursor is boring, and CursorFX allows you to easily change it to one of thousands available on WinCustomize. There are all kinds of cursor themes available. Some with minimal designs and some with really amazing animations.
First, get CursorFX from here or as part of your Object Desktop membership. Once installed you'll already have a handful of cursors included that we picked as some of our favorites just to get your started. Just select the cursor you want to use and hit Apply, or just double-click the cursor.

If you ever need to get back to the Windows cursor, just apply the Windows Default and it will go back to the default cursor. When you're ready to try out some additional cursor themes, head over to WinCustomize.com and check out the CursorFX gallery. Here you can browse and download thousands of additional cursor themes in a variety of designs and styles.
Are you into sci-fi? Put a Starship as your cursor!
Maybe MacOS is your style?

Or maybe just a cool cursor design like this.
The point is there is a ton of cursor themes to choose from, and it's a fun way to give your desktop a bit of personalization no matter what style you like!
Thursday, August 26, 2021 by Tatiora | Discussion: Stardock Blog
I remember when I had my first interview at Stardock.
One of the people in the room, a guy named Kris, looked at me and fired off a series of PC user questions, things like: what kind of computer do you have, what operating systems do you run, and what web browser do you use?
I answered each, and when I got to the web browser part and answered Chrome, he fired back with a question that caught me off-guard.
"Why?"
...honest answer? I have no idea why. It was just what I used (and still use)! I don't remember exactly what I said - though, considering I'm about to hit my 6 year anniversary next month here at Stardock, I'm guessing I answered the question to his satisfaction - but I do remember pausing after the interview to re-ask myself that same question.
Why did I use Chrome over any other web browser?
I mean, some of the reasoning is straightforward. I like its design, it is fast and efficient, and it has a solid amount of security. However, other web browsers, especially nowadays, have the same features - so why choose Chrome, specifically?
Prior to Chrome, I had always used Firefox. I didn't ever have any issues with it, so my switch to Chrome must have been because a friend recommended it to me or because I needed it for something specific - I honestly don't remember anymore.
Anyway, the browser landscape has changed significantly over the last few years. What's most important to us as PC users in a browser certainly has some variables, but in general I think we're concerned about three primary things: Speed, Security, and Customization.
Speed
Obviously, we don't want to have to wait forever for a website to load, so speed is one of the most important qualities in a web browser. Some web browsers demand a lot of your system's resources, while others take up less and run a bit more smoothly in the background. These factor into the browser's speed.
It's important to look at a browser's compatibility, also - they need to be able to work with your current version of Windows (or whatever OS you're using) and need to run efficiently. How much memory a web browser takes up is also important when you're factoring in elements of speed and efficiency.
Security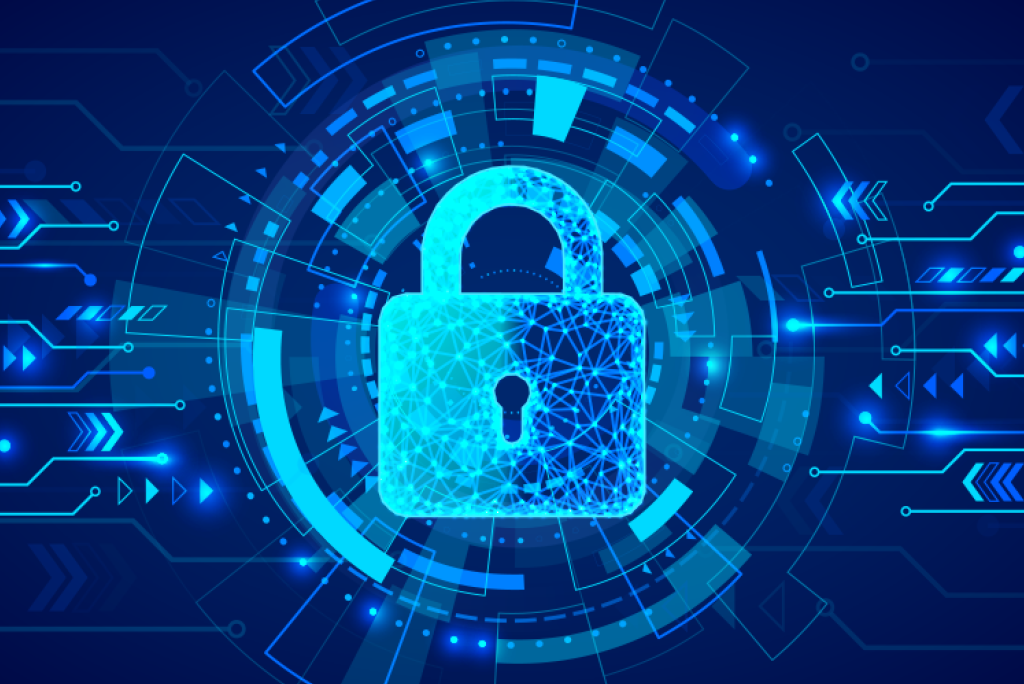 I talked about this in another blog, but the Internet can be a bit of a murky place to navigate at times. There are lots of anti-virus programs out there to help keep your PC safe, but one of the first lines of defense is going to be a secure web browser.
Some browsers offer full suites of security tools to protect your identity and shield against malware, while others don't have a method for blocking cookies and ads efficiently. It's not a good idea to rely on your browser alone to provide defenses against someone who might want to compromise your identity online, but it's a good first line before you add on the other bells and whistles.
It's worth noting that Microsoft Edge now comes with a built-in password manager, which is an awesome security feature to have in a web browser. The other browsers haven't quite caught up to this just yet.
Customization
The tools and add-ons that you can apply to your web browser can make or break your experience when surfing websites online (do people still say "surf the web" anymore, or is that an old-person thing?).
Some tools do things like strip webpages of clutter, leaving only the text, which makes it much easier for you to focus. A lesser known browser, called Opera, even has a built-in cryptocurrency wallet. It is also known for its Speed Dial add-on, which consists of pinned tiles on your home screen and a toolbar for accessing frequently used services.
Edge offers voice-reading of web pages, Firefox lets you instantly save a page to Pocket, and Chrome for Android has tab groups and dark mode. All of these things boil down to personal preference and what tools are important for you to have in order to use your web browser in a way that will work for you.
PC Magazine has a really excellent article about the most popular browsers and what makes them unique from one another. They also wrote one on the best alternative web browsers (half of which I'd never heard of). I definitely recommend giving them a read!
What web browser do you use? Why did you make that choice? Share with me!
One of the most requested features for Fences has been target-based rules, which we added in the latest Fences update. There's a variety of uses for target-based rules, but the one we'll talk about today is using these rules to make Steam desktop shortcuts go directly to a fence of your choosing.
For example, I have a fence called 'Steam Games' on my desktop that I only want Steam shortcuts to be in. I want them to be automatically sorted into that fence when I download a new game from Steam.

Open the Fences configuration and open the 'Sorting & organizing' window. Now, look for the "target-based rules" section.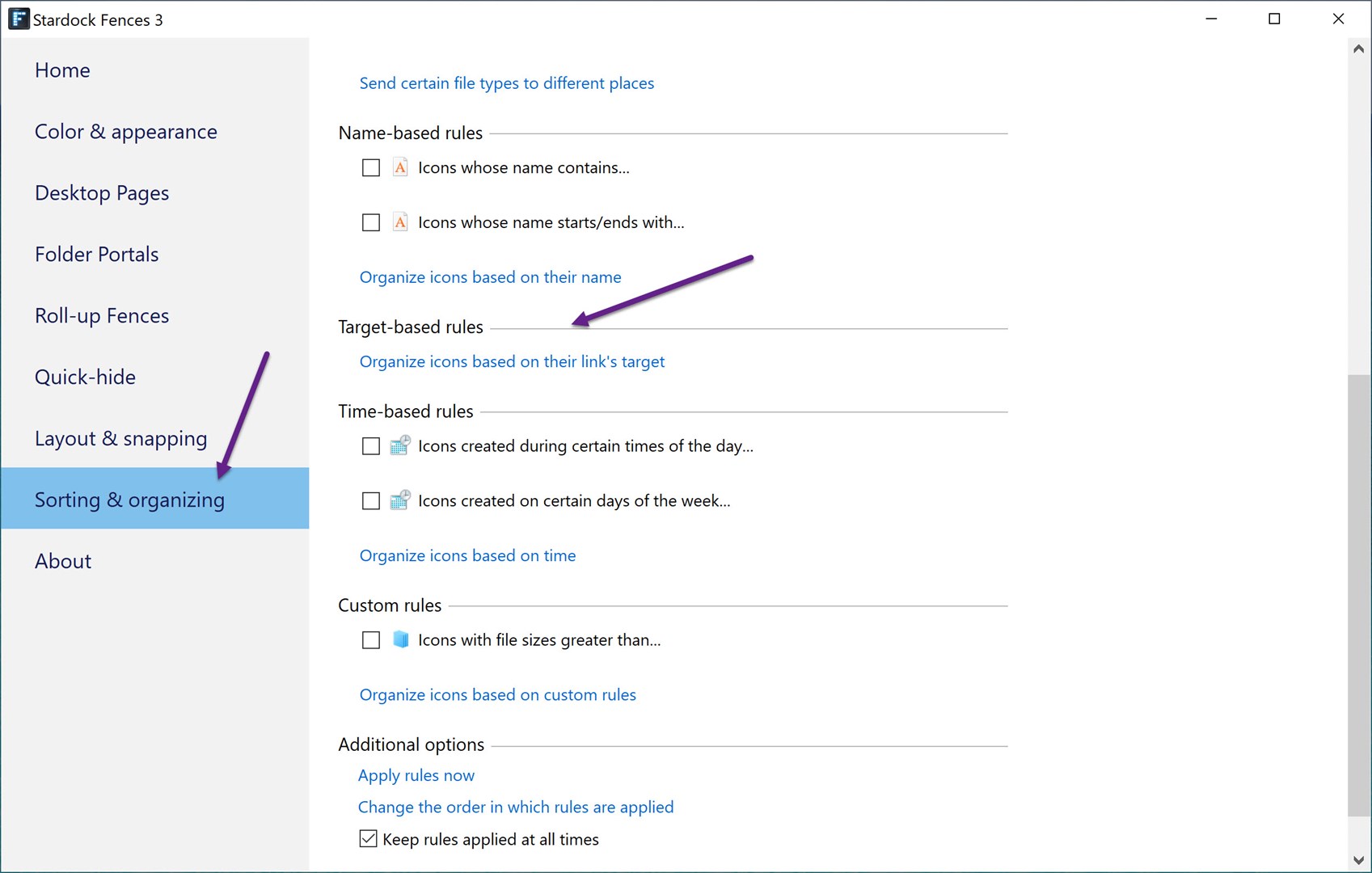 Clicking the text there will give you some options on how you want to create this rule. For this example, we'll use the 'Link's target contains...' rule.
Now, a new window comes up where we can add the parameters for our new rule. Selecting the drop-down menus will give you several options to choose from. For the Steam links we'll start off with defining them like this: target starts with steam://.

Click 'Add additional criteria' to add another entry.
For this one, we'll select the icon type and set it as a shortcut (link) as that is what a Steam shortcut is. Click OK and we can now set which fence we want these icons to be placed in. Here I chose my Steam Games fence.
You can choose to run the rules right now to organize your desktop, and you can set Fences to always apply these rules.
Now all your Steam shortcuts should be organized into your selected folder!

I use CNC and laser engravers in my workshop, so PCs are also a big part of my workshop, not just my office. I have my main PC in my home office, and I have a Fusion5 tablet in my workshop that I use to control the machines. It's a great tablet for running the few applications I need. I previously had a cheap laptop but having a touch screen is so much easier when using these apps.
So, my workflow for my shop is that I design the files in my main PC in the home office, then I move them to a OneDrive folder. I'm using OneDrive because that's the cloud service I use and it's easy to setup a folder that I can access from just about anywhere. I have a CNC folder on OneDrive that I put all my projects and relevant files into. That way I can get the files from my tablet in the workshop without having to use thumb drives.
This is where Fences comes in and make it even easier to use. I want access to these folders as fast as I can, so I setup folder portals on each desktop using Fences. I set the portal to have access to each project folder I use in the workshop. That way, I can simply drag a file into the folder portal on my office desktop, and then walk into the workshop and have that folder portal on my tablet point to the same folder. That way I have access to those files right on the desktop and I know right where I need to find them.
Here's my home office desktop.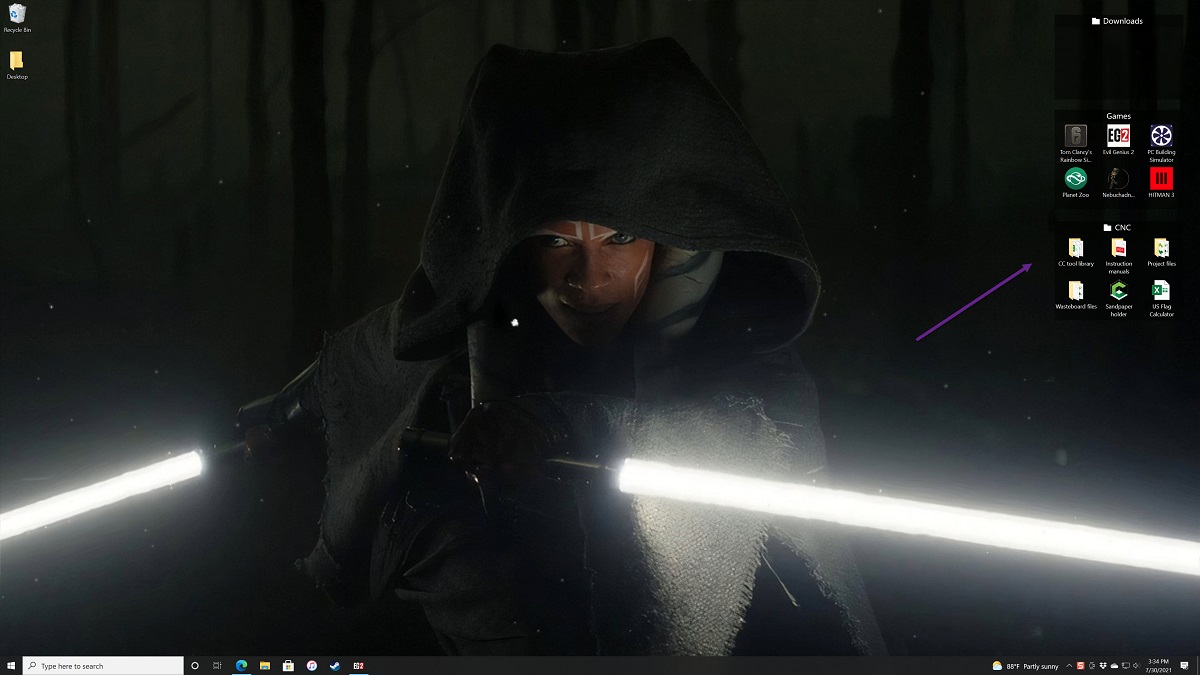 And here's an image of the Fusion5 tablet in my workshop.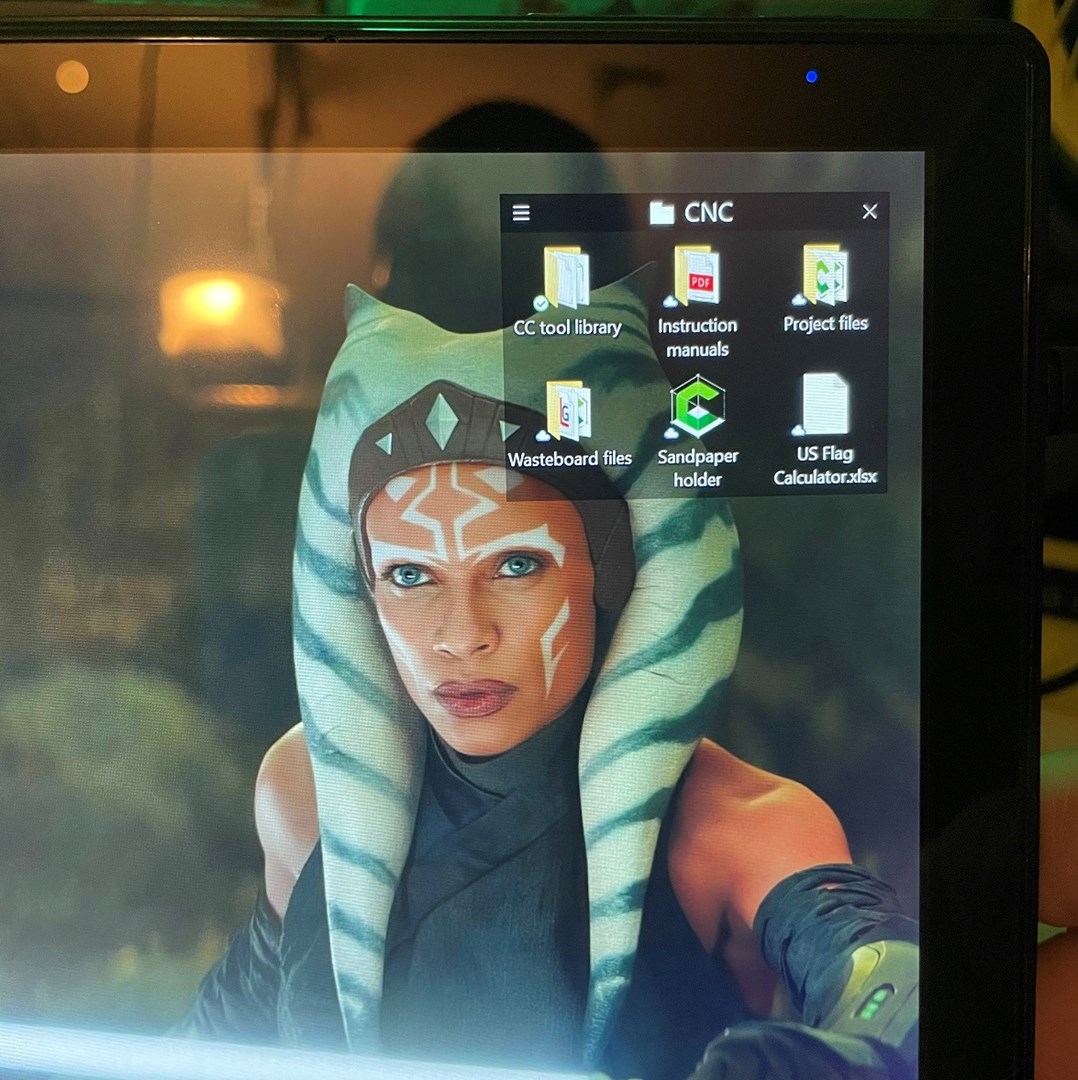 It's a straightforward process, but it helps tremendously in my workflow. Just remember that I'm not "sharing" this folder through Fences, I'm just using the folder portal feature in Fences to have direct access to these OneDrive folders directly from a fence on my desktop on multiple PCs.
Do you use folder portals in Fences? Have you tried a similar setup or have another setup that you find useful? Let us know in the comments below.
There are a lot of dishonest people online
Thursday, July 29, 2021 by Tatiora | Discussion: Stardock Blog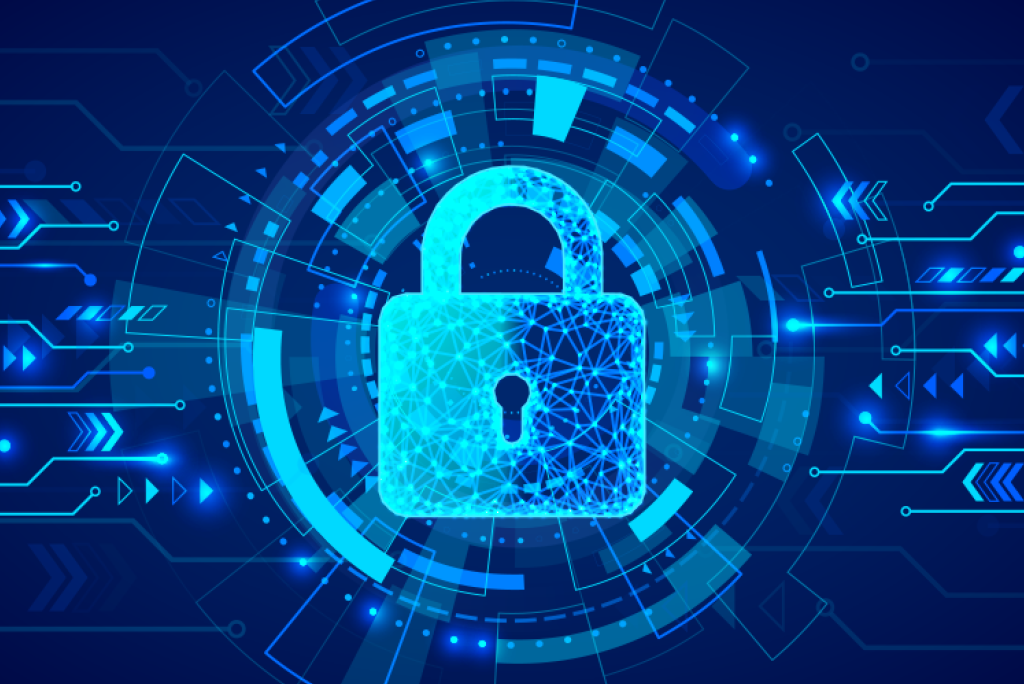 We all love a good hacker movie moment, right? The clock is ticking, the success of the mission or survival of the world hangs in the balance, and one lone computer-whiz whips their hands across the keyboard and watches a bunch of scrolling lines on a screen, then - BAM! Database hacked, world saved, let's all go have cake.
Hacking in real life is significantly less exciting - usually because, as an average person, we're often on the receiving end of those hacks. If you've ever had a credit card number stolen or had accounts opened up in your name, then you know the pain and the feelings of violation. Unfortunately, with technology and the Internet the way they are, hackers are now an inevitable part of the landscape that we have no choice but to learn to navigate.
It's true that malware and hacker methods continue to evolve and improve, making life difficult for users of the Internet everywhere. However, malware defense and anti-virus apps do their best to keep up with that evolution in order to combat "bad actors," as the industry calls them. While the industry tries to keep up with new methods, there are things we can do for ourselves in the meantime in order to help protect our personal information. Let's take a look at a few!
Keep your PC Up to Date
This probably seems like a given, but there are so many people who don't realize the importance of accepting all of those updates that Windows and other OSes keep throwing at us. I know that an update when you're right in the middle of something can be annoying - and I'm certainly not saying that you need to immediately drop what you're doing in order to take care of it! - but it's important to make sure you set a reminder for yourself to do it later.
Updates for your web browser, your operating system, and other frequently used apps are important because they usually contain additional methods of defense against malware. This is what I mean by constant evolution - and why how easy it is to download patches and updates is such a convenience in our efforts to keep our personal data safe.
Find a Good Antivirus/AntiSpyware Software
There are a lot of options for antivirus software out there, especially nowadays. There are several free programs, but make sure you do your diligence and research before you download a new program! Read other reviews, see what other users have said, and make sure you consider your options before you select one.
There are plenty of reputable programs out there - Avast, Norton, and so on - and it's important to find one that works for you and keep it up to date. Antivirus protection will scan your files and incoming emails for viruses and delete anything that is malicious.
Antivirus software is frequently updated in order to keep up with all of the new bugs and viruses that are constantly cycling around the Internet. You can set your antivirus software to download updates automatically and will want to make sure it's continually running so you don't leave your PC vulnerable.
Some antivirus programs also have spyware protection, but if they don't you'll want to make sure to get a separate spyware program. Spyware is software that is installed without your knowledge and can monitor your online activities and farm personal information from you. Keyloggers are particularly insidious; they record everything you type in, including your passwords and financial information. Best to make sure that kind of software doesn't have the opportunity to take root!
Sure, sometimes antivirus software can be obnoxious and try to block legitimate programs. It might require you to jump through a few extra hoops once in a while, but the peace of mind is worth the occasional inconvenience. Most of the antivirus software's websites will offer you advice on how to troubleshoot these issues, too, which will make fixing these problems significantly easier.
Keep Your Firewall Active
Believe me, I get it - Firewalls can be an absolute pain. But they're important! Firewalls block hackers from entering and using your computer. Hackers search the internet the same way some telemarketers dial random phone numbers by sending pings to thousands of computers and waiting for responses.
A properly implemented firewall will block these pings from sources that you don't permit. Some operating systems have built-in firewalls (like Windows), but it may default to the 'off' setting, so you'll want to check to make sure that you enable it anytime you get a new PC. As with any other PC protection program, make sure you keep your firewall updated!
Use Strong Passwords
Passwords can be a huge pain, but a good one is absolutely necessary in order to ensure your online safety. It's frustrating, though - experts say to never use the same password for multiple sites, to not use anything remotely personal to you, and so on - and they also say not to write them down.
How the heck are we supposed to remember these, then!?
Changing passwords frequently, while annoying, is also another way to help keep your information secure. Since it's so hard to keep track of all the passwords swimming around in our heads, I recommend a program called LastPass.
LastPass generates strong and secure passwords and also remembers them for you so you don't have to. It allows you to safely and securely share passwords with trusted sources and sends personal alerts to you if any of your data is at risk of being breached.
My coworker, Spencer, taught me about LastPass when I first got to Stardock and I started using it right away. It makes things so much easier, and I have some peace of mind when it comes to my personal data because of it.
Two-Factor Authentication
It's an extra step, but enabling two-factor authentication wherever possible is one of the absolute best ways to protect yourself. When signing into a site or an app, two-factor authentication will send a message to you, usually via a text message, with a code. Since it goes to your personal device and expires after a certain amount of time, it adds a layer of security to your data that makes it much more challenging for hackers to get into.
I do this for several sites and gaming accounts. I have heard horror stories about friends' accounts being hacked and them losing years of gaming progress, and the thought just makes me sick to my stomach. You'd better believe that I'll take any steps I can to prevent things like this!
There are tons of other ways to help keep yourself safe online - the above is just a few examples. What do you do to keep your data secure? Share with me!
Thursday, July 22, 2021 by Tatiora | Discussion: Stardock Blog
In a world of media streaming, does Acoustic Bridge have a place anymore?
I decided to play around with the program a bit and see some of the advantages it offered over streaming music directly to a device via an app like Spotify or YouTube. I admit, in general I tend to stream things from my phone and hook it up to external speakers either via bluetooth or an AV cable, so I wasn't sure if I would be interested in anything Acoustic Bridge could do for me.
Although I grab most of my music off of Spotify these days, I admit that it's largely because of convenience. Before music streaming became big, I had a fairly robust iTunes account. I still do - it's not like the music has gone anywhere - but in most cases I can find stuff on a streaming platform if I want to play it.
The ability to choose specific songs or avoid ads on many of these streaming platforms, however, comes with a monthly cost. Why would I pay that when I already have a huge music library of songs I know I like that I can listen to? This is where Acoustic Bridge comes in for me.
Using Acoustic Bridge, I was able to connect my main PC in my office to my laptop, which I can take with me anywhere in the house. I took it downstairs to my gaming room and hooked it up to a set of speakers, then streamed my iTunes music from my main computer onto the laptop. It was great!
No cumbersome downloads onto the laptop (I have a LOT of GBs worth of music), and a quick, simple, seamless way to connect. All I needed to do was download Acoustic Bridge onto both computers, set one to "send audio" and the other to "receive audio," enter the computer key, and then boom - I was in business.
It was nice not to have to skip through ads or click "yes" on the "Video Paused. Resume?" screen. I also found that I had a more consistent connection between my PCs instead of having to wait for loading when the music was streaming from an online source like Spotify.
The audio sharing goes beyond music, too - I can transfer the output from any application, from Discord to email, ensuring that I don't miss any notifications while I'm downstairs jamming out to the greatest hits of the 90's.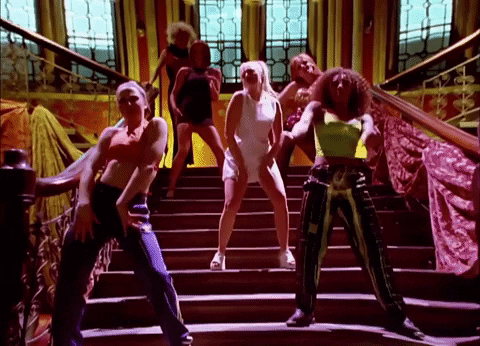 Don't judge me.
One thing to note about using Acoustic Bridge is that you might need to dive into your Firewall settings a bit in order to make sure that the PCs can connect. I had to do a bit of finagling and seek a little help from one of my pals in IT, but I figured it out without too much trouble.
Have you used Acoustic Bridge before? I'd love to hear how you utilize it - share with me!
DeskScapes 11 is fantastic at bringing animated wallpapers to your Windows desktop, but it's also great at using and managing static wallpapers as well. Sometimes I don't want a fully animated desktop and would just prefer a more minimal setup. This is why lately I've been using triggered static .dreams that change based on the time of day. These are amazingly easy to make with DreamMaker, and we have added quite a few to the WinCustomize gallery also.
What exactly are they? Well let's look at one of my favorites, The Desert.
The preview shows a day and night view, but it actually has 8 images of the same scene but at different times of the day. Starting from the morning all the way to through late night, this .dream will change based on the time, so you'll have a dynamically changing wallpaper all day.
Another one of my favorites is Tropical Beach. As the name implies this is a cool vector scene of a tropical beach in the morning, afternoon, evening, and night.
These .dreams are a fun way to add a new twist to your desktop wallpaper! Have you tried using triggered .dreams? Do you have any favorite scenes you'd like to see created?
Thursday, July 15, 2021 by Tatiora | Discussion: Stardock Blog
Change is inevitable.
...hah, writing that first line just made me think of Thanos. The jerk.
ANYWAY, like I was saying: change is inevitable. As humans, we are constantly seeking, learning, and applying new concepts that result in incredible innovations. It's amazing to see how much has happened, specifically in tech, over the last decade or so.
Before I came to Stardock and found myself immersed more on the producer's side of tech, I worked very heavily with the consumer-side. For about five years, I worked in a local school district, and I swear I learned more about technology from those kids than I ever did from any sort of formal class or gaming knowledge I'd picked up over the years.
The stuff these kids could create using a computer or even just an iPad was amazing! They constantly blew my mind with their creations - from short videos, to animated critters dancing across the screen that they controlled while learning how to code, these kids were endlessly exploring all of the great things tech could offer them.
Thanks to technology, they also played a fair number of games, which of course was part of why we got along so well. Have you ever tried to have a conversation with an 8 year old about who their favorite Pokemon is? Trust me, you'll be charged for hours afterwards from just their energy.
In just the last 10 years, we've witnessed the rise of everyday technology. Stuff that, when I was a kid, seemed like just an imaginative idea but is now commonplace and interwoven into our daily routines. Things like social media, cloud computing, iPads, virtual assistants, fitness trackers...the list could go on and on.
We've seen some attempts at innovation that either flopped entirely or are still trying to get off the ground (smart glasses, anyone?), but there's no denying that, failed or not, innovation is constant. Let's take a look at some of the developments within the last 10 years that have impacted me the most.
Video Chatting
I remember starting out on AOL Messenger waaaaaay back in the day. It was text only (and if you were anything like I was in 8th grade, that text was usually brightly colored and in very obnoxious fonts), and the idea of actually having a video chat with someone was just something I'd seen on Star Trek a few times.
As the years went on, things like Skype started to creep onto the scene. A lot of the video chatting capability evolved because of the growth of the Internet and the ability to deliver higher speeds to consumers. Now, video chatting is so rampant - FaceTime, Zoom, Discord, and so on - that it's hard to remember a time when it wasn't a "thing."
Video chatting is a large part of how I managed during the pandemic, in fact. It allowed me to converse with family members or friends who I couldn't see in person. It has also paved the way for nightly FaceTimes with my 16 month old niece, Jade, who just melts my heart every time she says "Ni-ni, Kristy!" Is someone cutting onions in here?
Portable Tech
Do you remember the days of flip phones? Or heck, even the time when cell phones were only found in cars and were about half the size of your face? I have some very vague memories of my father having one of those.
If you had told me when I was a kid that someday I'd be able to hold a portable, internet-connected piece of technology in my hands like it was no big deal, I'd have called you crazy. And if you'd told me it was also a phone, I'd have definitely laughed at you.
I can't believe how far we've come with our cell phones. I can do so many things from my iPhone, and even though innovation churns on faster than I can afford to upgrade, the slightly older model is usually just fine until I can manage to get the newest. I can search the internet, play games (obviously this is the most important thing, lol), video chat with friends, write in a word processor, and so much more.
One of the dangers of having all of that technology packed into something we can easily bring along everywhere we go is the state of constant connection that we have, but I suppose that isn't always a bad thing. I just have to actively make time to be "unplugged" so that I can have some time to myself now and again.
The best thing about smart phones, hands down though, is GPS. Remember when GPS was its own separate piece of tech? I mean, I guess it still is, but as far as I'm concerned it's obsolete when my phone can do most of the same things. I haven't gotten lost in a long time - and believe me, back when I'd have to print up directions on MapQuest and follow them that way, it happened a lot more often than I'd like to admit.
Virtual Reality
A virtual reality experience in my house? You're kidding, right? Nope, definitely not - welcome to the future! This still amazes me, honestly.
The first time I tried virtual reality outside of something like a theme park, was actually when I first came to Stardock. We'd gotten an Oculus for the office and a bunch of us stayed after work one night to play around with it.
We ordered some pizza, set up a screen so that we could look at what the person was seeing on their headset, and started taking turns. I remember playing Aperture Robot Repair or something like that, and when the floor started to fall out from underneath me I recall feeling a brief moment of genuine alarm.
This alarm was amplified when one of my giggling coworkers came and gave me a light tap on the shoulder, further startling me. We all got a good laugh out of it! Not long after that, friends started acquiring various VR devices and now several of them have setups in their own homes, which is super-ideal for things like Beat Saber parties!
Ah, what a time to be alive.
There are obviously so many more innovations that have impacted my daily life - things like Steam and Amazon, which makes gaming and shopping super accessible (a little TOO accessible, sometimes!), and countless other things that I know I'm forgetting.
Do you remember the days before these inventions and innovations? Which technological advances have most impacted or improved your life over the last decade? Share with me!