Most of us use Windows 10 on our desktops, laptops, and tablet devices these days. Did you know that there are a ton of ways that you can customize Windows 10 to style it how you want and also make it easier to work with? I wanted to create a guide to customizing Windows 10 using Stardock software and the best skins, themes, and wallpapers that you can find on WinCustomize.com.

Use a custom theme with WindowBlinds
One of our most popular desktop customization apps is WindowBlinds. It lets you completely change the look and feel of your Windows desktop by applying skins to the user interface. These skins can change the start menu, window frames, taskbar, and much more. Thousands of skins are available to download from WinCustomize.com in a variety of styles and colors. They can also be customized further by adjusting transparency, applying different colors and textures, etc.
If you are using Start10 , then WindowBlinds will also change the Start menu to match the rest of the skin.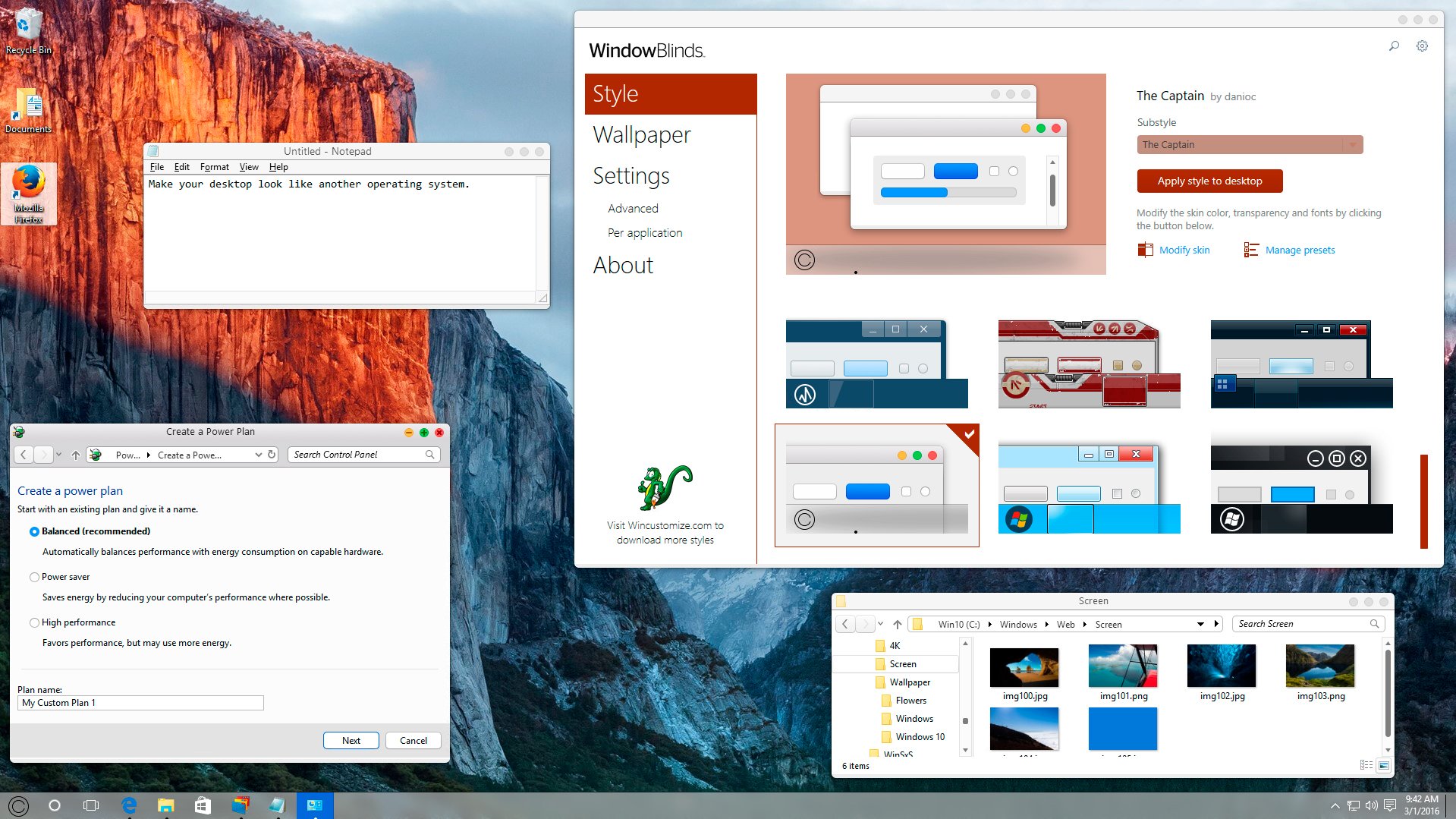 Add animated wallpapers with DeskScapes
DeskScapes gives you the ability to have custom animated wallpapers right on your desktop. Not only does it apply both animated and static wallpapers, it also has over 40 special effects that can be applied to them. Wallpapers can also be customized with animations, while animated wallpapers can be used as a screensaver. You can download dozens of options or even create your own from pictures or video!
Customize the Start menu with Start10
Start10 gives you the features and customization options to make the Windows 10 Start menu look and function like you want it to. Choose from a Windows 7 or Windows 10 style menu, or pick the Modern style to combine the best of both. Start10 also lets you maintain the "All Programs" folder metaphor, filter searches in the Start menu, and even integrates with Stardock Fences, another popular desktop application. You can also customize its transparency, coloring, texture, custom start buttons, and more!

Organize your desktop with Fences
Fences is designed to organize your desktop icons to help reduce clutter and allow you to sort icons for easy and quick access. You can create and label "fences" for your icons and folders, which then can be moved around and placed on your desktop however you like. You can adjust the size and shape of the fences to fit your needs, create rules to sort your icons and shortcuts, customize the color and transparency of the fences, and much more.
You can even create folder portals, which gives you easy access to frequently used folders without having to search around for them. Fences can also be rolled up (so that you just see the title bars) to create an even cleaner looking desktop.
Animate windows with WindowFX
WindowFX enhances your Windows desktop experience by adding over 30 animated effects to your desktop windows. There are even some (over 20!) that can be added to your Start menu. These animations can be applied to things like the opening and closing of windows, moving windows, and much more.
Additional features include the ability to automatically resize windows, hide labels on desktop icons, and use a focus feature to highlight open windows.

View and manage your running applications with Tiles
You can increase your productivity by adding Tiles to your desktop. Tiles lets you easily view and manage the running applications with a customizable sidebar that can be configured a variety of ways. Use pages for different classes of windows, and even drag applications to the bar to add them as shortcuts. Tiles is also skinnable and includes several themes and more can be downloaded from WinCustomize.com.
Add custom drop shadows
ShadowFX lets you add custom drop shadows to Windows 10. You can choose from a variety of pre-made shadows, or you can design and use your own. You can also download additional shadows from WinCustomize.com. ShadowFX is great to use when you have windows stacked on each other, since it helps you distinguish between the windows.

Change your desktop icons with IconPackager
There's really nothing more plain than the default icons in Windows. However, they're easily changed with just a few clicks using IconPackager. Instead of changing icons one by one, IconPackager uses an entire package of icons to change nearly every one at the click of a button. Of course, you can change icons individually, but there are thousands of icon packs available that can apply a matching set across your entire Windows PC. These bundled packs of custom icons can also be customized and recolored from within IconPackager.
All of these applications are individually available for your Windows PC, but you can get them all (and more!) with a low-cost membership to Object Desktop. While you're a member, you'll get free updates, access to all betas, and any new apps for one year. In addition to the apps listed above, Object Desktop suite includes:
Visit the Object Desktop site for more information!