Giving your desktop your own style
Windows Vista has some awesome looking icons. Microsoft went way out of its way to try to give Windows Vista a truly polished look. They did this by giving most icons a 256x256 icon. Think about how large that really is. Each Windows Vista icon has an image of that resolution.
But as good as they are, what if you want to change them? How do you do it? Windows Vista maintains the ability to change the icons of individual short-cuts and folders though in very inconsistent ways.
The best, easiest, and to my knowledge only way to change Windows Vista icons all at once is with Stardock IconPackager. With it, users can change individual icons or change all their icons at once by applying a "package" of icons to their Windows Vista system. IconPackager even supports the new "live" folder previews.
Individual Icon Changing
IconPackager adds a context menu called "change icon" for most types of files that looks like this:

Changing individual icons with IconPackager installed
Once IconPackager is installed, this functionality is natively added to Windows Vista. It's totally seamless.

Any icon that doesn't have a 256x256 image gets a smaller version that doesn't look as good as it could
One issue on Windows Vista is how icons are displayed. Most icons are 32x32 pixels in size. Some programs have a higher resolution 48x48 version. But on Windows Vista, unless there's a 256x256 version, the lower resolution version is displayed in it native size which can look strange (especially on your desktop).
Users of Windows Vista will no doubt soon notice that as they install programs that add short-cuts to their desktops that many of those icons look smaller and strange compared to the default icons on the desktop.
IconPackager supports changing program icons as well. To do it (once you have IconPackager installed) right-click on the icon you want to change and choose properties.

Program icons can be changed with IconPackager installed as well.
Packages of Icons
The entire set of Windows icons can be changed in a single click by using an icon package. There are thousands out there. Most do not yet support the 256x256 resolution of native Vista icons yet (Stardock is working on a way to up-convert on the fly if there's a sufficiently high resolution version available). But all the icon packages that come with IconPackager include full Windows Vista support.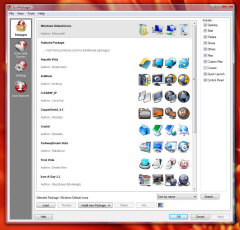 The IconPackager application
Changing your icons is a pretty straight forward process -- choose the icon package you want, load it, and hit apply. Within a few seconds, nearly all your icons will be changed.
More Screenshots
Getting IconPackager
IconPackager is a free download. You can get it at www.iconzone.com (or http://www.stardock.com/products/iconpackager).