Video streaming and video content creation have risen greatly in popularity over the past few years. Video game streaming alone has turned into a multi-million dollar industry, and even just hobbyists are getting in on the action. Video creators like vloggers and many other channels on YouTube have created an amazing resource of educational and entertainment content.
If you're a streamer or content creator, you can use Multiplicity to help increase your productivity and delegation of your workload to multiple PCs.
Multiplicity can help by letting you control multiple PCs with one mouse and keyboard. Use those other PCs to do all those other tasks to free up your main computer for your streaming or editing. You won't have to worry about using hardware to control them; just setup Multiplicity on your PCs and you can seamlessly work across multiple devices easily. Here's a quick video on how it works:
If you are streaming a game or doing some serious video editing, then you are most likely using your main PC rig to handle all of that needed power. Of course while you're doing all that, there's still work to be done with another PC (or PCs). For example:
-Managing your online community
-Posting updates and monitoring social media accounts
-Researching and gathering media assets
-Chatting with other players and viewers
-Moving and managing files and documents
With Multiplicity, you'll also be able to copy and paste text and images between computers, drag and drop files and folders (KVM version), listen to audio from multiple PCs through one PC, and much more. Give Multiplicity a try on your next stream or content project, and see what a difference in productivity it can make!
Learn more about Multiplicity here.
We have a bunch of new and updated WindowBlinds skin hit the gallery and I wanted to feature a few here. These are both free and Master skins so be sure to check them all out.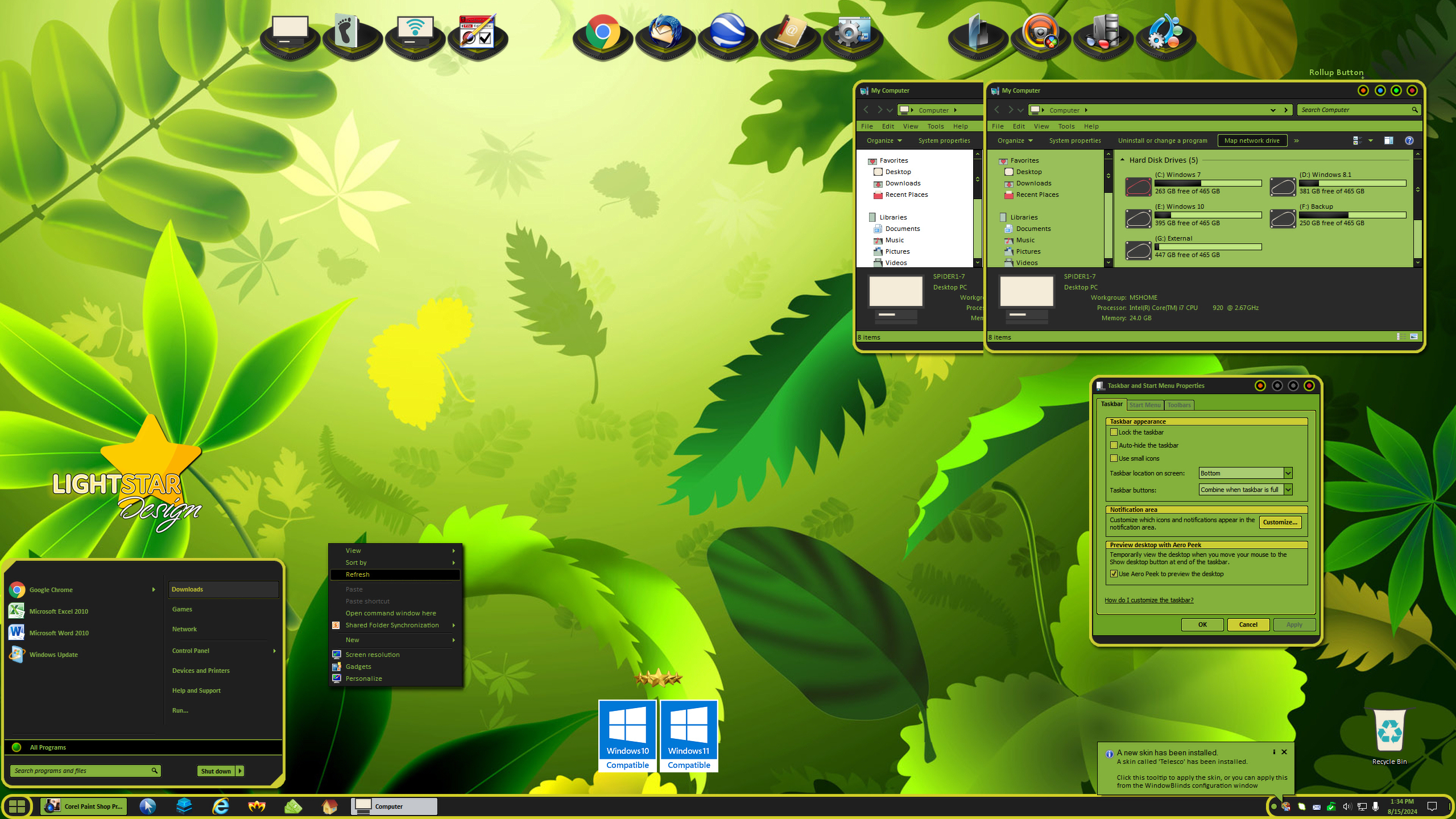 Thursday, August 6, 2020 by Tatiora | Discussion: Groupy News
Stardock Releases Groupy v1.4
Brings Improved Tabbed Experience to your Windows Desktop
Version 1.4 adds support for new Curtains app,
expands max tabs, and makes other major improvements.

Stardock has released a new version of its popular Windows desktop app, Groupy, today. With Groupy, you can organize multiple apps into grouped tabs on your desktop, making finding what you need while you work easier than ever. Version 1.4 improves the grouping user experience by adding several new features and taking into account user feedback to create an overall better user experience.
NEW Groupy v1.4 features
Curtains style support
Automatically selects suitable colors when using a Curtains style without custom Groupy parts
Expands max tabs in a group from 25 to 50
Tab bar remains dark in all apps for foreground state when in dark mode
New "close all" button added on the far right of the tab (must be in tabs above mode and tab bar set to fill full width)
Enables additional functionality for middle mouse-button in Explorer (open folders as new tabs like in a web browser)
New option for using ctrl+tab for tab switching (access on advanced options page)
Groupy works on Windows 10, 8, and 7. Once installed, creating groups with the app is simple: drag a window to another window, which combines into a single window, with tabs showing in the title bar. To ungroup apps, drag the tab off the group.
You can also create saved groups of apps and sort tabs by task or function easily. Once a group is created, quickly switch between different windows using a hotkey or clicking on the tab. Groupy can automatically add launched programs into an existing tab group.
For a full list of new features and improvements in v1.4, view the change log here.
Don't have Groupy yet? Get it now through Stardock or Steam.
Groupy owners can access the new build from their Stardock account page.
NOW ON STEAM: Curtains - Add New Style Modes to Windows 10
Wednesday, August 5, 2020 by Tatiora | Discussion: Curtains News
Add Additional Style Modes to Windows 10 with Curtains
Now Available on Steam
Get it Now on Steam
Buy Direct from Stardock
Stardock released its newest customization tool on Steam today. Curtains™ allows users to apply new styles along the lines of Dark Mode and Light to Windows® 10.
Taking advantage of the groundwork built to support light and dark mode, Curtains includes several new styles including Fluent, Cairo, and Crystal mode that enhance the look and feel of the Windows UI along with apps that already support light and dark mode.
"The advantage of using a program like Curtains is that it's essentially just adding new 'modes' to Windows," said Brad Wardell, CEO of Stardock. "It already works with high DPI displays and your existing programs. This gives users a little extra touch of customizing the Windows experience."
In addition, Curtains also includes styles that allow users to switch Windows to looking more like Windows XP or Windows 95 as well as alternative operating systems.
Users can easily create and share their own styles using the built in style editor. A Curtains style can change everything that Light and Dark mode can change, including the Start button, title bar buttons, and title bar coloring. It also supports tweaking gradients, shadows opacity, and hundreds of other small elements of the Windows GUI.
"Curtains makes it very easy for people to make their own styles," said Wardell. "There are a lot of customization features that have been buried in recent years such as font faces and sizes, detailed color choices and much more. Curtains allows people to adjust all of that and save it with their style easily."
Curtains is now available on Steam for $9.99.
Get it Now
Visit the Curtains webpage for more information.
The purchase may happen as soon as September 15th
In a statement issued on Sunday, Microsoft posted on its corporate blog saying that it will continue discussions for a potential TikTok purchase in the United States.
For the unfamiliar, TikTok is a video-sharing and social networking service based out of Beijing, China founded in 2012. TikTok allows users to create short dance, lip-sync, comedy, and talent videos and share them with thousands of other users on the platform. The app currently holds worldwide popularity, and TikTok has global offices in Dublin, Los Angeles, Mumbai, Singapore, and several other cities.
According to the blog, Microsoft CEO Satya Nadella had a direct conversation with the president regarding the purchase and all of the safety and privacy concerns associated with the platform. Following the discussion, Microsoft says that it appreciates the importance of the concerns and is "committed to acquiring TikTok subject to a complete security review," along with promising some proper economic benefits for the United States.
Both Microsoft and ByteDance (TikTok's parent company) have provided notice to the Committee on Foreign Investment in the United States (CFIUS) on their intent to explore a preliminary proposal regarding the sale. The purchase would also grant Microsoft control of the service in other areas, including Canada, Australia, and New Zealand. Microsoft has also said that it may invite other American investors to participate in the purchase on a minority basis.
The new structure of the platform would add "world-class security, privacy, and digital safety protections." Microsoft also assures that the new model would ensure transparency to users and appropriate security oversight by governments in the countries they manage the platform in.
Microsoft concludes the blog by stating that the discussions are only preliminary and that "there can be no assurance that a transaction which involves Microsoft will proceed." The company has no intentions of providing any additional updates before there's a definitive outcome of the discussions.
Do you use TikTok? If not, if Microsoft purchases it, do you think you might start?
August is here! Summer is quickly wrapping up and we'll be sliding right into Fall before we know it. But since we're starting a new month lets look at some of the newest wallpapers available on WinCustomize!
You can browse all wallpapers in the wallpaper gallery, or do a search at the top-right of the site if you're looking for a particular scene, color, or any other keyword.


The holidays we celebrate throughout the year have always been a popular occasion to apply some cool skins and themes to your desktop. Out of all the holidays during the year, a few stand out for skinning.
Christmas
Halloween
Valentine's Day
New Years
I think Christmas and Halloween are the two favorites, and they are definitely mine!
Do you have a favorite skinning "holiday"? Let me know in the comments if any of these area favorite, or if I missed one.


Happy Birthday Windows 10! Today is 5 years since Windows 10 was originally released on July 29th, 2015. I've been a user since before that being in various beta programs, and overall I have been happy with it over these past few years. It's also exciting for me to be part of a great company that makes awesome products to make Windows 10 even better!
Windows 10 has certainly changed a lot over the past 5 years with lots of updates, and our friends over at Neowin have put together a great article with lots of screenshots on what has changed.
It's a great post showing a visual comparison of Windows 10, so be sure to head over there and check it out!
https://www.neowin.net/news/windows-10-is-five-years-old---heres-how-its-changed


I can't believe we are just coasting through summer and that August is just about here! I hope you're staying somewhat cool as the heat here has been just about unbearable. It has been quite a busy summer already and that's what we'll go over in this month wrap-up.

Stardock News:
NOW AVAILABLE: Curtains - Add Additional Style Modes to Windows 10
"Stardock released its new customization tool today. Curtains™ allows users to apply new styles along the lines of Dark Mode and Light to Windows® 10.

Taking advantage of the groundwork built to support light and dark mode, Curtains includes several new styles including Fluent, Cairo, and Crystal mode that enhance the look and feel of the Windows UI along with apps that already support light and dark mode."
Community Posts You Might Have Missed:
Play - New Curtains Theme from Danioc
Can a Cheap, Under $200 Laptop Actually Be Good?
Like to edit videos? Here are some of the best low-cost options.
WC Community Question: What Wallpaper Resolutions Do You Use?
Comprehensive List of Windows 10 Keyboard Shortcuts
WC Community Question: Do You Use Triggered Dreams?
NASA Announces Launch Date for Long-Delayed Space Telescope

New Skins, Themes, and Wallpapers:
Drone Shot of Beach and Water (Wallpaper)
Summer Countryside (Wallpaper)
Tropical Beach Under the Coconut Palm (DeskScapes)
4K Earth Day and Night (DeskScapes)
Computer monitors have become much bigger and the prices have become quite more reasonable than they used to. I picked up a nice 34" widescreen for just a couple of hundred bucks. It's not 4K, but HD has been working quite well for me. I do have a 4K touchscreen laptop, and that is certainly nice to have when working with images and video.
But the question today is what size wallpaper resolution do you typically look to download? Do you even look to see what resolutions are available?