The first (and only) alternative way to make Sidebar gadgets arrives
Version 3.5 takes gadgets to the next level
Stardock DesktopX has long led the way in allowing users to build a better desktop. It was the first program for personal computers that enabled end users to easily create mini-applications on their desktop. DesktopX lets users create objects in just a few simple steps that can be combined together to make widgets or used to build entire desktops. DesktopX Pro was the first program that allowed users to export their creations as stand-alone programs called gadgets.
With the arrival of Windows Vista, gadgets have become much better known. The Windows Sidebar uses a particular format of gadgets (the .gadget file). Stardock is pleased to announce that DesktopX 3.5 can create native Windows sidebar gadgets. How easy is it? Check this out:
A quick demo
DesktopX can be used to create the simplest of desktop objects to sophisticated desktops that use VB Script, JavaScript, or C++ quickly and easily put incredibly cool stuff on the desktop. DesktopX has been used to create media players and weather gadgets for MyColors, to create alternative computer interfaces in movies, all the way to making PC game interfaces. For this demo, we're simply going to create a short-cut gadget.
Step #1: Create the object

From the system tray, users create a new DesktopX object by right-clicking on the DesktopX tray icon
Step #2: Give the object an image

The object (on the left) can have its image changed by clicking on the mouse-away button
Step #3: Assign the short-cut

Users can type in a path or use the built in program finder.
Step #4: Export the object

Right-click on the object and select export.
Step #5: Export as a Sidebar Gadget

Users can export objects as widgets (which require the user to have DesktopX installed but are smaller in size), EXE gadgets (which are stand-alone programs), or as Sidebar gadgets (.gadget files).
Step 6: Give some basic info on the gadget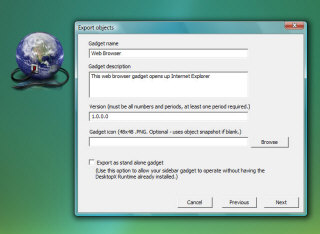 Fill in some basic info about your gadget and then name it
Your new gadget!

Floating on the desktop

On the Sidebar
Also, remember, DesktopX supports all kinds of other cool features built-in like animation (so you could make zooming sidebar gadgets easily), rotation, built-in scripting, plugins, colorizing, mouse states and more:

Animation and other effects are built into DesktopX
And DesktopX has integrated support for JavaScript, ActiveX controls, VB Script, Flash, and more. Imagine what can be done by combining the power of DesktopX with Microsoft's Sidebar gadgets.
The Beta
DesktopX 3.5 is currently in beta. It's only available for users who have Object Desktop (www.objectdesktop.com). Stardock expects the final version of DesktopX 3.5 to be ready before the end of the Summer (2007).
Please login to comment and/or vote for this skin.
Welcome Guest! Please take the time to register with us.
There are many great features available to you once you register, including:
Richer content, access to many features that are disabled for guests like commenting on the forums and downloading skins.
Access to a great community, with a massive database of many, many areas of interest.
Access to contests & subscription offers like exclusive emails.
It's simple, and FREE!